Last Updated on: 23rd October 2023, 09:16 pm
A perfect Gamergirl Name contains some powerful words, is communicative, has a personality-driven and playstyle of the game you play the most. Most of the time, girls, even boys, find it difficult to have a gaming name that has these characteristics.
Well, welcome to the ultimate destination for all you fierce female gamers out there. I have also detailed blog on Girl Nicknames For Games you might interested in reading.
Okay cool, In the enchanting realm of Gamers Republic, a new era has dawned. No longer are the battlefronts dominated solely by boys; now, courageous girls have emerged, wielding powerful weapons and donning the coolest gamer girl names.
But oh, have you found yourself in the midst of battle without a unique and classy Gamertag?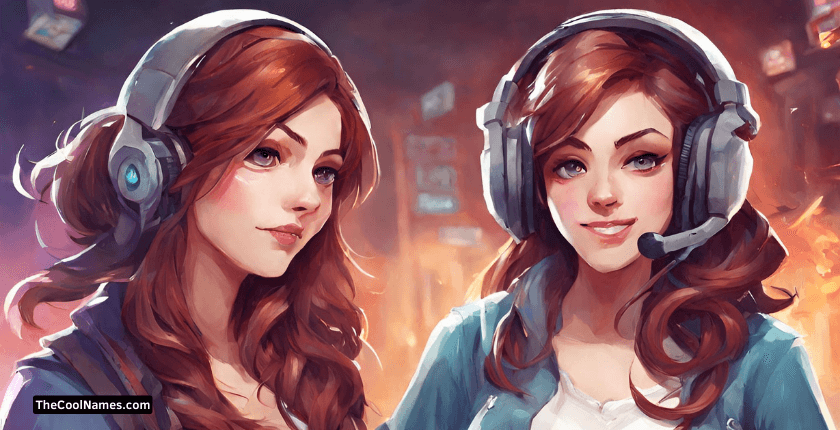 Don't worry, for your search for the perfect avatar name ends right here.
Navigating the virtual battlegrounds that make it easy to get lost amidst the chaos of combat, focusing solely on conquering the bad guys. Not only are boys the number one in games, but girls are also more famous in the gaming field. Did you know that there are approximately 1.7 billion male gamers and 1.39 billion female gamers worldwide?
However, a gamer girl's true victory lies not just in defeating foes but also in having a moniker that echoes her style of play. Ultimately in a name that resonates with her spirit and prowess.
Here is the best part for you. I have a collection of some exceptional gamer girl names designed exclusively for you.
It is not merely a list; it's your gateway to identity in the gaming universe. Each name is a carefully crafted masterpiece, waiting for the perfect gamer to claim it as her own.
So, join us on this adventure, explore the myriad options, and discover the Gamertag that encapsulates your essence as a player.
Why, indeed, settle for the ordinary when you have the potential to be extraordinary? Dive into our selection and find a name that not only represents your gaming skills but also mirrors your unique style and personality. After all, a gamer girl's identity is her most potent weapon in the virtual world. You can also use nicknames that girls uses in a daily life.
Read | Triplet Names for Girls
Let's have some unique GamerGirl Names, List and Ideas.
Quick Takes – Best Names Collection for GamerGirls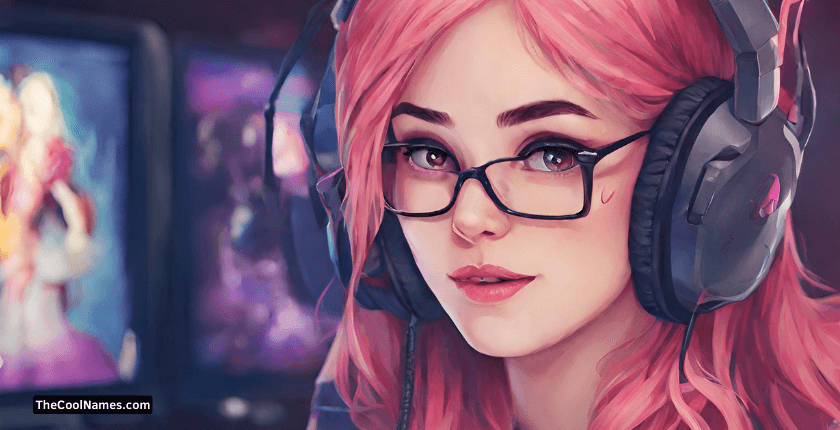 Action Jasmine
Ninja Princess
Pink Dragon
Noir Steel
Stylish Bone
Mastermind Witch
Pixelated Pirate Queen
Space Cadet Pilot
Stealthy Assassin
Viking Queen
TheUltimate Bomb
Warlock Sorceress
GamerGirl Names Inspired by the Hollywood movie "Barbie"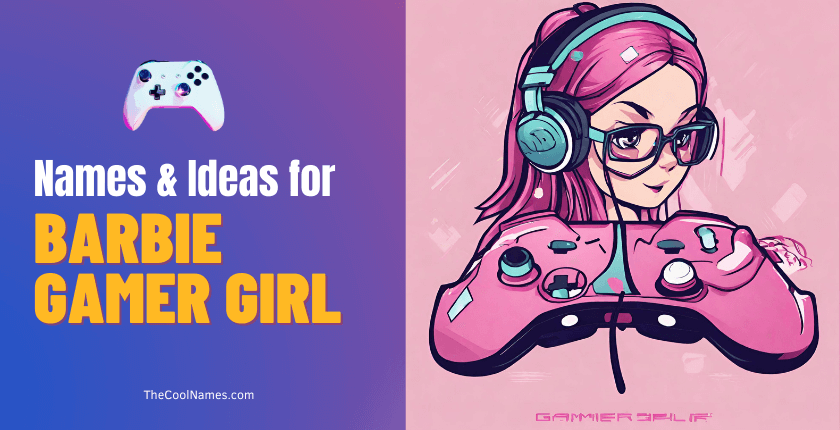 Midge
Barbie
Dr. Barbie
Ruth Handler
Weird Barbie
Judge Barbie
Writer Barbie
Diplomat Barbie
Mermaid Barbie
President Barbie
Physicist Barbie
Journalist Barbie
Read | Nicknames for Short Girls
Badass GamerGirl Names Ideas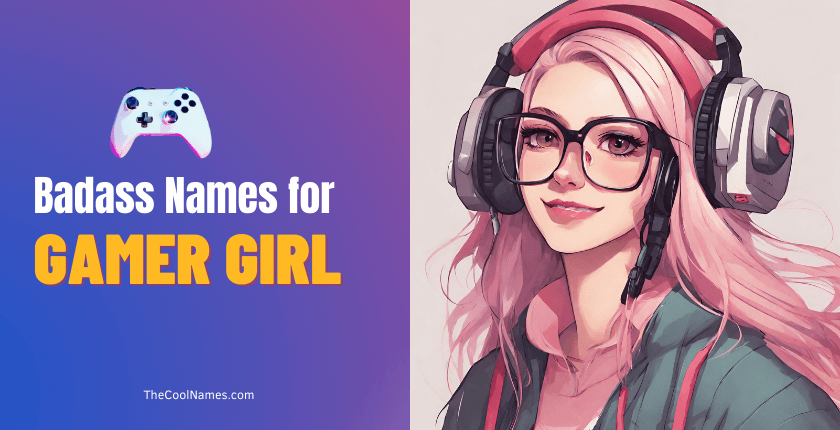 Warrior Princess
Stealthy Viper
Mystic Sorceress
Cyber Huntress
Galactic Empress
Shadow Queen
Venom Viper
Ethereal Enchant
Neon Cygnet
Stellar Sovereign
Phantom Hunt
Lunar Valkyrie
Vortex Sorcery
Nova Empress
Astral Huntress
Thunder Princess
Sleek Viper
Mythic Enchant
Cyber Nova
Galactic Huntress
Celestial Sorcery
Nebula Empress
Solar Viper
Warrior Witch
Stealth Seraph
Mystic Huntress
Tech Sorcery
Cosmic Cyborg
Void Empress
Abyssal Sorcery
Plasma Princess
Sable Viper
Wraith Sorcery
Quantum Huntress
Inferno Express
Read | Roblox Display Names
GamerGirl Names Ideas for Xbox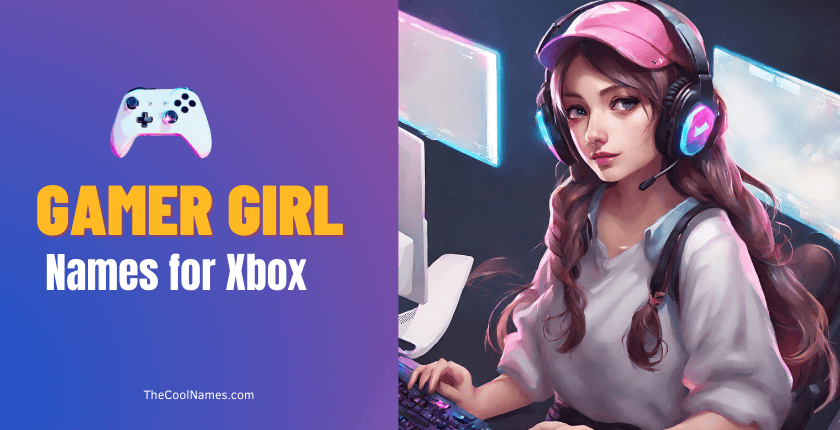 Smart Mocha
Doggy Dodo
Marvelous Raven
Snoozy Seal
Delicious Zinc
Joyful Aunt
Fearless Diva
Runaway Goat
Chill Chimpanzee
Verse Princess
Intense Mink
Goddess Shiva
Sugary Wheat
Goofy Peafowl
Bouncing Bullfrog
Stream Goddess
Enchanting Serpent
Feminine Emu
Frosty Hunter
Bone Breaker
Pigeon Beagador
Courageous Pitador
Wild Guava
Regal Fiddle
Clever Liger
Beloved Jaguar
Berry Cider
Adorable Dorgi
Rural Njarka
Spicy Lunchbox
Lethargic Serpent
Chilled Melon
Explosive Medic
Noble Lioness
Colorful Tetra
Angry Cat
Galactic Whip
Cunning Madam
Happy Flea
Timid Barnacle
Glowing Coral
Slick Eel
Respectful Olive
Pond Mochi
Stream Rice
Violet Cup
Aqua Infant
Marvelous Lady
Amusing Cheese
Soaring Snail
Solar Noblewoman
Sea Maraca
Bright Flute
Stony Rick
Dairy Nugget
Rosy Pink
Read | Short Unique Girl Names
Ps4 Gamer Girl Names in 2023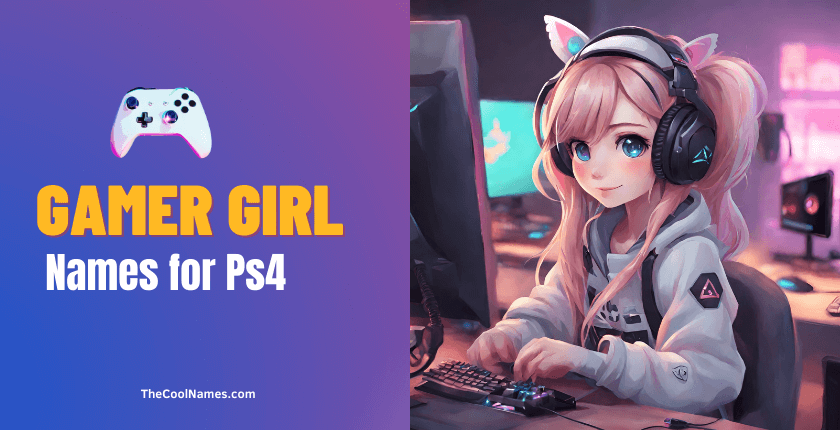 Fierce Stag
Drenched Doe
Cheerful Firearm
Rebellious Veronica
Crystal Queen
Sacred Soy
Zesty Enchilada
Fall Blaze
Ruthless Rabbit
Savory Potato Chip
Angry Gerbil
Snuggly Gosling
Chilled Hippo
Incredible Walnut
Smart Doll
Bold Sally
Gentle Willow
Timid Fruit Bat
Imperial Hatch
Cherished Doe
Fatal Ladybird
Mystical Siren
Woodland Fungus
Lovely Kylie
Sunlit Kid
Cozy Otter
Exquisite Coral
Petite Gourd
Devoted Lumpfish
Dazzling Fiona
Imaginative Slayer
Clever Firefly
Ramen Rifle
Artistic Isabella
Player Parent
Bold Spinach
Fluttering Finches
Rugged Sneakers
Merciless Viper
Toasted Rooster
Homely Bobcat
Huggable Puffin
Elegant Disco
Insect Annihilator
Soaring Fish
Inquisitive Squirrel
Devoted Mastiff
Crimson Deception
Snowy Strawberry
Steamy Coffee
Enchanted Unicorn
Bashful Slug
Radiant Bianca
Creek Swan
Best GamerGirl Names List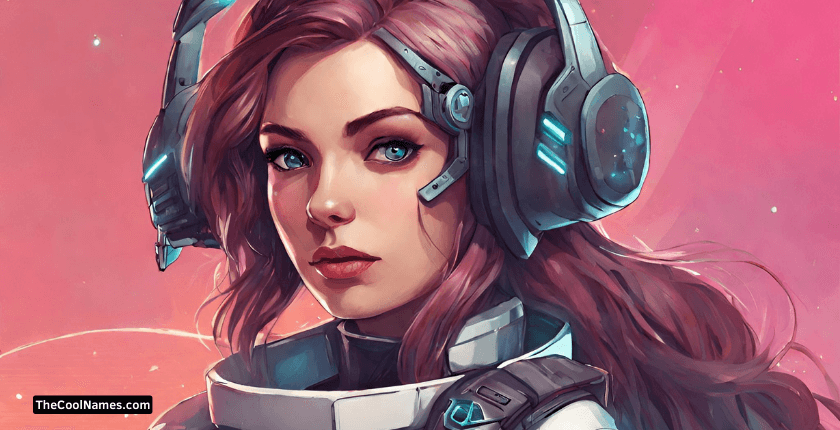 Persona Shifter
Rival Eraser
Stone Sorceresses
The Transmuter
Jammer Queen
Crimson Rogue
Eternal Phoenix
Fate Twister
Poppins Enigma
Action Virtuoso
Ghostly Handles
Mind Bender
Doombringer
Galactic Voyager
Hummingblade
Feathered Reaper
Heroic Monikers
Liquid Fury
Rogue Miss
Angelic Worlds
Infernal Imp
Amazon Warrior
Adorable Luciana
Playground Punisher
Thunderstruck
Eternal Conflict
Diabolic Diva
Cyclops Chic
Bloodline Omen
Sugar and Frost
Firedragon
Revolver Queen
Boom Chicka
Skull Mistress
Flux Aeon
Rescue Ranger
Cleopatra Reborn
Wicked Mirage
Silent Snitcher
Gravekeeper
Fearful Jane
Maniacal Mary
Bloodbound Oath
Clockwork Glock
Espresso Euphoria
Electric Elektra
Shivana Storm
Venomous Dart
Blond Vendetta
Sly Chick
Lego Legend
Tempest X
Butterfly Buff
Caprice Commander
Chun Li's Fury
Read | Snapchat Girl Usernames Ideas
Cool Gamer Girl Name Ideas
Lost Voyager
Reign of Death
Game Overlord
Venomous Vixen
Shadow Monarch
Nameless Nomad
Regal Bloom
Deity of Vitality
Quartz Fortress
Arachnid Sorceress
Celtic Empress
Spectrum Siblings
Radiant Duchess
Shattered Staff
Master Possum
Jane The Slayer
Game Eternal
Silent Reaper
Cursor
The Wanderers
Cereal Conqueror
Bee Sovereign
Matron of Gamers
Vixen Artificer
Shadow Panther
Jovial Panda
Delta Elite
Player One Ready
Princess of Triumph
Lethal Yet Languid
Nano Guardian
Disaster Queen
Luminous Gamer
Chucky's Comrade
Explosive Launcher
Sister of Asylum
Vengeful Sweetness
Kotal Queen
Captain Chaos
Lethal Marauder
ParaGlide
Inferno Bender
Tempest Warrior
Enchanting Eyes
Harmony Melody
Lunar Baby
Karmic Queen
Slumbering Enigma
Treasure Seeker
Deceptive Siren
Xbox Savior
Backstabber
Venomous Fangs
Shoot To Kill
Fantasy Sorceress
Onyx Gal
Ember Blaze
Unique GamerGirl Names Ideas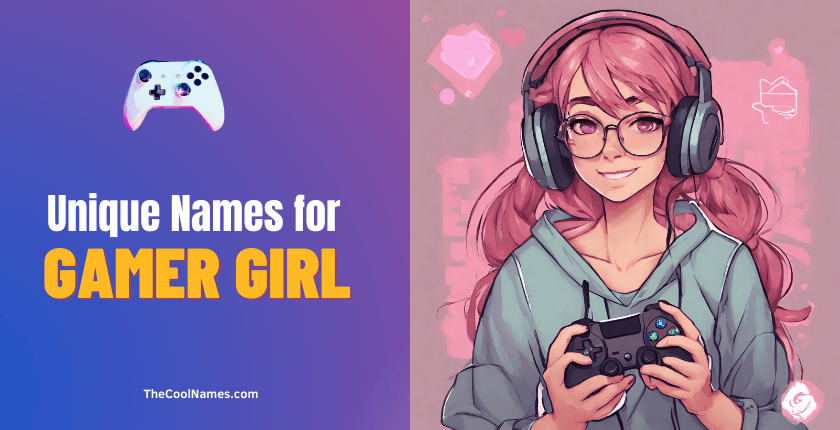 Monarch of Melee
Swift Howler
Cheeky Frankfurter
Lavender Hopper Slippers
Infernal Dominion
Irate Grandmothers
Lone Huntsmen
Feigning Demise
Piggy Devourers
Spartan Maiden
Oreo Siblings
Hunk of Pork
Silent Response
Damp Aunt
Stealthy Shuriken
Guardian Seraphs
Stealth Granny
Venomous Ponytail
Miss Behavior
Battle Maiden
Foolish Lounging
Ares Maidens
Venus Siblings
Eon Champions
Miss Peculiar
She-Falcon
Shadow Vixen
Fear Inducers
Atomic Blast
Club Claw
Daisy Player
Nameless Perfection
Legacy Eradicators
Velvet Monarch
Supreme Player
Fiery Sandra
Enigmatic Miss
Risk Taker
Carbon Delight
Mysterious Minx
Lady Cortana
Inferno Hero
Candy Bean
Inertia Player
Playful Mistress
Feline Femme
Gamer Bee
Stellar Monarch
Xbox Belle
Clawed Kitty
Lost Account
Dazzling Razzle
Enchanting Wonder
Hinata Warrior
Single Strike Femme
Dark Jadeite
Joy Reaper
Inferno Blade
Read | Spice Girls Nicknames
Gamer Girls Name Ideas for Fortnite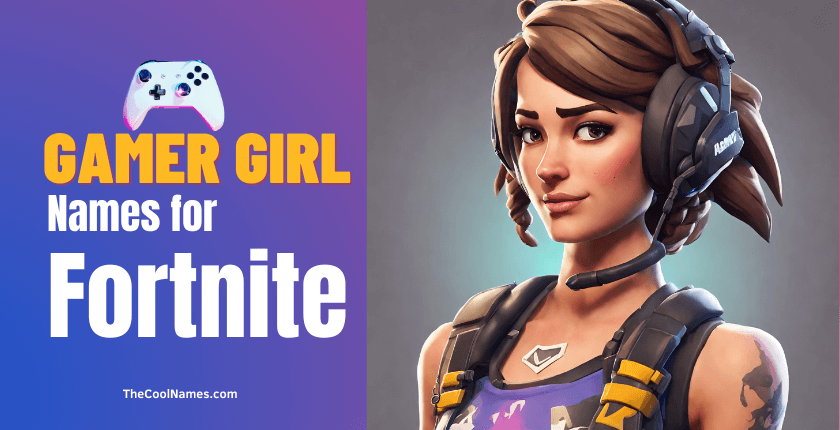 Easy Barbie
Inferno Race Car
Mountain Recon
Swift Vanguard
Wolf's Howl
Firefox Reloaded
Rugged Cartographer
Classy Quester
Vanilla Voyager
Butterfly Pantheon
Gunblade Master
Rising Titan
Foreign Conqueror
Pecan Titanfall
Skull Breaker
Unstoppable Force
Soul Reaper
Angel of Eternity
Winning Diana
Doris the Wyvern
Killshot to Victory
Heroic Roadster
Dizzy Dynamo
Big Beanstalk
Ace Commander
Double Impact
Shadowbane Killer
Perfect Archer
Frostbyte
Juicy Swirl
Shadowblade Master
Chrono Rider
Furious Velocity
Sahara Nomad
Hot Pursuit Cop
Kiss of Kombat
Ivy Vortex
Cosmic Voyager
Tsunade's Legacy
Firestorm Chronicles
Lara's Odyssey
Foxy Renegade
Soul Reckoning
Witch of Oz Reimagined
Billie's Journey
Vampire Slayer
The Insightful Diviner
Rumbling Echo
Sniper X-treme
Barney's Frenzy
Bloody Gemstone
Silva's Valor
Ruby Ravager
Gun 'Em All
Thatcher's Vendetta
Gamer Queen for Life
Worlds at Conflict
Aesthetic GamerGirl Names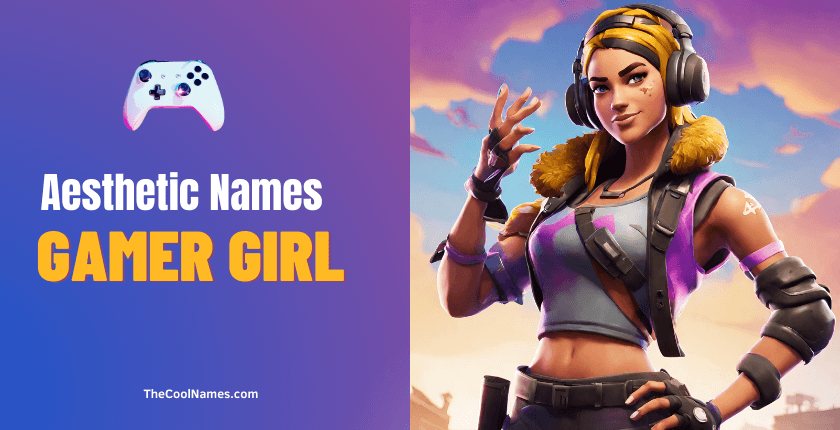 Rogue Thorn
Ibuki Reborn
Juri Resurgence
Vicious Serpent
FeloniousFellas
HeroicChronicle
GameSphere
GameUniverse
ElevatedChampion
ScarletViper
NoobPlayer
FeralBeast
BarbieMarksman
FlameAssassin
Plushie Guardian
The Interrogator
The Forsaken
MegaStriker
RuthlessSoldier
Hit 'N' Hunt
WaveRider
Joyful Guardian
Skull Devourer
Sky Assassin
Shadow Reaper
Challenge Master
Ring Wrestler
BloomDoom
Crypt Raider
RayZap
Tiny Titan
Winnie Lynx
Toxicity
Enchanted
Foxy Hippogriff
Wild Coyote
Tenacious Ten
Frosty Frodo
Yuri Warrior
Anisha's Saga
Chimp Champion
Savage Beast
Gamer Deity
Vaporizer Bee
Shadow Lurker
Arch-Nemesis
WarBot
Play4Victory
Slinger
Hellspawn
Fortress Knight
Fairy Godmother
Eclipsed Raven
Invincible Vanguard
Deadly Archer
Famous GamerGirl Names Ideas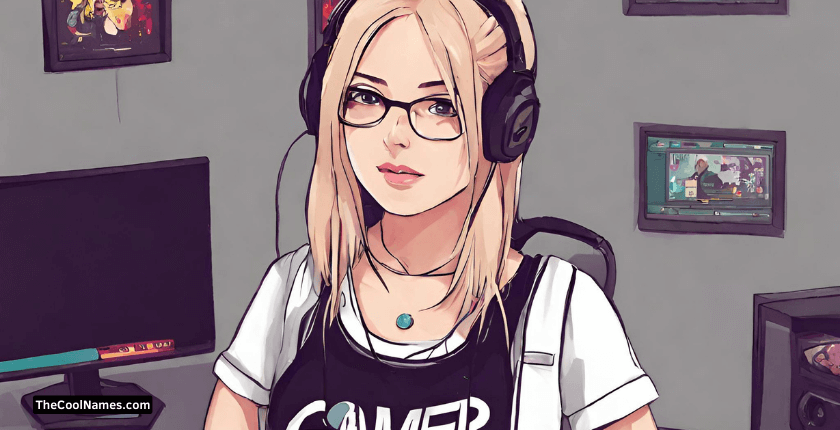 Search Expedition
Rocket Lover
Harmony Legacy
Maniac Grin
Return of Mortality
Lotus Serenity
Blazing Edge
Rise2Destroy
Galactic Doom
Rebel Rable
Goblin Slayer: Reborn
Magical Maggie
Dragon's Fury
Destiny Seeker
Miss Missile
Vengeance
Deceptive Illusion
Monster Abomination
Yomiko Chronicles
Raging Blossom
Xtreme Peril
Blazing Phoenix
Frosty Scythe
Urban Brawler
Boss Battleground
Delta Descent
Inferno Guns
Multiplier Master
Battlefront
Halo Vanguard
Infernal Hound
Venomous Elixir
Kiss of Oblivion
Shadowshuriken
Venomous Hornet
Bristly Bug
Chaos Creator
Silent Marksman
Marie's Echo
Cookie Conqueror
Torpedo Thunder
Treasure Raider
Granny's Arsenal
Lord of Saturn
Stone Guardian
Tanya Chronicles
Kronika's Legacy
Sheeva's Might
Sapphire Storm
Coral Crusader
Master of Blades
Will of the Order
Cavewalker
Pathseeker
Scarlet Crusader
Jacqui Blade: Resurgence
Cute Gamer Names for Girls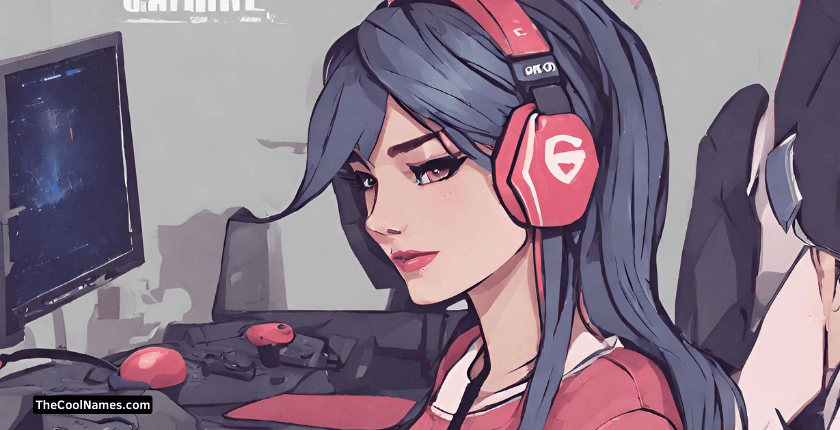 Cardmaster
Account Erased
Cyberzilla
Tetra Odyssey
Seraph
Soul Reavers
Ninjutsu Shadow
Quantum Nitro
Vortex Shot
Victory Dial
Virtual Play
Gamma Leader
Ruby Rogue
Tech Sorceress
Medusa's Gaze
Star Scorpion
Miranda Nova
Quantum Woman
Gambit Royale
The Enchantress
Undercover Cop
Ninja Nigami
Eagle Squadron
Paddle Master
Emerald Rose
Kingdom Legacy
Reaper's Kiss
Whimsical Goose
Ninja Flight
Infinity Femme
Alpha Omega
Hex Breaker
Solar Princess
Widow's Web
Falcon Eye
Merciless Avenger
Tailed Fox
Himawari's Glow
Fearful Hearts
Peacock Dancer
Blizzard Sorcerer
Ripper's Legacy
Wandering Words
Ideation Maven
Pistolero
Koolian Warrior
Venomous Strike
Blaze Joey
Urban Striker
FrostPlay
Galactic Blast
Quantum Chimp
Force of Dragons
Majestic Sovereign
Regal Empress
Whimsical Hare
GamerGirl Names Inspired by Different Categories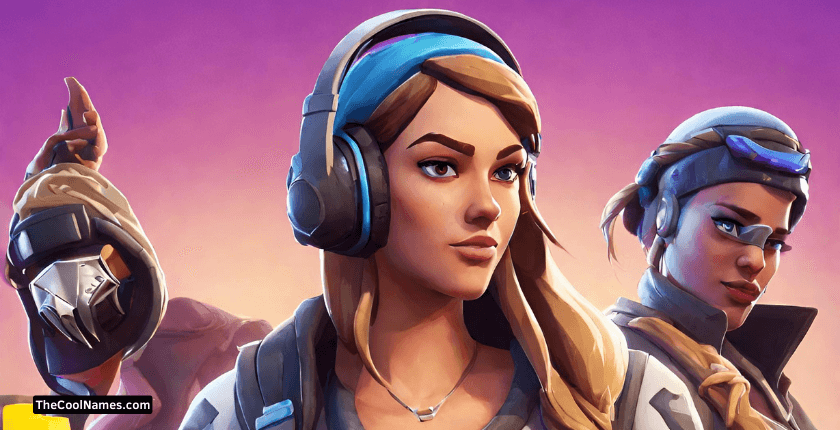 I have listed some gaming names for girls inspired by animals, Fantasy, Nature, Colors, Sci-Fi, History and Technology. The purpose of these category is to give you some fruitful names without any efforts. Isn't it cool? Yeah, It is. Let's have these amazing name ideas for Gamer girls.
GamerGirl Names Inspired by Animals and Creatures
Shadow Panther
Phoenix Fury
Electric Fox
Lunar Wolf
Nebula Dragon
Abyssal Tigress
Storm Gryphon
Blaze Phoenix
Frost Serpent
Nightshade Lynx
Scarlet Griffin
Dusk Wolf
Venom Vixen
Thunder Hawk
Obsidian Cobra
Azure Falcon
Ember Panda
Rogue Lynx
Luna Panthera
Sable Scorpion
Crimson Drake
Frostbite Fox
Twilight Owl
Raven Seraph
Nebula Griffin
GamerGirl Names Inspired by Fantasy and Mythology with Meaning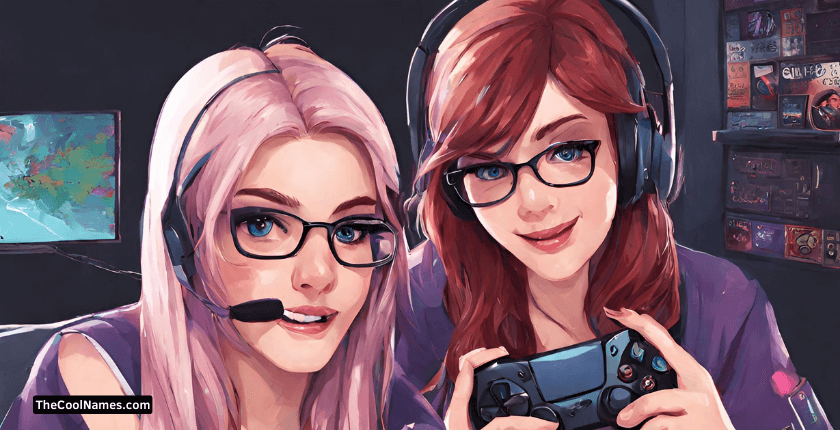 Amara – Arcane
Ravena – Mystic
Luna – Enigma
Elara – Elusive
Olympia – Divine
Selene – Moonlit
Freyja – Fearless
Celestia – Starborn
Sylvana – Forest Guardian
Isolde – Ice Queen
Zephyra – Wind Whisperer
Lysandra – Lightbringer
Thalassa – Sea Siren
Astrid – Astral Weaver
Seraphima – Seraphic
Cassandra – Seer
Nyx – Nightshade
Calista – Celestial
Morgana – Sorceress Supreme
Titania – Faerie Queen
Vespera – Evening Star
Circe – Enchanting
Elysia – Ephemeral
Rowan – Rune Witch
Ondine – Water Nymph
Aria – Songstress of Fate
GamerGirl Names Inspired by Nature and Elements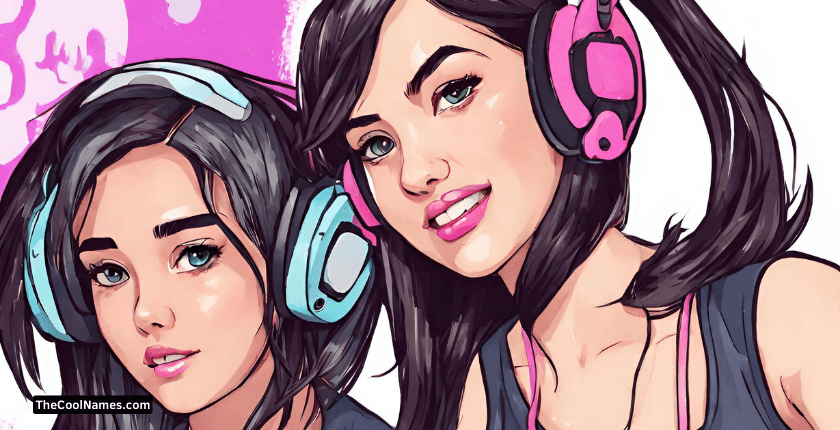 Misty Meadow
Willow Breeze
Amber Blaze
Aqua Wave
Sylvan Spark
Ivy Frost
Raven Thorn
Maple Ember
Zephyr Stone
Dahlia Rain
Cascade Sun
Aster Ray
Brook Mist
Cypress Blaze
Lily Gale
Alder Frost
Sierra Ember
Coral Tide
Hazel Storm
Lotus Flame
Garnet Gale
Sapphire Dawn
Dove Ember
Orchid Breeze
Aurora Leaf
Juniper Tide
Olive Frost
Quartz Blaze
Rosalie Rain
Tulip Skye
GamerGirl Names Inspired by Tech and Sci-Fi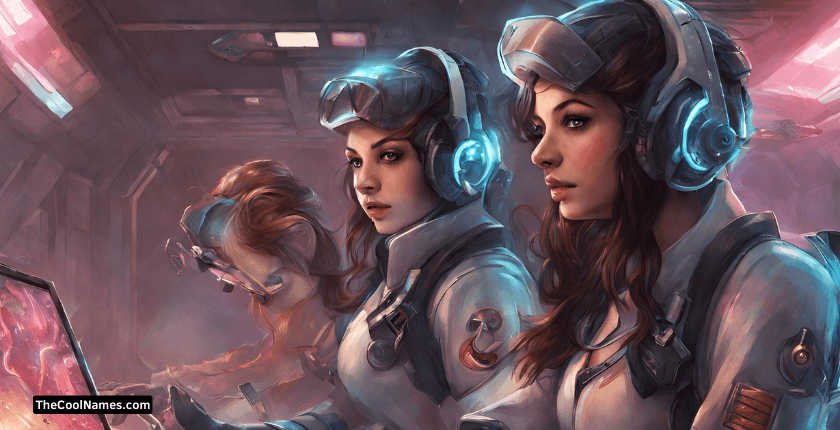 Quantum Queen
Siren Cyborga
Nova Nebula
Digital Dynamo
Robo Rhapsody
Laser Lynx
Photon Phoenix
Astrid Astronaut
Vega Voltage
Aeon Android
Cortex Celestia
Galaxy Gal
Nyx Nebula
Orion Oracle
Saturn Siren
Tesla Tech
Astra Alpha
Pulsar Pixie
Circuit Celestial
Vivid Voltage
Zara Zero-G
Nebula Nixie
Stellar Stream
Quasar Quartz
Cyber Celesta
Zephyr Zenith
Binary Belle
Starla Stratos
Cosmo Catalyst
Syra Supernova
GamerGirl Names Inspired by Magical Objects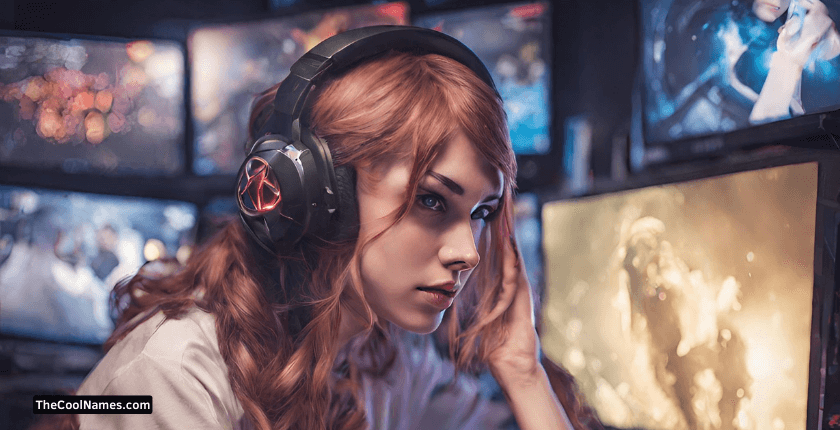 Stardust Sorceress
Amulet Astra
Prism Pixie
Phoenix Phantasm
Rune Radiance
Wand Willow
Celestial Charm
Enigma Enchantress
Astral Amulet
Mystic Matrix
Eclipse Elixir
Sorcery Sapphire
Luminara Lotus
Arcane Alchemy
Vortex Vesper
Runic Rose
Talisman Tempest
Opal Oracle
Ethereal Essence
Nyx Nexus
Sylvan Spell
Galadriel's Gem
Chalice Charm
Eclipse Eon
Lorelei's Locket
Rune Revery
Nebula Nectar
Stellar Scepter
Aether Alchemy
Aurora Amulet
GamerGirl Names Inspired by Colors and Gems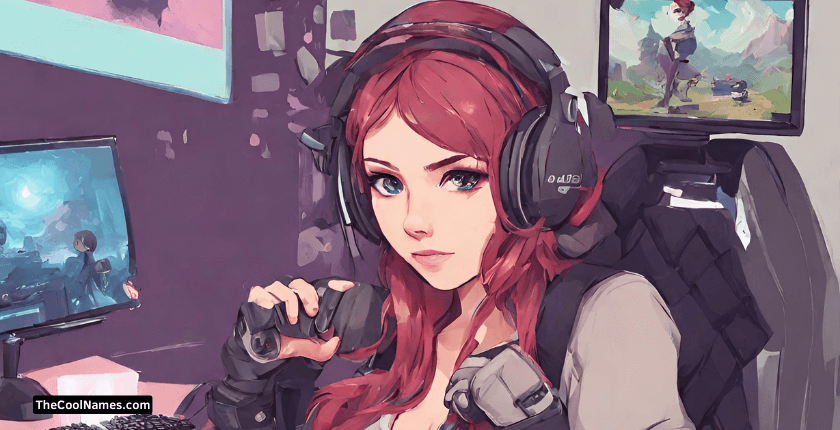 Rose Quartz Radiant
Peridot Phoenix
Turquoise Twilight
Coral Crystal
Scarlet Seraph
Sapphire Spectra
Gold Glint
Silver Serenity
Raspberry Radiance
Ruby Radiant
Azure Aegis
Crimson Caster
Ivory Iris
Emerald Ember
Violet Vixen
Hazel Haze
Diamond Divinity
Bronze Blaze
Tanzanite Tempest
Obsidian Oracle
Lilac Lumina
Magenta Mirage
Cobalt Cascade
Amethyst Aura
Topaz Temptress
Platinum Pinnacle
Onyx Opaline
Jade Jewel
Moonstone Muse
Pearl Prism
GamerGirl Names Inspired by Gaming Concepts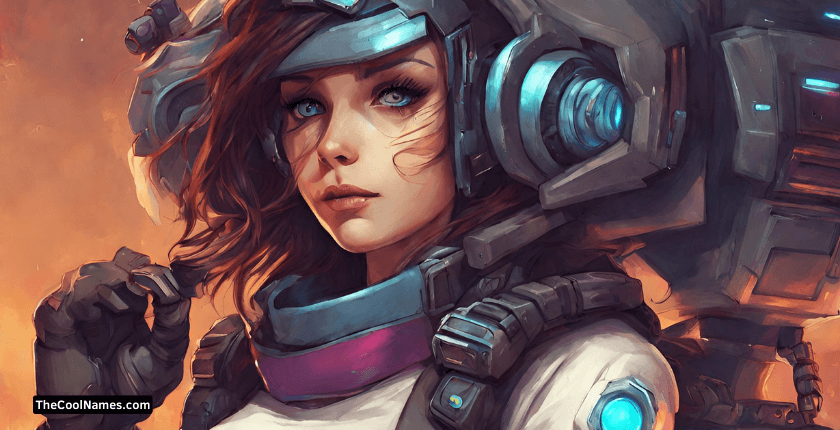 FPS Femme
Level-Up Lady
Dungeon Diva
Retro Rebel
Game Genie
Guild Goddess
Strategy Siren
Console Couture
Quest Queen
LAN Lioness
Joystick Juggernaut
Pixel Princess
Beta Banshee
Multiplayer Maven
MMO Magician
LAN Luminary
Puzzle Prodigy
Esports Empress
Avatar Ace
RPG Royalty
Gameplay Guru
Noob Ninja
Arcade Amazon
Joystick Juliet
Respawn Royalty
Beta Banshee
Boss Battle Belle
Respawn Rogue
Speedrun Seraph
Controller Cherub
GamerGirl Names Inspired by Sci-Fi Planets and Stars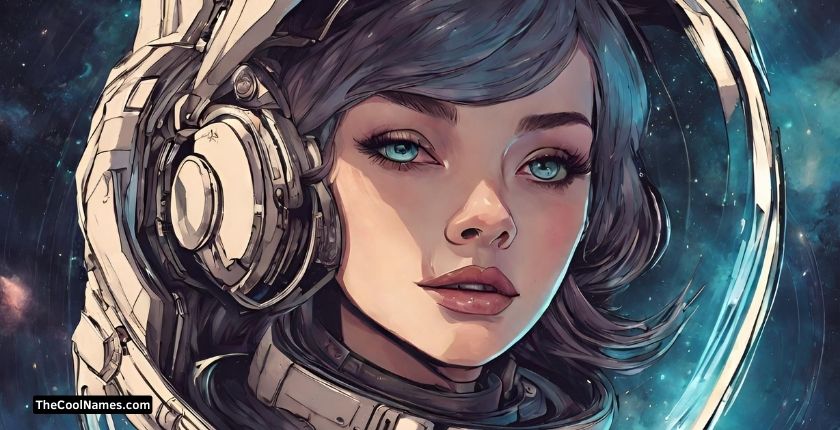 Astra Alchemist
Luna Luminance
Nebula Nomad
Galactic Guru
Altair Astral
Polaris Princess
Zephyr Zenith
Nova Navigator
Nebula Nomad
Quasar Queen
Stellar Sorceress
Astro Adept
Comet Conjurer
Draco Dreamer
Andromeda Astral
Lyra Luminary
Sagittarius Stardust
Aurora Aether
Supernova Siren
Caelum Celestial
Vortex Voyager
Galaxy Guardian
Sirius Stardust
Vega Voyager
Pulsar Princess
Nebula Nomad
Cassiopeia Celestial
Solar Siren
Orion Odyssey
Nyx Nebula
GamerGirl Names Inspired by Historical and Mythical Figures
Helena the Harmonious
Joan of Arcane
Sheba the Supreme
Xena the Xenial
Theodora the Tenacious
Brunhilde the Bold
Zenobia the Zealous
Kahina the Knowledgeable
Nzinga the Nimble
Isolde the Invulnerable
Penthesilea the Peerless
Hatshepsut the Heroine
Dido the Daring
Athena's Aegis
Tomyris the Tremendous
Artemis Archon
Morrigan the Mighty
Medusa the Magnificent
Hypatia the Heroic
Gorgo, the Gallant
Sappho the Swift
Olympia the Omniscient
Cleopatra's Champion
Freya the Fearless
Sekhmet the Serene
Boudicca's Blade
Isabella, the Immortal
Rani the Radiant
Eleanor the Enchanting
Mulan the Merciless
5 Tips to Create GirlGamer Tags/Names List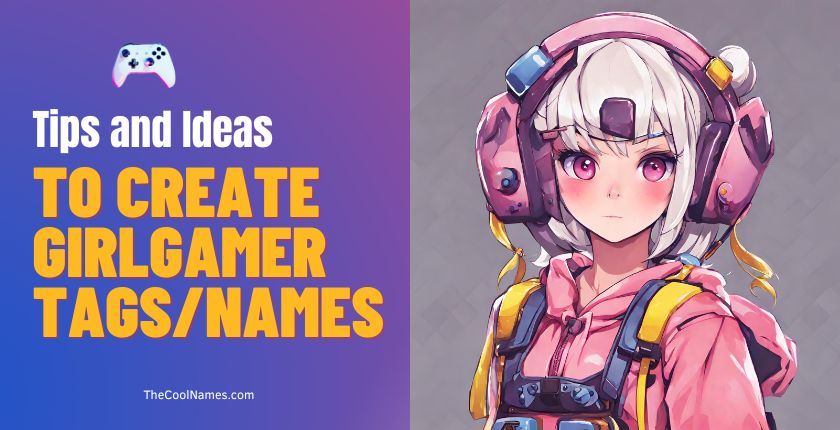 There are infinite possibilities to create a unique name. You can use any word combination with your name or even names of different things you like the most.
Here are some unique ways to create a perfect gaming name for your gaming arena.
Tip #1: Draw Inspiration from Astronomy:
Look to the stars and celestial bodies for ethereal and powerful names. You can pick the name of the star and link it with any powerful word like lion, thunder, supreme, or alpha. This way, you can get a perfect name.
For Example: NovaGuardian, LunaStarlight, CelestialSorceress.
Tip #2: Get an Idea from Nature:
I have listed nature-inspired gaming names for girls. You can also create some new nature-themed names that can evoke a sense of tranquility or fierce strength.
For Example: WillowWanderer, EmberlynPhoenix, MeadowLarkMarauder
Tip #3: Explore Mythology and Legends:
These name ideas are also listed in this article, and by using this way, you will be able to get a unique name. Dive into myths and legends from various cultures for intriguing and mythical names.
For Example: AthenaWarrior, FreyjaFrost, NyxShadowcaster.
Tip #4: Get an Inspirational Name with an Animal-themed Tag:
Animal names can signify agility, cunning, and grace, perfect for gaming. Almost everyone lives with animals and birds. Make some variations of your favorite words with animal names and get the brand-new gamer name.
For Example: VixenValor, TigerLilyTalon, and FalconFlare.
Tip #5: Play with Vibrant Colors:
The most creative way to find a perfect name is to make some options with Colors, as they can add a touch of charisma and personality to your gamertag.
Example Names: IndigoInferno, CoralCraze, EmeraldEnchantress
Well, When you use your creativity in combining these elements or using them as a starting point, you can create a Gamertag that not only sounds cool but also reflects your style, personality, and gaming prowess.
Feel free to experiment and mix different themes to craft a name that is uniquely yours. One tip for you, try to use some badass nicknames to make a perfect gaming name.
FAQs
What is the importance of choosing a gamer girl's name?
Your gamer name can reflect your personality and identity in the gaming world, making it an essential aspect of your gaming experience.
How do I come up with a unique gamer girl name?
You can brainstorm ideas, combine words or themes that you like, or even use online name generators for inspiration.
Should my gamer girl name reflect my gaming style or preferences?
Well, it is not a rule, but it is your will to select a name that fulfills your interests or playstyle.
What are some popular themes for gamer girl names?
Popular themes include fantasy, sci-fi, mythology, and references to favorite games or characters.
Can I change my gamer name later?
It depends on the gaming platform. Some platforms allow name changes, while others may have restrictions or fees associated with it.
Should I avoid using personal information in my gamer name?
Yes, it's generally recommended to avoid using personal information to protect your privacy.
Final Words
Gamer girl's name is an important aspect of your gaming identity. Whether you're seeking a name that reflects your gaming style, interests, or simply something unique, the possibilities are endless. Just win the gaming world with a name that truly represents you, and let it become a memorable part of your gaming journey. Happy gaming 🙂
Related Articles:
Saba is a Public Administration graduate and a social media and gaming geek, belongs to a business background, and helps people to choose their business names. She loves to write on topics related to business tips, and suggestions about selecting a unique name and related niches.