Last Updated on: 24th October 2023, 08:59 pm
Nicknames of Songwriter, English singer, and Television Personalities and Actresses
The Spice Girls remain one of the most iconic girl bands. They conquered the world in the 90s with their catchy pop tunes and larger-than-life personalities.
Each of the five members had a nickname given to them by their fans and media based on their distinct style and character.
In this article, You will get to know each Spice Girl's signature nickname and figured out why they have become so popularly remembered for that name.
So, let's go and know about the Famous Spice Girl Nicknames
Spice Girls Nicknames
Spice Girl's Nicknames are almost as iconic as the band itself. The British pop girl group is considered one of the most successful musical acts of all time, selling more than 85 million albums worldwide.
As each member had her unique style and personality, they each acquired their Spice Girls Nickname that was reflective of their character:
Baby Spice
Scary Spice
Sporty Spice
Ginger Spice, and
Posh Spice.
Baby Spice was given to Emma Bunton due to her youthful looks and sweet demeanor, while Mel B earned the Scary nickname Spice because she was often seen as the outspoken member who spoke her mind freely.
Geri Halliwell's tomboyish look saw her become known as Ginger Spice, while Melanie Chisholm opted for a sportier style which gave rise to Sporty Spice.
Scary Spice: Mel B
"Scary Spice" Mel B. is one of the most iconic members of the iconic Spice Girls. Emerging on the scene in 1996, she quickly gained international fame and admiration as a part of the all-female group that redefined girl power for an entire generation.
Mel B., more formally known as Melanie Brown, was born in Leeds, England, and became famous for her outrageous style and powerful presence both on stage and off.
Her bold two-toned hair, multiple piercings, leather costumes, and daring attitude earned her the nickname "Scary Spice".
As Scary Spice, she questioned gender stereotypes with her unapologetic confidence, resonating with many young women worldwide.
Mel B.'s influence continues today, from her role as a judge on America's Got Talent to her advocacy work for gender equality in music production.
Baby Spice: Emma Bunton
No member was more beloved than Emma Bunton, otherwise known as Baby Spice. With her bubbly personality and signature blonde pigtails, Bunton quickly became an international sensation as part of the five-person girl group.
From their hit songs to their colorful costumes, it's hard to forget just how influential the Spice Girls were in pop culture. But even today, fans still remember Emma Bunton fondly for her role in the group.
Bunton was born on January 21, 1976, in London and adopted at birth by a loving family. She began performing at a young age and eventually enrolled in London's Sylvia Young Theatre School, where she studied singing and dancing.
Ginger Spice: Geri Halliwell
Ginger Spice, perhaps more commonly known as Geri Halliwell, is one of the members of the world-famous British group. Along with Mel B (Scary Spice), Emma Bunton (Baby Spice), Victoria Beckham (Posh Spice), and Melanie C (Sporty Spice).
They created a music sensation that was embraced by audiences around the world in the late 1990s. As Ginger Spice, Halliwell was able to stand out amongst her bandmates with her trademark red hair and energetic personality.
Halliwell's journey to stardom began when she responded to an advertisement by The Management Company seeking vocalists for a new girl group in 1993.
She auditioned successfully and was soon on her way to achieving worldwide fame alongside her four bandmates as part of The Spice Girls.
Posh Spice: Victoria Adams
Victoria Adams is one of the original five members of the Spice Girls. Born on April 17, 1974, in Hertfordshire, England, Victoria is the group's most fashion-forward and chic member.
Her classic style and sophisticated attitude have made her a memorable figure within popular culture.
Victoria's trademark look comprises designer clothes and expensive jewelry; she even created her clothing line with designer Roland Mouret in 2006.
She continues to make appearances at high-fashion events like Paris Fashion Week and has become an icon for luxury style worldwide. In addition to modeling for brands like Burberry and Estée Lauder, she has also released several solo albums since leaving the Spice Girls in 2001.
Sporty Spice: Melanie Chisholm
Sporty Spice, known as Melanie Chisholm, with her classic athletic style and attitude, Chisholm perfectly embodied Sporty Spice's role among the other group members.
The five members each had their own distinct individual style, which represented their nickname: Baby Spice (Emma Bunton), Scary Spice (Melanie Brown), Posh Spice (Victoria Beckham), Ginger Spice (Geri Halliwell) and last but not least Sporty Spice.
In an interview with Entertainment Weekly in 1997, Chisholm said she was given her nickname due to her love for sports and active lifestyle.
Popularity of Nicknames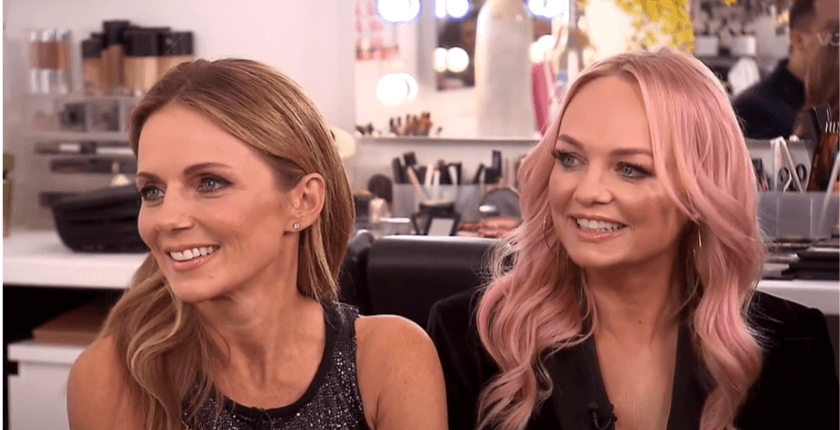 Have you ever wondered where nicknames come from and why they are so popular? Nicknames have been around for centuries, and the Spice Girls were no exception when giving each other a nickname. From Baby Spice to Posh Spice, these girls had some of the most creative and memorable nicknames in pop culture.
Nicknames are a term of endearment or a way to create an identity among friends. They can be funny, silly, sweet, or even embarrassing. It's depending on who's giving the nickname and why.
This is part of what made the Spice Girls' nicknames so successful – each one was unique and special to them as individuals. The playful camaraderie between the group members was highlighted through their use of nicknames.
Creating an intimate yet fun atmosphere for fans watching them perform. You can check the best nickname ideas for girls here.
Conclusion
As one of the most successful girl groups in history, the Spice Girls made sure that their nicknames became iconic symbols of each member's style and personality. But what does each nickname mean?
From Baby Spice's girly fashion sense to Scary Spice's bold presence on stage, learn more about why they all received such fitting names.
You may also like:
Saba is a Public Administration graduate and a social media and gaming geek, belongs to a business background, and helps people to choose their business names. She loves to write on topics related to business tips, and suggestions about selecting a unique name and related niches.