Last Updated on: 19th October 2023, 08:30 am
A walkie-talkie is not a toy but a useful instrument for communicating with people. It's similar to a smartphone but without all the frills and bling.
Military code names have been used since World War I when the Allies referred to countries, towns, meeting sites, and key persons. The walkie-talkie was designed in 1937 by Canadian Don Hings, and other innovators produced numerous similar devices at about the same time.
A walkie-talkie may be used to communicate with your buddies about anything from crucial messages to secret passwords. As you may know, speaking in codes is a timeless art form allowing individuals to communicate without understanding. People create secret codes for a variety of purposes.
A mission can be made or broken by its code name. It is critical to make sound decisions. That's why we've compiled this list of 11 amusing walkie-talkie code names you'll wish you'd thought of! Check out our list of walkie-talkie lingo as well.
Read | Cool Wifi Names
Walkie-Talkie Code Names Ideas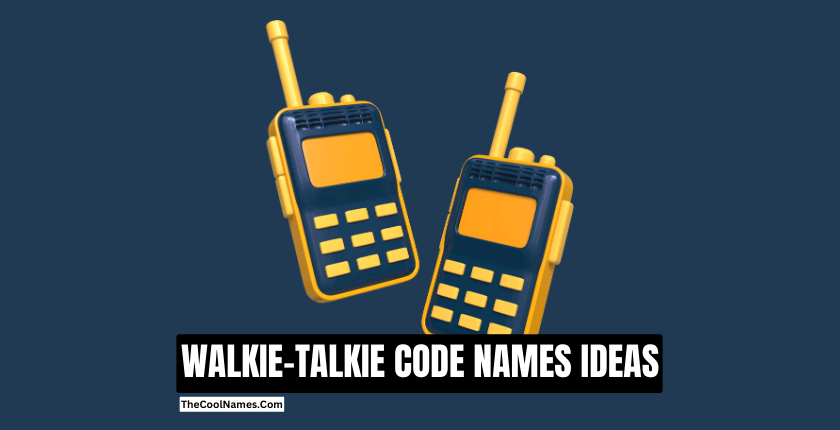 We have additional walkie-talkie code name options to select from below, whether you're utilising two-way radios for business, having fun with friends/family, or staying in touch with fellow explorers during outdoor trips.
Let's dig into it!
starburst
Cobra
Knock-Knock
Chowder
Ice Man
Firecracker
Smurfette
Pudding Pop
Golden Eagle
Bouncy
Dream Diver
Squeaky Cheeks
Whizzy
Vulture
Snakebite
Atomic Avalanche
Breezy
Shimmering Shores
Banjo
Blondie
Howler
Sonic Sentinel
Silver Surfer
Whisker Whiz
Gadget Guru
Doodlebug
Raider
Radiant Ranger
Techno Tiger
Gollum
Bumblebee
Bueller
Jumbo
Sharky
Midnight Shadow
Hooter
Ghost Rider
Jupiter
Wombat
Electric Spark
Gigglepants
Chopper
Fuzzy
Neo
Groundhog
Snugglebug
Buster
Yoda
T-Rex
Terminator
Read | Laptop Name Ideas
Walkie-Talkie Basic Codes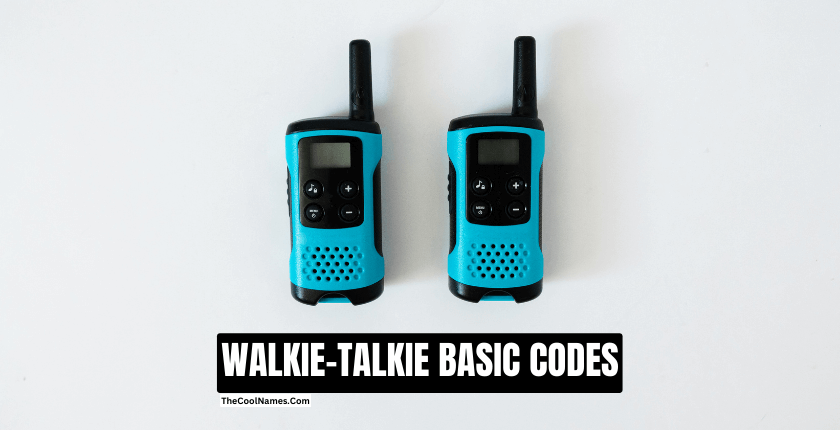 Affirmative – Yes
Copy – Message understood
Disregard – Ignore the previous message
Negative – No
Roger or Roger that – Message understood
What's your 20? – What's your location?
Do you copy? – Can you hear me?
Loud and Clear – Your radio is working well
Radio Check or Mic Check – Is my radio working?
Say Again or Go Again – Repeat your message
Over – I have finished my transmission, and I am waiting for your reply
Out – I am done transmitting for now
Walkie-Talkie Code Names Funny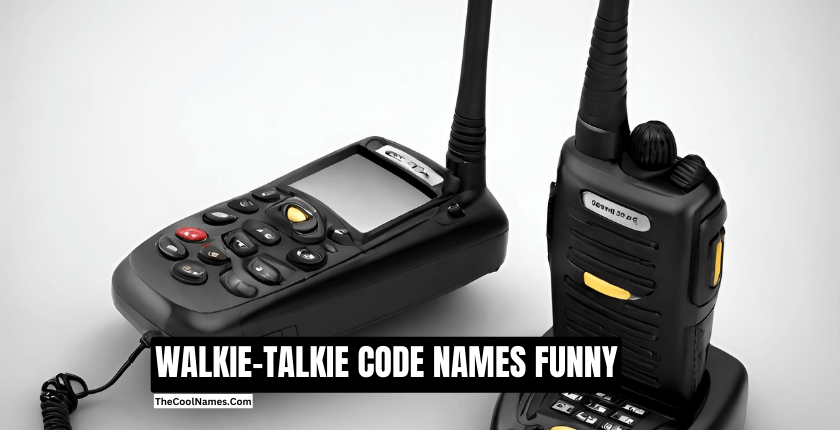 Spectral Serpent
Eagle
Cyclone
Blinker
Frostbite
Sprout
Bubbly Boo
Tootsie
Skywalker
Tatochip
Wolverine
Whimsy
Doodle
Squiggly Squirt
Wiggle
Atomic Ant
Wiggletail
Walker
Warhammer
Whirlwind
Moonchild
Eyesore
Pebbles
Maximus
Baby Bird
Inbetweener
Frosty Fury
Nibbles
Solar Flare
Dazzle
Lazer Lizard
Hubcap
Thunder Thrasher
Chuckleberry Finn
Groot
Fizzpop
Stormy Seas
Jetstream
Squiggle Snicker
Bouncehouse
Taterbug
Thunderbolt
Bullfrog
Fizzle
Squiggly
Reaper
Wobble Wobble
Neon Nightrider
Radiant Raptor
Pipsqueak
Read | Computer Name Ideas
10 Code for Walkie-Talkie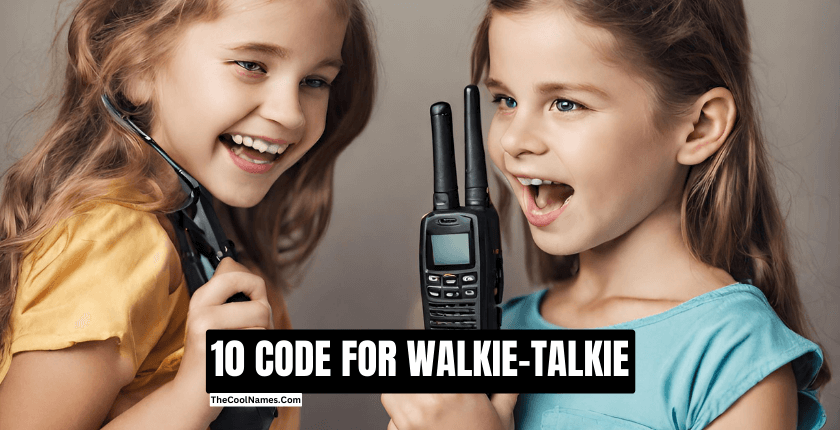 10-1: Signal is weak; transmission is received poorly.
10-2: Signal is strong; transmission is received well.
10-3: Stop transmitting.
10-4: Message received and understood.
10-5: Please relay the message to (name or someone else).
10-6: Stand by; currently busy.
10-7: Out of service; not available.
10-8: In-service; available for duty.
10-9: Repeat the message.
10-10: Transmission completed; please standby.
10-11: You are talking too fast; please slow down.
10-12: Visitors are present at my location.
10-13: Report road conditions and advise on the weather.
10-14: Escort or convoy is underway.
10-15: We have a prisoner in custody.
10-16: Make a pick-up at the specified location.
10-17: Urgent business; respond immediately.
10-18: Do you have anything for us?
10-19: Negative; nothing for you.
10-20: What is your location?
Funny Code Names For Girls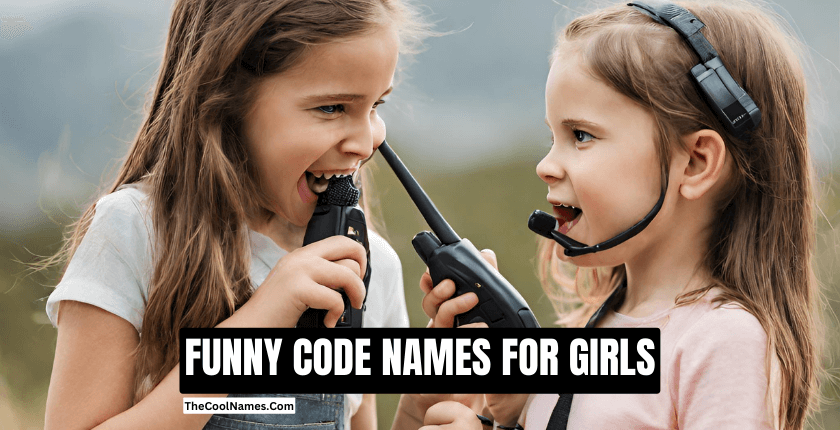 Firefly
Turbo Twister
Rabbit
Gummy
Giggle Monster
Dimples
Ghost
Radiant Rose
Crimson Cyclone
Giggletummy
Bumpy
Wiggly Worm
Saint
Rainbow Rocket
Midnight Meteor
Critter
Ripper
The Dude
Wobbly Woo
Saber
Blaze Blazer
Toe Jam
Sapphire
Chucklemonster
Cherry Bomb
Munchkin
Brainiac
Turbo Turtle
Big Bird
Squeak
Dimple
Sniffles
Witty Wizard
Phoenix
Nifty
Scoot
Quirky
Iron Man
Aqua Alchemist
Jokester
Extraordinaire
Batman
Bippity Bop
Neptune
Nimbus
Gadget
Butcher
Blackout
Steam
Optimus Prime
Read | Computer Business Names
Funny Code Names For Boys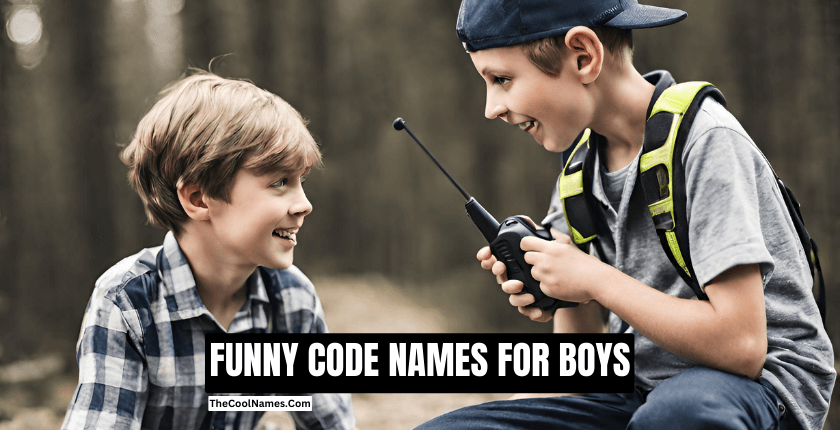 Thunder Tide
Chaos
Biscuit
Doodle Poodle
Winky
Swift Sparrow
Raptor
Fuzzball
Snuggle
Squirt
Jolly Jester
Needlenose
Snickers
Snowman
Bumpkin
Star-Lord
Mad Max
Diamondback
Captain Awesome
Legolas
Woody
Squeezy
Silver Sonic
Frosty Flame
Tater Top
Zig-Zag
Twinkle Toes
Sass
Desert Fox
Twitch
Belly Laughs
Vader
Bumbleberry
Sunburn
Wobbles
Techno Trooper
Sonic Boom
Toot
Goody
Narwhal
Cuddle
Tater Tots
Stealthy Seeker
Cosmic Comet
Wackadoo
Enigma
Cosmic Cruiser
Chuckle Bunny
Snickerdoodle
Zigzag
Read | Attitude Names for Instagram for Boys
Stranger Things Walkie-Talkie Code Names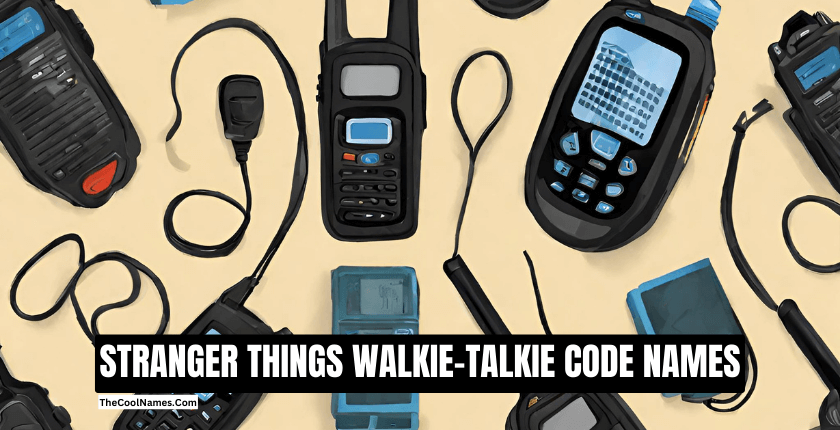 Jonathan Byers – Lonnie
Lucas Sinclair – Lion Cub
Billy Hargrove – Camaro
Will Byers – Zombie Boy
Max Mayfield – Madmax
Eleven – El / Eleven
Dustin Henderson – Toothless
Steve Harrington – Mom Steve
Erica Sinclair – D'Artagnan
Jim Hopper – Chief
Joyce Byers – Jopper
Mike Wheeler – Shaggy Dog
Nancy Wheeler – Nance
Catchy Walkie-Talkie Code Names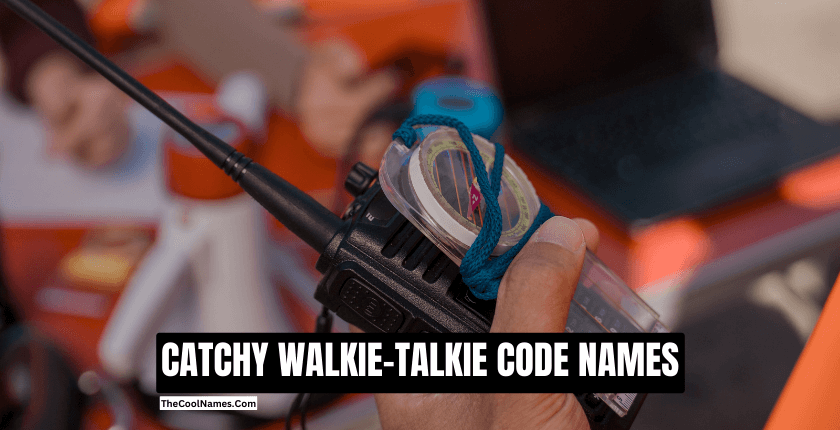 Tex Mex
Squeezy Squeak
Rookie
Squish
Goliath
Grumble
Whispering
Whirlpool
Ghoul
Bumble
Big Bang
Gorilla
Zany
Flounder
Gooey
Wobbly Weeble
fizz buzz
Maverick
Flashfire
Bopper
Cosmic Cheetah
Froggy
Rainbow Rider
Bengal
Stellar Streak
Armadillo
Aqua Ace
Wobbly
Sapphire Serpent
Whimsical Wizard
Porky
Magenta Moon
Tinker
Rawhide
Growler
Bully
Snickerdoodler
Scrappy
McFly
Buffalo Bill
Halo
Zombie
Daffodil
Moonshine Maverick
Peaches
Godzilla
Gingerbread
Black Mamba
Lunar Lagoon
Ace
Military Radio Code Names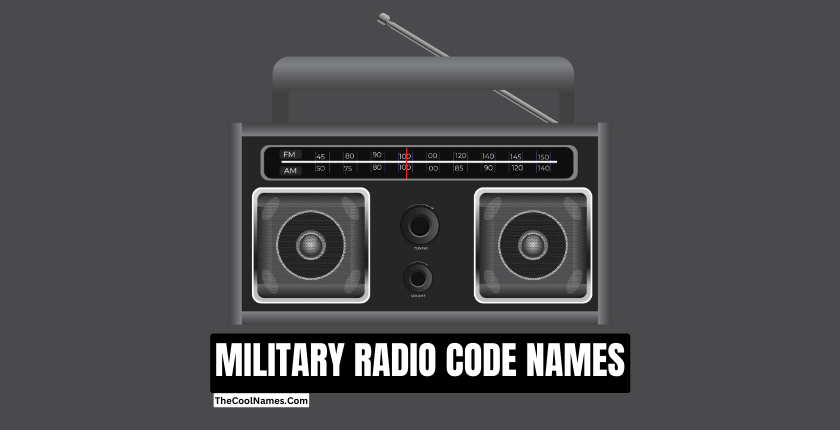 Alpha – Represent "A" for "Affirmative."
Bravo – Represents "B."
Charlie – Represents "C."
Delta – Represents "D."
Echo – Represents "E."
Foxtrot – Represents "F."
Golf – Represents "G."
Hotel – Represents "H."
India – Represents "I."
Juliet – Represents "J."
Kilo – Represents "K."
Lima – Represents "L."
Mike – Represents "M."
November – Represents "N."
Oscar – Represents "O."
Papa – Represents "P."
Quebec – Represents "Q."
Romeo – Represents "R."
Sierra – Represents "S."
Tango – Represents "T."
Uniform – Represents "U."
Victor – Represents "V."
Whiskey – Represents "W."
X-ray – Represents "X."
Yankee – Represents "Y."
Zulu – Represents "Z."
Read | TikTok Usernames Ideas
Tips to Create Walkie-Talkie Code Names
Here I will share some badass tips you would like to implement while choosing the best name for your walkie-talkie codes.
1. Select a Word or Phrase With Two Syllables
Your code name doesn't necessarily have to contain consonants, but two-syllable words and phrases tend to work well. Keeping your name to two syllables will be brief, snappy, and simple to remember.
2. Take Inspiration From TV, Movies
You may draw inspiration from movies, television shows, and music. You may take a code name from a fictitious trucker or military service person or make one based on other characters and tales you enjoy. "Big Boss" name was given to a military officer in the popular Korean drama Descendants of the Sun.
3. Try to Add Adjective
You might also try using an adjective to describe your personality or your position in the group. Adding an adjective o your name will give a uniqueness to your name and will be remembered easily by your squad.
4. Take Inspiration From Your Favourite Animal
Animals might inspire code names in particular! Choose your favourite animal as a code name, one with an interesting meaning, or one that sounds nice.
5. Seek Suggestions From Family And Friends
There is always the possibility that you may dislike your nickname if you pick this option, but the best code names are given rather than chosen. People in the military are sometimes given code names based on one of their distinguishing characteristics or a noteworthy experience.
FAQs:
Why Do Armies Use Walkie-talkie?
At this time, walkie-talkies were created to help soldiers to communicate on the battlefield. To transfer messages back and forth, a walkie-talkie contains a speaker on one end and a microphone on the other.
What is the Main Purpose of a Walkie-talkie?
Whether travelling, camping, or simply in an area with poor mobile phone coverage, walkie-talkies keep you in touch without relying on poor reception or dead zones.
What is the Purpose of Two-Way Radio Communication?
Workers can instantaneously interact with other team members via two-way radios, allowing them to perform duties swiftly and completely. A mobile phone can only communicate with two people at once.
What is 10 Code Called?
Ten codes, sometimes known as ten signals, are brief codes used in voice communication, most notably by police enforcement and in Citizens Band (CB) radio communications. The APCO Project 14 Aural Brevity Code is the official name for the police version of ten codes.
Final Words
As you know, code names are very important for the success of a mission. Spend time brainstorming ideas to come up with the best code names. You can get help from the tips to generate the code names
You may also like:
Nimra is a content writer and blogger who regularly contributes to The Cool Names. She has done BS in Nutrition and Dietetics. She covers pets, business, gaming, beauty, lifestyle, and fashion niches.