Last Updated on: 12th October 2023, 08:20 pm
In the gaming world, a clan is called a group of common interests and options of games. Choosing a clan name is a major concern nowadays, but why?
Selecting the right clan name is essential as it describes your game and attitude. The online gamers build up a team to compete against other gamers.
Some of the most famous games include Clash Royale, PUBG Mobile, and Clash of Clans. Nearly all of these games have one or multiple gamers.
The life of a clan can go from a couple of weeks to whole ten years. Many clans on Xbox One, PlayStation 5 or 4, and computers have official clan websites with forums to discuss many topics with the rest of their clan and people with similar interests. If you're a serious online gamer, you've probably joined a clan.
If you are looking for cool sounded clan names, then here you go with the list. Below here, we've short-listed many excellent clan names by their themes or games.
Read | Cool Usernames
Good Clan Names for Clash Royale in 2023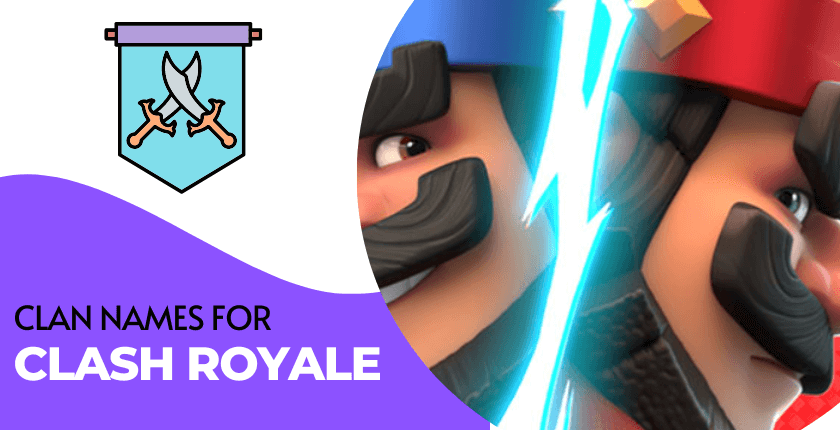 You can enter into the best arena and make your own clan in Clash Royale game. But you should always pick a unique clan name in your gaming world. That's why clan name you choose can make a lot of difference, whether you're a beginner or a veteran.
In addition to attracting new members, intimidating your enemies, and making your clan look badass, a good clan name can help you get more members. That's why we have some good clan names for clash royale for you! Have a look!
Royal Renegades
Elite Empire
Dragon Dynasty
Mystic Mavericks
Savage Samurai
Ironclad Titans
Vicious Vikings
Shadow Syndicate
Warlord Warriors
Knightly Order
Thunderous Legion
Phoenix Fury
Gladiator Gang
Cosmic Crusaders
Diamond Dominion
Heroic Horde
Golden Guardians
Battle Brigade
Crimson Crown
Inferno Invincibles
Emerald Empire
Silent Assassins
Mythic Monarchs
Furious Fighters
Ivory Icons
Platinum Patriots
Steel Stallions
Omega Olympians
Brave Buccaneers
Galactic Giants
Read | Funny Gaming Names
Cool Clan Names for PUBG Ideas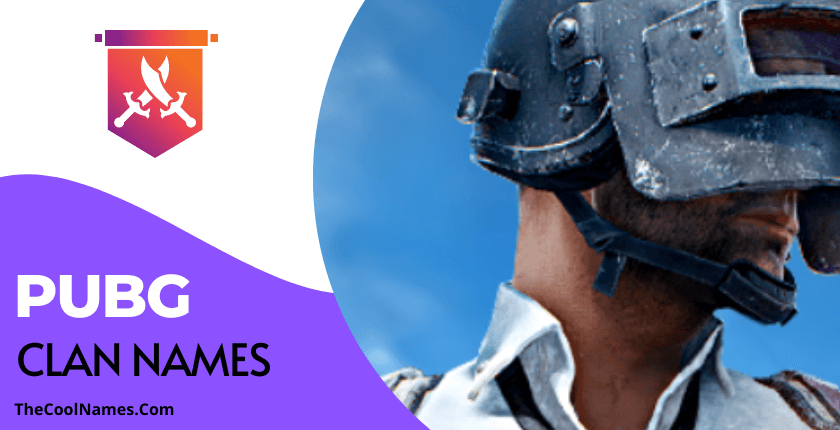 So, what makes a good clan name? If you don't want potential members forgetting your clan name before they even have a chance to join.
Then clan names for clash royale should be easy for people to remember and pronounce your clan name. We have some unique clan name ideas for you to use in the video game clash royale to enjoy it to the fullest.
Zombie Attacker
Immortal Heroes
Merciless Warriors
Mega Monsters
Scary Crows
Thrill Seekers
The Savage Bunch
Grenade Squad
Psycho Beauties
Wild Ones
Sweat-Soaked Clan Names
Fine Bureau
Last Strike
Fine Bureau
Awful Officer
Psycho Executioner
Pubjesus
Lone_Ranger
Haldane
Heart Vs. Feather
Capable Liquidators
Unmistakable Commanders
Blair Ripper
Blane
Vanguard
Vicars Of Violence
Rec
Recoil Riot
Vampiric Ghosts
Tiger On Mission
Shady Veterans
Coc Rules
Lexi
Goth
John
Vin
Roil
Edie.
High
Rule
ZBrush
Award
Award
Munro
I envy
Ewing
Agent
Druze
Leslie
Ghostz
Related: Gamer Couple Nicknames
Sweaty Clan Names for Fortnite Ideas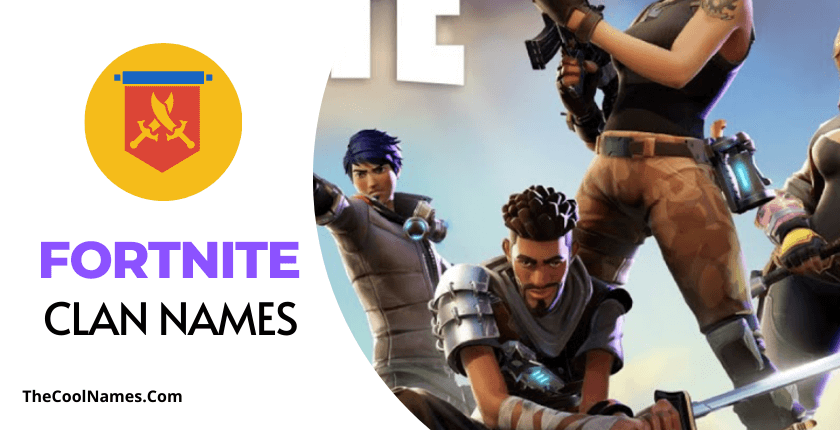 Clan names for Fortnite are among the most popular video games for teenagers and up. In Fortnite, the player collaborates with the survivor in the open world while fighting other players. Violence is in the cartoon, but some scenes can disturb young players.
Best Hunks
Lucky Terminator
Chicken Destroyer
Rogue Romeos
Lost Ninjas
Nibbana Boys
Legend Unleashed
Predator Killers
Live Or Die
Champ Warlords
Dread Butchers
Reckless Thugs
Impulse
Military Warlocks
Defective Devils
Over the top Tyranny
Spalding
Spens
Ascent of the Fallen
Determination Pressure
Insane lab rats
Marjoribanks
The Silent Footsteps
Bulldog Gang
Cardinal Seals
Optimistic Mambas
Military Warlocks
Network Clan
FREESTYLE
Parasitic Expansion
Good Clan Names for COD – Call of Duty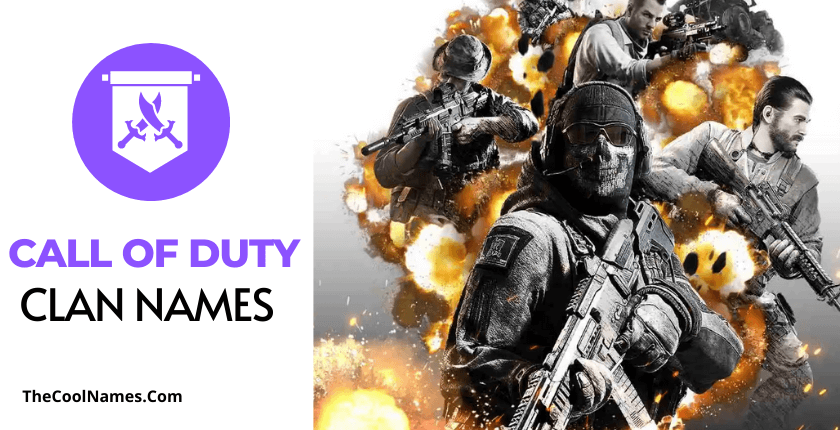 Call of Duty clan names or COD clan names are names from video games or social groups online where participants can find new teammates and friends through playing video games. We have some fantastic COD clan naming ideas for you.
Warzone Warriors
Silent Shadows Squad
Rapid Response Unit
Hippocratic Heresy
Killer Demons
Unbelievable Dominance
Sniper Syndicate
Stealth Snipers
War Machine Division
Delta Force Dominators
The Nameless
Thunder Strike Battalion
Ghost Recon Elite
Viking
Hero of COD
Bloodhound Battalion
The Chargers
Chilled Drills
Stitches for the Future
Contract killers
Carcass Evolutiionz
Insurgent Invincibles
Giants And Gunners
Worm Meals
Guerrilla Gladiators
Fury Fireteam
Resilient Reapers
Tactical Tornadoes
Bulletproof Brotherhood
Victory Vipers
XaGLeZ
Blood Bashers
Residue to Dust
Bullet Rain Brigade
Kerr
Valor Vanguard
Grim Shooters
Killing Fields
King Of Cod
Bloodline Apocalypse
Tactical Titans
Sabotage Strike Team
Dark Death
Gordon
Death Dealer Platoon
Great Clan Names
Swarm
Covert Counterstrike
Leask
Lamont
Phoenix
Armored Assassins
Spirits of Salem
Blood Circle
Noob Tank
Straight Studs
Blitzkrieg Brigade
Agent88
Miniature Bus City
Black Ops Legends
Well drink
Hungry Hunters
Killstreak Kings
Precision Predators
Melodious Armed Services
Cyber Commando Cartel
COD Commandos
Cool Names for Clash of Clans with Clan Ideas
This game is one of the best games that people love to play, that's why they search for some unique clan names, to help out those gamers I have listed some cool names for clash of clans.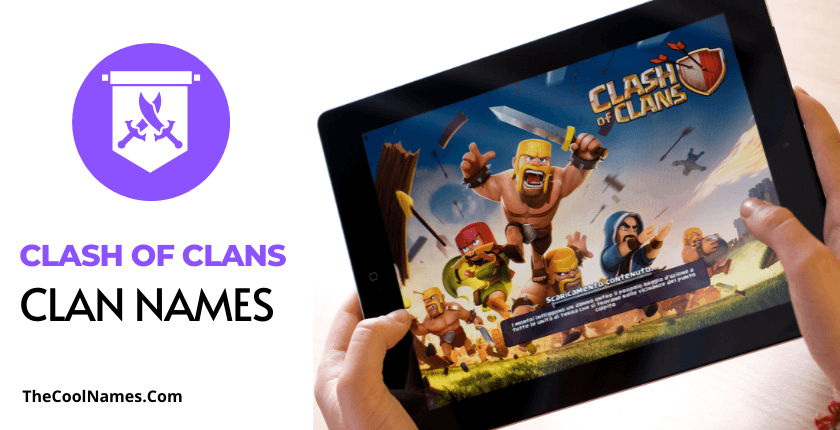 Broken Wings
Margarine
Armstrong
Auchinleck
Sky Blue Bulls
Earthy Colored Cobras
Myst
Envoy
Knuckle Association
Ruby Gorilla Crew
Ice Tear Riders
Dark Toads
Blue Assassins
Blue Clan
Well Off Criminals
Well Off Desperado
Craig
Crash Helmet Radioactive
Rutherford
Sandilands
Russell
Leask
Whisperers
Dead Eyes
Chicky Fighter
Delicate Woman
Tit For Tat
Fake Team
Enthusiastic Prestige
Early Liquidators
Free
Fancy Exterminators
Fire Wolves
Coal Black Trolls
Cutting Edges Of Rage
Bladez Douglas
Safeguards
Close Punks
Uprisingrivals
Uranium Potato
Trust
Hopkirk
Super Clan
Step By Step Process For Surviving
Appalling Strategy
Bothersome Force
Theclashlist
Roaring Domination
Faction Name Ideas
Jewel Trolls
Lowlifes
Kung Fu Phooey
Honey Badgers
The Azure Enigmas
Deserted Perpetrator
Life Systems Of Death
Tasteful Squad
Shut Butchers
Blood-Cost Of Terra
Young Lady Clan Names
Uninterested Victors
Self-Important Occupation
Conflict For Cash
Clashmebro
Troup
Two Gunslingers
Wrong Voltaic
Wry Strategy
Attack Of Ages
Skin Tailors
The Skeletons
The Brown Toads
Dropshotz
Residue To Dust
Reverberations Of The Lost Age
World Class Reborn
Blasts
Slaughter
Group Y.O.L.O.
Ten Antagonists
Authority
Toxophilite
Pandemic
Mortiferus Punctum
Highly Contrasting Executioners
Cutting Edge
Not Fortnite Fighters
Inquisitive Killers
Furioussteel
Ged
Cost Of Clan
Fearful Devils
Naomi Short Clan Names Ideas
A Clans name is simply a name you give to your clan; it can be one worded short, or many worded. Having a short name makes your clan sound unique.
Sambas
Scots
Wreckers
Fireballs
Xtreme
Grave Lord
Killer Thugs
Mayhem
Parasite
Black Force
Palestock.
Green Zone
Abrupt Death
Pivot Lamont
Rats of Men
Fire Skeleton Band
Men Of The Night
Moffat
Montgomery
First Reign
12 PM Power
Rattray
Rebels
Vlad's Children
TriB3z Munro
Dark Plague
Blackadder
Electric Moths
Onyx Skeletons
Daffy Slayers
Lifeless
degree
satanic countenances
Grizzly Warthogs
liberation Front
Virgin Girl
Defective Devils
Upsetting Liquidators
Spectacular Knights
Oily Desperado
Natural Punks
Seventh Circle
Related: Girl Nicknames for Games
Good Clan Name Generators
Clan names Generator. This is when online 1000s of clan names are available, and you can choose anyone you like. You can generate a clan name or create a nickname with the CL on clan name generator pages.
Single- or One-word Clan Names Ideas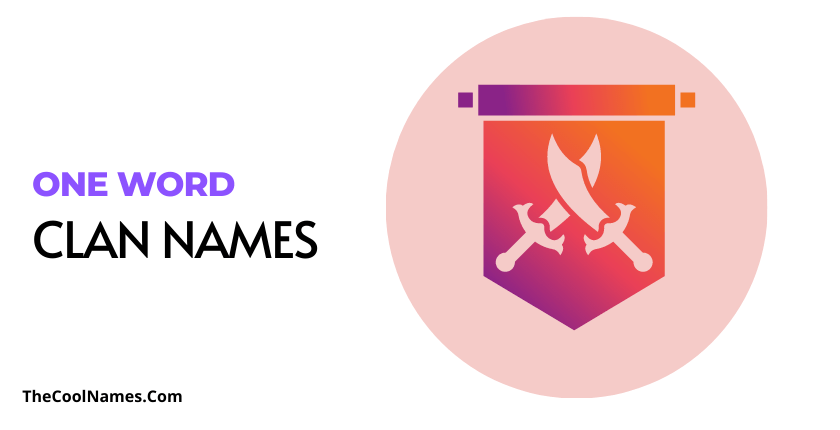 Fenton
iRuShh
Purves
Ogilvy
Epsilon
Russell
Stewart
CripTik
Forsyth
Bethune
OpTiCzZ
Youthful
Caldwell
Ra Power
Margolem
Melville
Newlands
Wild West
Stabwound
Immortals
farmmebro
Blow-back
Gladstains
Incredible
Ideal Aces
Performers
Two words clan names are black brawlers Ideas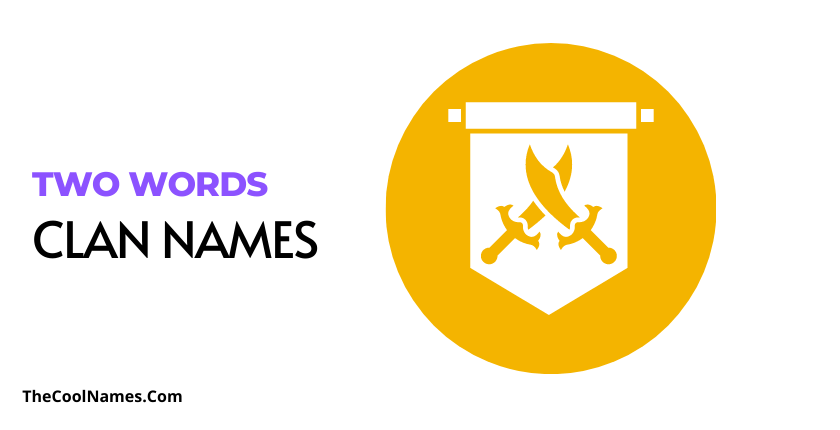 Finding unique and stylish gaming names can be challenging. For example, P.U.B.G. is extremely popular among kids and youth. Two-letter clan names can be on various abs styles, including long-short or multiple letter names.
Midnight Sweats
Boss Flop
Immortal Performance
Battle Riders
Wild Panthers
Thunderstrike
Space Hype
Violent Destroyer
Falcon Sky
Covert Vandals
Power Risers
Hidden Troops
Mercy Kings
Mist Radicals
White Bats
Warm Mafia
Somerville
Anstruther
Old School
Fast Pwner
Greek Fire
The Loners
Lion Squad
Gold Toads
Blue Takers
Call To War
Tooth Squad
Zombie Zone
Tit For Tat
Bug Autopsy
Dim Warrior
Family Clan
Super Squad
Last Strike
Group Elite
Deadly Force
Rezurrection
Passing Dose
Holly Secret
Ashes Rising
Strong Peons
Amazing Noob
Snipers Klan
Head Bangers
Fire Spiders
Goofy Masters
Zombie Hordes
Thunder Moths
Fallen Angels
Never Genesis
Ask For Mercy
Crush And Get
Tart Prestige
Womanly Thugs
Chalmers Logan
Zombie Canibus
Fast Hooligans
Dark Elephants
Bull Syndicate
Headshots Only
Grimy Warriors
Blood Draining
Related: Coolest Usernames for Games
3 – Three Words Clan Names Ideas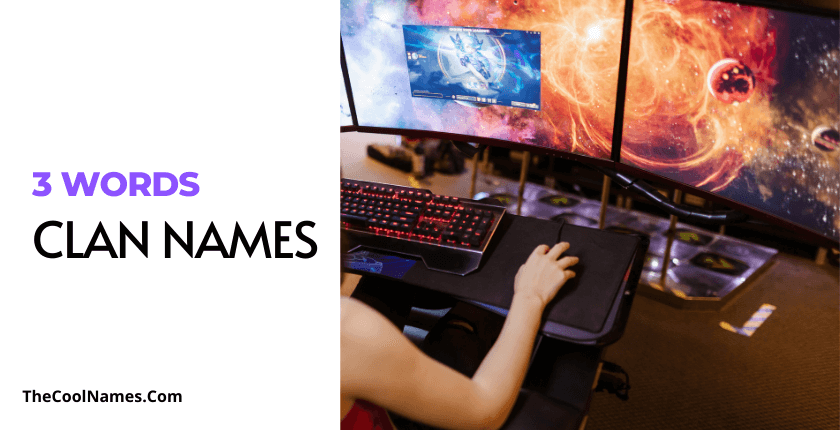 Three letter clan names are after 3 letters, many clans are three worded, and as explained before, three words clans work just as same as any other.
Flying dragons
Deadly fallen titans
Fire flaming fields
Arrow clan X
Mighty perfect shooters
CM candy masters
Victorious phenolic queens
risky whiskey
furry swans
T.T. tall troopers
Terror pelted guns
Instant frantic Fire
Super powerhouse
Psycho loose rivals
Silent hidden fighter
Force of noobs
The Art of War
Vlad's Children
Complex Slayers
Our Fathers War
Irritated Power
Complex Slayers
Hungry Admirals
Our Fathers War
Hungry Admirals
Unfriendly Thugs
Jugular Jugglers
Foul Perpetrator
FalconerMorrison
White Bear Squad
Wicked Criminals
Casual Criminals
Lifeless Admirals
Remarkable Legacy
Jade Knuckle Clan
Unusual Criminals
Horrendous Devils
Charming Crashers
Variable Monsters
Tune of the Blade
Forrester Patullo
Blood of the Soil
Children of Salem
Shady Perpetrator
Viking Vivisection
Illustrious Spider
Rodent Association
Alterable Artisans
Awkward Domination
Meldrum Moncreiffe
Power Within Noobs
The Stealth Tigers
The Crimson Vipers
Blood-cost of Terra
Standard Discipline
Dispatch Edmonstone
Passing to Tronners
Quantum Performance
Flickering Prestige
Experts of Mutation
Night Walkers tribe
Request of Disorder
Passing Dealers SuRE
Destruction Bringers
The sky is the limit
Encompassing Inferno
Annihilate The Noobs
Wonderful Diztruktion
Unavoidable Prodigies
Violet Wolverine Band
sun oriented Immortals
Powerful 4 – Four Letter Clan Names Ideas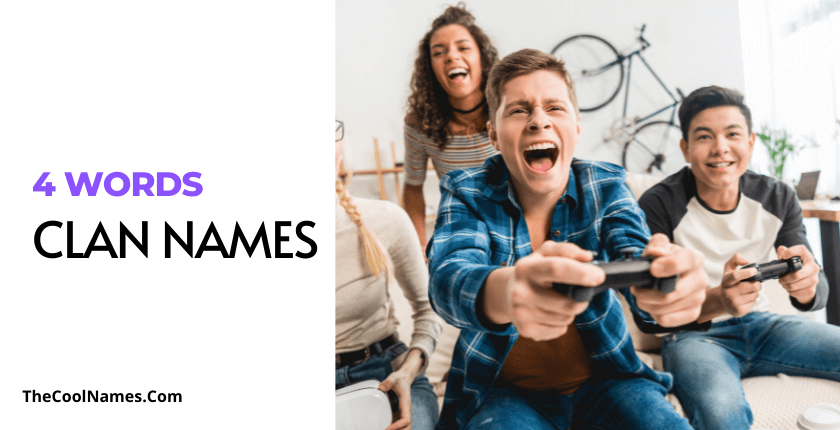 Four letter clan tags mean names that are four either long, have four acronyms, or combine both. It also shows the creativity of the gamer.
Legends In National Tribe
Best Evil Outlaw Soldiers
The Assassin Grim Squad
Insane Defense in Exile Nation
Angry Lost Outcast Rebels
Soldiers Of Wild Chaos
Army Of Suicide Tribe
Dr For Danger
Zotr Zor On the Run
Cool Clan Names for C.O.D.
Villains of Destruction
Illustrative Projectiles
Magnificent executioners
Optimistic Rebel Syndicate
Cool and Perfect Names for Clans Ideas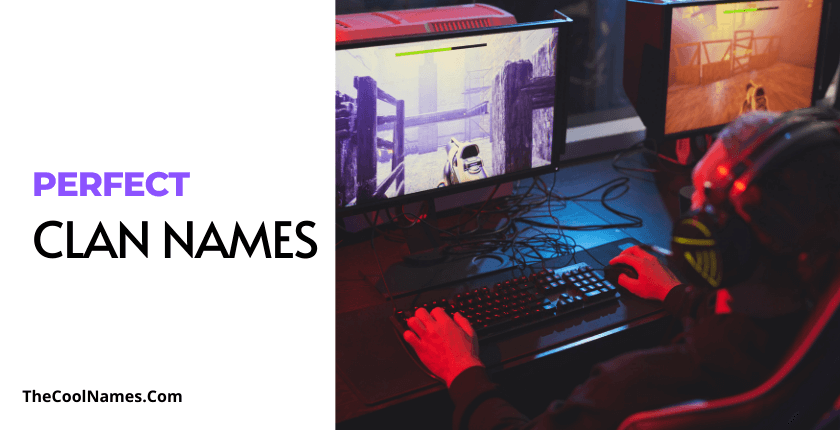 Different games come with an idea where you have to introduce yourself as a clan. When it is about the cool clan name, every team wants to have it. Here is just an attempt to introduce you to plenty of super easy cool names for your clans.
Clue
Taze
Swift
Failo
Crypt
Onyx
GLory
Sonder
Seventh
Natro
Kurel
Zenma
Xtorm
Thundar
How to select a cool clan name?
Every gamer wants their clan's name to be unique, different, and calm, using their own. Yes, For example, if your clan is aggressive and combative, use a bold and unique name.
Final words
In the naming world, there are no boundaries and limits. You just think, and you name it. While some people become overly concerned with selecting the right and most appropriate name. But still, you don't have to overthink at all. All the clan names mentioned above are super cool to choose from and are good to go.
Read | One Word Gamertags
Saba is a Public Administration graduate and a social media and gaming geek, belongs to a business background, and helps people to choose their business names. She loves to write on topics related to business tips, and suggestions about selecting a unique name and related niches.