Last Updated on: 18th October 2023, 10:44 pm
A squad is a group of gamers who play and collaborate to advance their position in the game. Mobile Legend is a multiplayer battle game where you can join an existing team or build your own.
You can play this game solely by yourself or can create a team. Joining a team is the best option to compete with your enemy.
The game appeared in 2016 and gained popularity in Southeast Asia, winning its first medal event e-sports competition at the 2019 Southeast Asian Games in the Philippines. This game is seven years old.
If you want to win this game, you'll need something called player collaboration. Another thing you'll need is a catchy team name because the essential thing for the Squad is to connect and develop chemistry among players so that the Squad can defeat the adversary.
If your team has a cool name, it will make you more confident in the game. And the chances of your success will increase. Each team can have 10 members.
In this article, I will enlist the best mobile legend squad names. And a few suggestions that will help you choose the ideal name for your squad. Good luck with your search.
Read | Roblox Display Names Ideas
Names For Your Mobile Legend Squad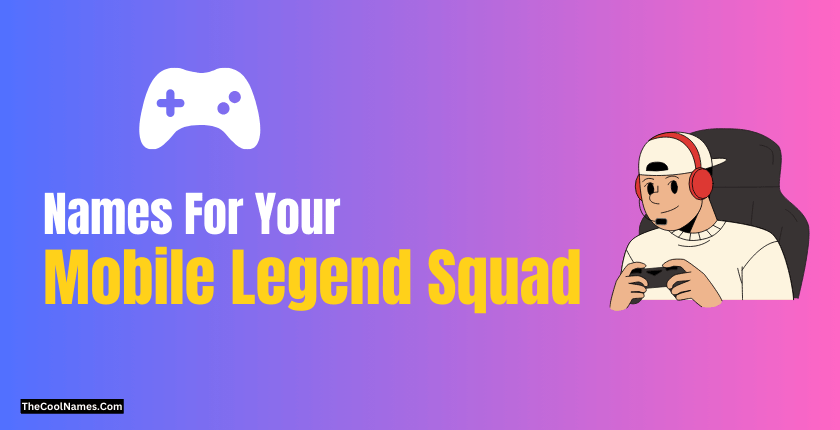 I have a list of the greatest squad names in Mobile Legends for you, but if you want to add or delete something from it, remember that the ML Squad name must have a minimum of six characters and a maximum of sixteen characters.
Let's have a Look!
Blaze Blaze
Badger
Wizzkid
Righteous Exiles
Venom Strike
Gigglesaurus
Secure Lair
Rocky
Gumshoe
Fizzle Pop
Brawler
Gobbledygook
Universal Foe
Road Hog
Blizzard
Doomrunner
Beast Busters
Dirtbike
Azure Gem
Potential Models
Companions of Honor
Sorrow Strummer
Storm Troop
Mammoth
Guardian Watch
Obi-Wan
Silly Goose
Bingo Babes
Cuddlebug
Cactus
Pub Pals
Incognito
Papa Smurf
Solo Fist
Rangers – RNGR
In Vogue
Welcoming Wonders
Modern Goddesses
Sprinkle
Expendables – EXP
Neptune's Nighthawk
Desolate Soul
Dothraki – DOTH
Enigma
Tater Tot
Zesty Zephyr
Midnight Marauders
Sisters United
Laser
Snake Eyes – SE
Read | Girl Nicknames For Games
Mobile Legends Squad List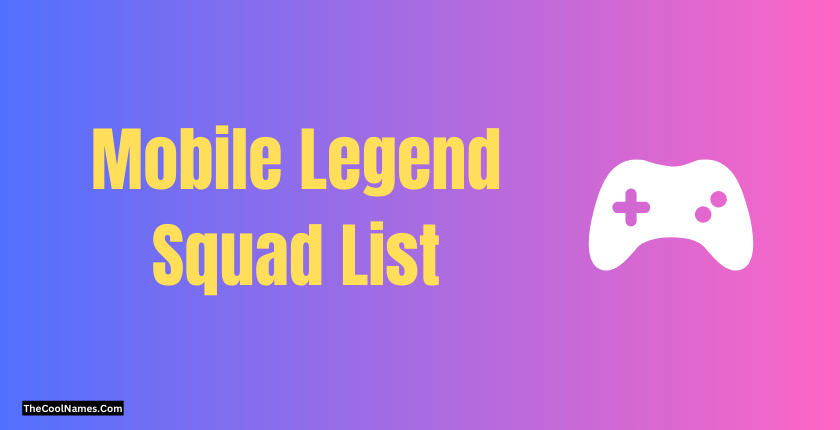 Fierce Females
Goose
Jaguar
Shark Bite
Neptune's Whisper
Captain
Mama Bear
Coleslaw
Patched Jacks
Aspiring Models
Moonbeam
Wobbletummy
Unhappy Aura
Wuzzle
Tiger Eye
Gloomy Gloomer
Chuckles
Katniss
Bop
Wonder Wisp
Voodoo
Giggles
Skippy
Muffin
Always Improving
Scooter
Fabulous Femme Fatales
Nighttime Queens
Adrenaline – ADR
King Kong
Popeye
Final Chance
Panda
Cave Dog
Avaricious
Boppy
Whimsical Wanderer
Crimson Falcon
Silver Arrow
Wiggles
Taffy
Lunar Luminary
Black Sun Rising
Phantom
Boss
Bingo
Joyful Friends
Parental Protector
Twinkle
Squeaky
Read | GamerGirl Names
Unique Squad Names ML
Suds Pushers
Supremes – SPRM
Stealthy Strider
Sapphire Storm
The Brave Brigade
One Desire
Desert Roses
Snort
Upbeat Ensemble
Mortal Stream
Sparkle Star
Pappy
Boomerang
Noodle Noggin
Enchanted Escapades
Anonymous Collective
Secret Squirrel
Fury
Brute Force – BF
Dreamy Dasher
Mantis
Collision Course – CC
Kraken
Quirk
Present Demise
Spider
Noodle
Brazen One
Midnight Stallion
Tumbleweed
Solo
Shadowhaven
Hero
Starry Stepper
Soul Reaper
City Myth
Hustling Honeys
Volcanoes – VLCN
Blitzkrieg Blitzers
Political Standouts
Navigator
Dizzy Doo
Lunch Lady
Supreme Ruler
Moonlit Mirage
Anything But Ordinary
Super Humans – SH
Aqua Aileron
Iron Dragon
Squiggle
Read | Duo Team Names
ML Squad Names and Short Names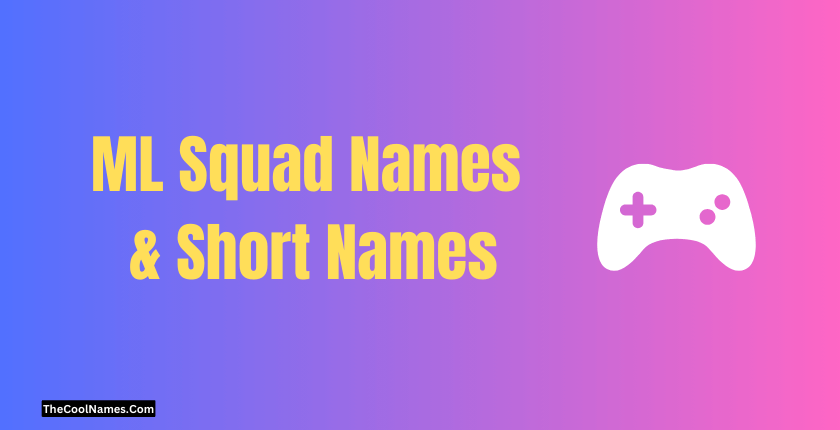 Starlight Sentinels – STS
Stellar Strikers – STR
Galactic Guardians – GLD
Thunderstorm Troopers – TST
Mystic Mayhem – MYM
Ember Enforcers – EEF
Solaris Strikers – SSS
Solar Soldiers – SOL
Phoenix Brigade – PHX
Lunar Lancers – LUL
Nebula Ninjas – NIN
Thunder Titans – TTN
Cosmic Crusaders – CCR
Arctic Avengers – ARC
Ecliptic Exterminators – EEX
Meteor Mercenaries – MET
Thunder Thunders – TTT
Moonlight Masters – MLM
Radiant Reapers – RAD
Blaze Bravados – BBV
Eclipse Knights – EKN
Zenith Zephyrs – ZZP
Venomous Vipers – VVP
Supernova Squadron – SNS
Shadow Assassins – SHA
Wildfire Warriors – WFW
Crimson Commandos – CRC
Phantom Phoenix – PHN
Moonbeam Militia – MML
Galaxy Gladiators – GGG
Zenith Zealots – ZZZ
Nova Knights – NVK
Venom Vanguard – VVG
Celestial Soldiers – CES
Inferno Legends – INF
Nova Nexus – NVN
Shadowblade Squad – SBS
Phantom Force – PMF
Lunar Legends – LLD
Galactic Gliders – GGL
Frostburn Falcons – FRF
Rising Dragons – RDN
Stellar Sabers – SSS
Eternal Elite – EEL
Celestial Cyclones – CEL
Valkyrie Vanguard – VVG
Astral Aces – AST
Frostfire Flames – FFF
Onyx Order – ONY
Ember Evokers – EME
Read | Pro Gamer Names
Best Squad Names in ML with Meaning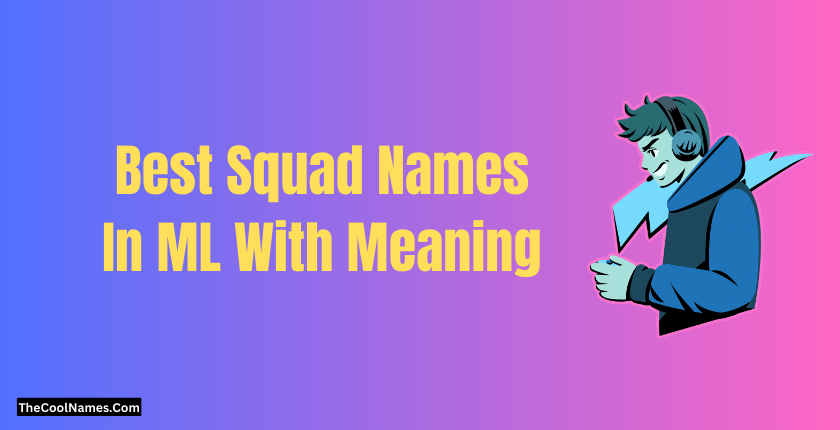 Immortal Titans – A squad known for their resilience and ability to endure challenges.
Infinity Sentinels – A team that shows representing their unwavering loyalty.
Cosmic Warriors – A squad of warriors who protect the cosmos.
Galactic Warriors – A squad of warriors.
Phantom Knights – A group of skilled knights.
Elite Vanguard – An elite group of soldiers leading the vanguard in battles.
Dragon Slayers – A team specialised in slaying dragons.
Thunder Gods – A powerful team that commands thunder and lightning.
Cosmic Dominators – A group that with skills and coordination.
Phantom Assassins – A group who strike like phantoms.
Nebula Knights – A squad that signifies their strength.
Celestial Guardians – A squad symbolising their noble and divine mission.
Mystic Shadows – A mysterious squad that operates in the shadows.
Omega Guardians – A squad of strength and determination.
Supernova Titans – A team of explosive power.
Valkyrie Valor – A team of brave warriors in battle.
Apex Legends – A squad that surpasses all others in skill and strategy.
Alpha Wolves – A dominant squad that symbolises strength and leadership.
Divine Legends – A squad of legendary players.
The Invincibles – A squad known for their unbeatable skills.
Astig ML Squad Names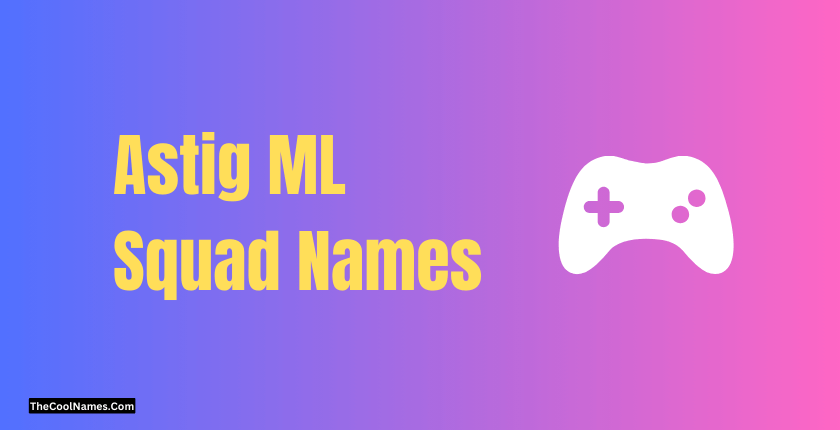 Bounce
The Dynamic Divas
Boingo
Dizzy Dean
Den of Lions
Eternal Warriors
Starlight Stinger
Squiggles
Tweety Bird
The Unusuals
Potter
Electric Eel
Speedy Sloths
Snoopy
Whispering Willow
Silver Swift
Oily Plates
Pudgy Pie
Oathkeeper
Dark Coiner
Mile High Heels
Galactic Gazer
Unbreakable Bonds
Thunderous Titan
Bumpkin Baby
Thankful Heart
Spunky
Gandalf
Mystery Victors
Rampage – RMPG
Commendation Crew
Tickle
Ruby Edge
Animal King
Dragon
Trench Divas
Blaze Rider
Cougar
Radiant Raven
Whiskers
Gummy Bear
Gooey Giggler
Dignity's Call
Solar Specter
Crime Solvers
Booger
Tater
Royal Escort
Boomer
Majestic Lions
Humble Squad Names ML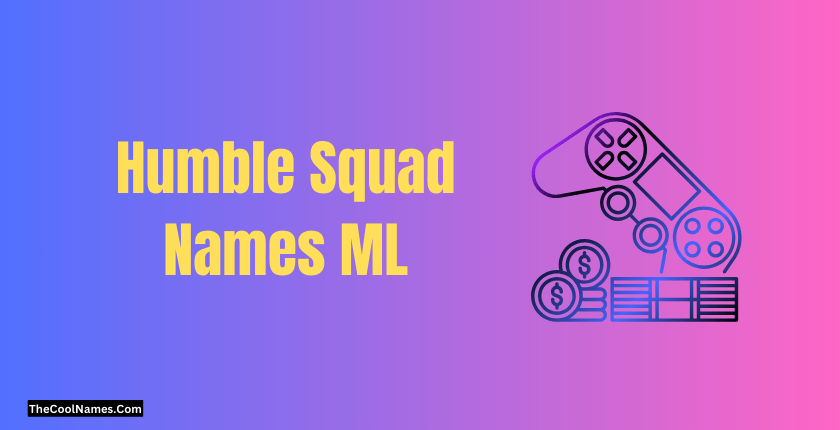 Wingnut
Budding Stars
Pudding
Inside the Game
Temporal Blast
Frosty Phoenix
Ghost Street
Baldy
Ivory Skies
Stealth Stalker
Laughing Ninja
Rascals – RSCL
Toxic Fang
Hornet
Amazon Warriors
Trojans – TRJN
Dizzy
Pixie
Joker
Blue Sea Rulers
Titan
Radiant Roses
Wonder Women
Wobble Wump
Absolute Obliteration
Professor
Zzzap
Bubbles
Monarchy – MNRC
Bloody Banishers
4 Letters Squad Names for ML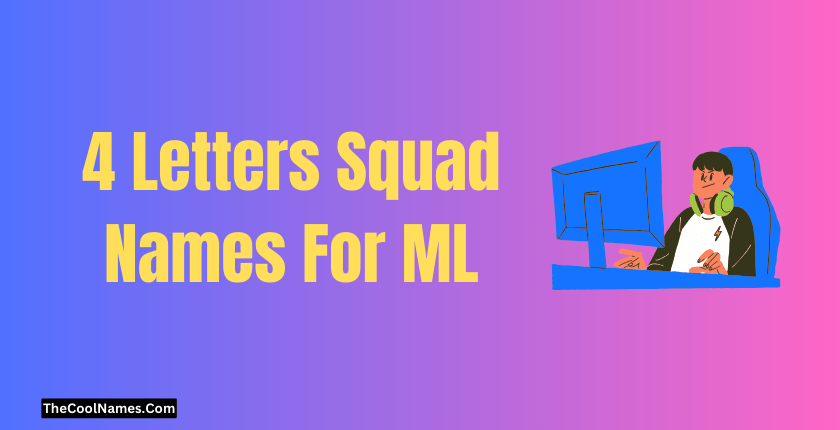 Orbs
Hero
Snug
Knot
Star
Rise
Jolt
Wave
Xeno
Nova
Pact
Edge
Vexx
Zest
Faze
Vibe
Haze
Crew
Opal
Kaze
Dare
Echo
Bane
Luna
Flux
Jinx
Aero
Ursa
Raze
Nuke
Grit
Dusk
Bolt
Yoke
Xtra
Lush
Maze
Ibis
Team
Quad
Tact
Wisp
Aces
Ikon
Gear
Mage
Peak
Yawn
Quest
Core
MLBB Squad Names Style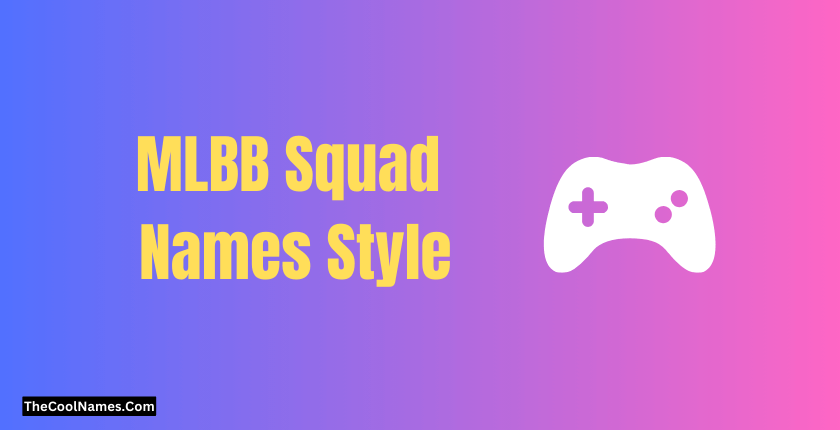 Dirge Ensemble
Turbo Thunder
Black Storm
Desert Flower
Liberty Heroes
Wacky
Jawbone
Everlast
Nibble Noodle
Toot Toot
Frostbite
Edna Mode
Bilbo
Savages – SVG
Silver Shade
Silence Breaker
Cute Beez
Deathwish – DW
Null Fortune
Hippo Hitmen
Raging Bulls – RB
Hush Hollow
Desert Beauties
Rumble – RMBL
Goober
Zephyr Zebra
Nickel Knight
Backward Renown
Bubble Blasters
Fuzzy Wuzzy
Angel Squadron
Candy Cane
Garlic Guardians
Crystal Shard
Shadow Ninja
Ruby
Little Lucky
Domination Force
Stealthy Fox
Bounce-a-lot
Turtle
Dumpling
Landbird
Chuckle Master
Handlebar Heroes
Unicorns – UNI
Stellar Stealth
Magic Merlin
Arctic White Pack
Inferno Levy
Prism Panther
Emperors – EMP
Read | Snapchat Girl Usernames Ideas
Tips to Create Mobile Legend Squad Names:
A good name is essential for keeping your team's passion for the game. Throughout the game, it keeps your squad engaged and positive. It is also your opponent's initial impression because he sees nothing but your game name.
Create your awesome team name by following the steps below:
1. Choose a Catchy Name
If you can, you have a cool squad name with logical worth, such as describing team spirit. As a result, the squad's sense of belonging is improving.
You may utilise a charming PUBG name in addition to being distinctive. For example, you go by Squad Teletubbies, while the members go by Tinkywinky, Dipsy, Lala, and Po. You're sure to be well-liked, right?
2. Try to Add Abbreviations
Furthermore, you might build your squad name from a word abbreviation or a friend's name in your squad or family. Aside from a catchy name, creating a catchy logo for your Squad is much better.
3. Be Interesting
Your squad's goal should be winning, but that doesn't mean you can't have fun while playing. So attempt to incorporate catchy terms in your name as well. To come up with creative team names, add jokes.
4. Establish Your Tone
Because your squad name defines your identity, you may choose what you want your name to convey. Whether you want a serious or humorous name, focusing on your tone can help you limit your selections.
5. Seek suggestions From Family And Friends.
Consider the advice of your close friends. More minds will produce more original ideas. Once you've gathered all your suggestions, limit them to the best ones and choose the one with the most votes.
FAQs:
Can you Change the Squad Name in MLBB?
After you form the team, you can no longer modify its name; instead, you must leave and start a new squad with a new name.
Who is the king of Mobile Legends?
Michael "MP the King" Endino (born October 15, 2004) is a Filipino player who plays with See You Soon as a Jungler.
Who Is the Most Savage in Mobile Legends Account?
One hero stands above all others: Karina. Karina has been in the game for a long time, and her power allows her to rapidly obtain a savage kill or five kills.
Who Is the First Strongest Hero in ML?
Mathilda is a devastating Support-Assassin who controls the early game. Because of her incredible damage output, she can easily kill any hero.
Who Is Weakest in Mobile Legend?
Due to the difficulties in employing skills, Vexana is regarded as the hero's weakest moment in Mobile Legends. For example, if Vexana is going to build artificial dolls, she must employ them ideally to be successful.
Final Words
In this post, I have listed a thorough list of squad names to help you find the appropriate name for your squad. Whatever name you select, make sure it matches your team's attitude and behaviour! Thank you, and happy gaming name ideas 🙂
Related Articles:
Saba is a Public Administration graduate and a social media and gaming geek, belongs to a business background, and helps people to choose their business names. She loves to write on topics related to business tips, and suggestions about selecting a unique name and related niches.