Last Updated on: 29th November 2023, 11:03 pm
Are you looking for photo album name or title ideas? Here, you can find the perfect name ideas for your photo collection book.
Pictures are the best companions of a person; they remind the best time to spend with loved ones.
Photo albums are the treasures in this case, when you feel happy while seeing the most amazing moments of your life.
Whether it's your wedding event photos, your own, or a family member's birthday event (including parents, siblings, spouse, or kids), it's important to celebrate it.).
In any case, you need a perfect name for any of the family members' photo albums.
Are you excited to have a name for your photo album? Alright, get the perfect ideas from this article, where I have listed some cool photo album name ideas.
It ranges from travel memories and wedding celebrations to the collection of newborn memories.
Naming Ideas for Travel Album Cover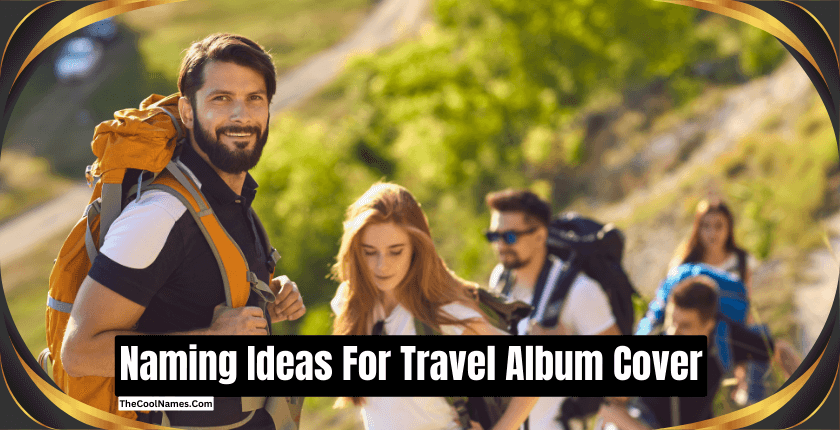 Check out these awesome trip photos album name ideas to recall your travel memories:
Wander Chronicles
Journey Juxtapositions
Roaming Memories
Passport to Adventure
Exploration Euphoria
Adventures Abroad
Wanderers' Wonder
A Tapestry of Trails
Global Gallery
Wandering Whispers
Voyages & Vistas
Roaming Rhapsody
The Nomadic Notes
Treasures of Travel
Jet-Set Journals
Wanderers' Memoir
Wandering the World
Adventures Unveiled
Footprints & Memories
Roaming Recollections
Journeys' Journal
Wanderer's Window
Odysseys & Moments
Traveler's Tapestry
Wanderlust Wonders
Wandering Diaries
Voyage Vignettes
Wanderers' Imprint
Discoveries Unfolded
Global Getaways
Wanderlust Whispers
Roaming Reflections
Adventures in Frames
Wandering Chronicles
Explore & Evoke
Wanderer's Universe
Odyssey Of Moments
Journey's Keepsakes
Trail Tales
Wanderlust Mosaics
Around the Atlas
Voyages Remembered
Wanderer's Palette
Roaming Reminiscences
Adventures Captured
Wandering Frames
Discovering Destinations
Brainstorming Tip:
Imagine the most important moments that this tag could remember.
Read | Apple Laptop Names
Naming Ideas for Family Album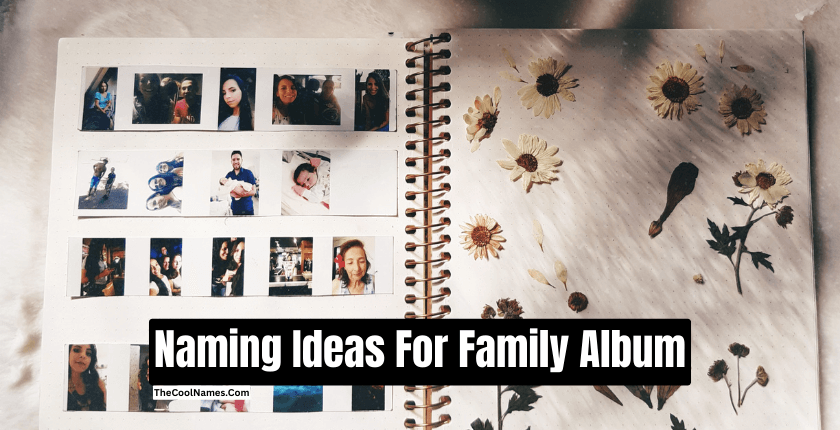 Use these tips to create special album titles for your family memories.
Generations in Frames
Our Family Chronicles
Family Moments
Unbreakable Bonds
Treasured Family Tales
Legacy in Pictures
Framing Our History
Family Album
Roots and Branches
Timeless Family
Life in Snapshots
Generational Snapshot
In the Family Spotlight
Our Family Storybook
Through the Generations
The Family Connection
Love and Laughter
Moments of Togetherness
Framed Family Memories
Family Ties
Cherished Family
Memories Forever
Album Legacy
Family of Happiness
Generations Remembered
Preserving History
Heartfelt Family
The Story of Us
Family in Focus
Precious Family
Family Journey
Forever Family
Timeless Moments
Album of Family Affection
Family Treasure Chest
Inherited Happiness
Our Family Memoirs
Heirlooms of Happiness
Heart of Family
Generations in Harmony
Capturing Love
Our Legacy in Images
Stories Preserved
Family Photo Book
Brainstorming Tip:
Consider the special moments in this memory to include on your album title.
Read | Peaceful Home Names
K-pop Album Name Ideas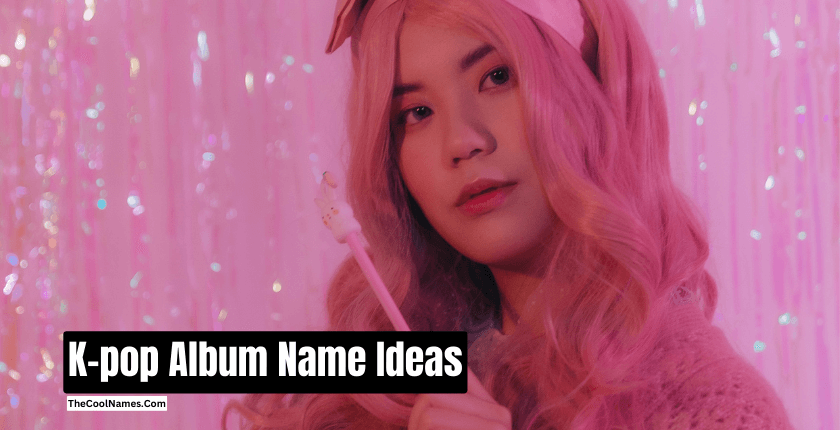 Have a look at the nicknames for your K-pop Album given in the list:
Euphoric Harmony
Neon Dreamscape
Rhythm Revolution
Starstruck Serenade
Galactic Pulse
Melodic Mirage
Luminous Sound
Celestial Beat
Synchronicity Sound
Electric Euphoria
Chromatic Chronicles
Mystic Resonance
Pandora's Playlist
Sonic Odyssey
Vibrant Voltage
Aurora Sonata
Radiant Rhythms
Pixelated Prominence
K-pop Fusion Fusion
Orbiting Overture
Harmonic Hypnosis
Stellar Synthesis
Astronomical Anthem
Lunar Lullaby
Sound of Stardust
Eternal Echoes
Inferno Infinitum
Nebula Notes
Vivid Vibrato
Supernova Serenity
Enchanted Eclipse
Luminosity Legends
Quantum Quaver
Utopia Undone
Timeless Melodies
Enigmatic Ensemble
Melodic Myriad
Mystique of Music
Resonant Reverie
Cosmic Cadence
Harmony of Horizons
Brainstorming Tip:
In this memory book, link up your favorite K-pop song for relevancy.
Album Names for Summer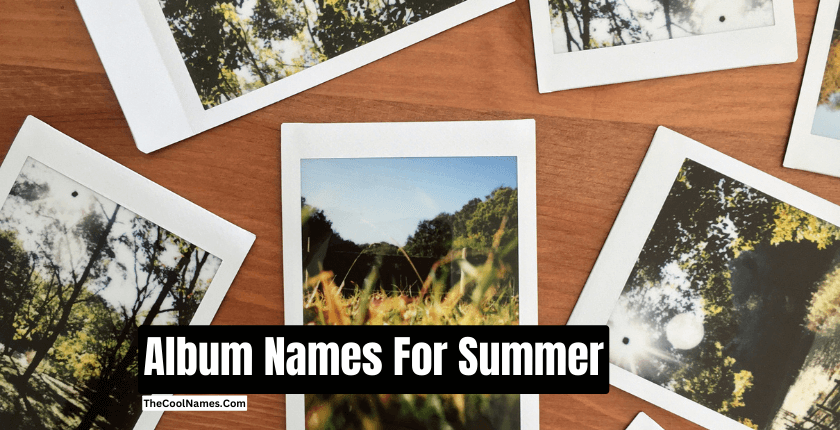 Discover some unique and exciting summer names using the following list:
Endless Summer
Summer Breeze
Sandy Toes
Ocean Waves
Beachy Vibes
Tropical Playlist
Summer Solstice
Island Dreamscape
Surf's Up Sounds
Lazy Days
Golden Hour
Poolside Pop
Seaside Serenity
Vacation Rhythms
Hazy Summer
Sizzle and Swing
Island Escape
Summer Love
Sunny Side
Sunset Soiree Hits
Chasing Fireflies
Cool Breezes Beats
Summer of
Barefoot Ballads
Park Playlist
Summer Sunset
Trees and Playlists
Warm Embrace
Sunrise Sound Stories
Seashell Symphony
Vitamin Sea
Sunflowers and Songs
Summer Nightfire
Eternal Sunshine
Coconut Dreamsongs
Summer Fling Playlist
Lighthearted Sunshine
Romance Rhythms
Seaside Sunset
Summer's End
Ice Cream Tunes
Sunlit Smiles Songs
Under the Stars
Brainstorming Tip:
You make hints about your best summer adventures for the picture book set.
Read | Catchy AI Based Chatbot Names
Friends Album Names Ideas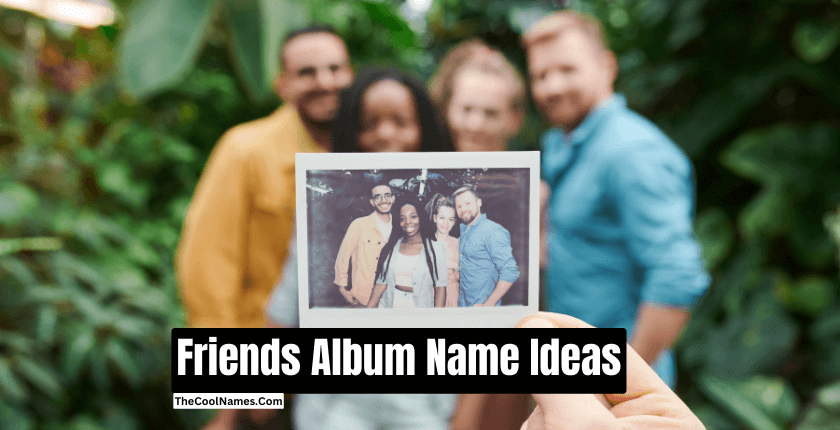 This list contains some badass album name ideas for friend. So, choose a name from the list below for your group of wonderful friends:
Friends Moments
Adventures with Allies
Companions in Captures
Together Through
Life's True Treasures
Endless Laughter Library
Bonds Album
Journey of Friendship
Best of Times Book
Friendship Frame
Friends in Focus
Making Memories
Smiles and Milestones
The Picture Book
A Friendship Story
Forever Friends
Shared Adventure
Moments with Mates
Essence of Companionship
Friendship in Frames
Candid Companions
Making History
Joy of Friendship
Friendship Snapshots
Friendship Journey
Lifetime of Laughter
Moments of Friendship
Together in Photographs
Album of Amigos
Friends and Frames
Capturing Our Connection
Laughter and Love Library
Art of Friendship
Friendship Stories
Unforgettable Friendscape
Friendships Album
Best Buddies
Friends in a Flash
Memorable Moments
Friend Zone Collection
Shades of Friendship
Timeless Ties
Friendship in Snapshot
Creating Memories
Pages of Pals
Friendship Retrospective
Brainstorming Tip:
Think of your friends' names or squad names if you possess any.
Ideas for Cool Wedding Cover Book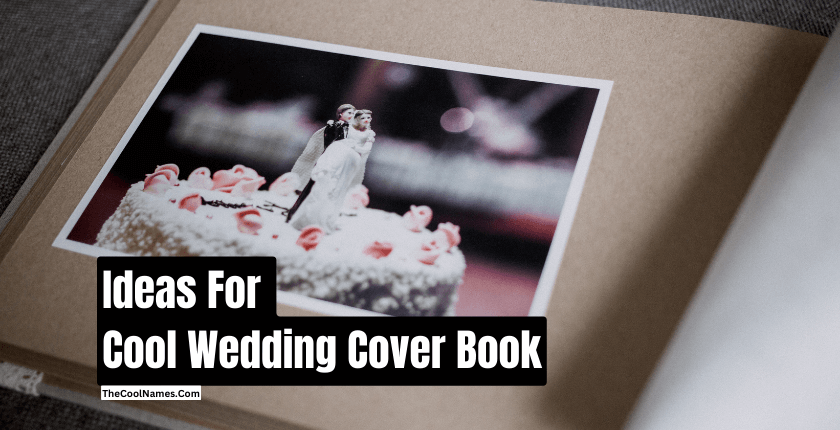 One of the most special event of anyone's life is wedding. The photo album of wedding event deserve a best name. Let's have some name ideas for your photo collection from here:
Forever & Always
Our Wedding Story
The Beginnings of Us
Wedding Wonders
Moments to Remember
Tying the Knot in Style
Our Perfect Day
A Love Story
Moments in Time
Our Wedding Adventure
Captured in Love
Timeless Tie
Day Forward
A Love Worth
Love's Journey
Our Wedding
Wedding Bliss in Pictures
The Magic of Our Day
Love Begins
Fairytale Wedding
Love Story Unfolds
Road to Forever
Love, Laughter
Wedding Dreams
Two Hearts, One Story
A Journey of Love
In Love and In Photos
From I Do to Forever
The Love Chronicles
Our Wedding Keep
A Day to Remember
Our Wedding Saga
Moments in Time
A Lifetime of Love
Wedding Album
Perfect Day in Pictures
A Journey of Two Hearts
Story Unveiled
Wedding Magic in Photos
Forever & Beyond
Wedding Day Memories
Unveiling Our Love Story
Cherished Beginnings
Our Wedding Chronicles
Wedding Bliss
Happily Ever
Read | Catchy Beard Nicknames
Ideas for Creative Event Albums
You can create a list of creative tags for event album names from here.
Epic Unveiled
Night to Remember
Celebration Chronicles
Memories in Motion
Spectacular Spectacles
Enchanted Album
Captured Festivities
Sparkling Stories
The Art of Occasions
Gala Gala Land
Revelry in Reflections
Lights & Festivities
Making Memories
The Grand Gathering
A Day of Delights
Creative Convergence
Vivid Album
Spectacular Snapshots
Moments in the Spotlight
Chronicles of Cheer
Picturesque Parties
Symphony of Celebrations
Gatherings in Gallery
Happenings in Hues
Festive Flashbacks
Celebration Capture
Joy in Frames
Occasion's Oasis
Eventual Encounter
Celebration Carousel
Creative Kaleidoscope
Expressions in Events
Album of Assemblies
Showcase of Spectacles
Memoirs in Motion
Cinematic Celebrations
Art of Assembly
Gatherings Gallery
Euphoria Elegance
Captured Ceremonies
Eventful Endeavors
Celebrations in College
Good Album Names for Babies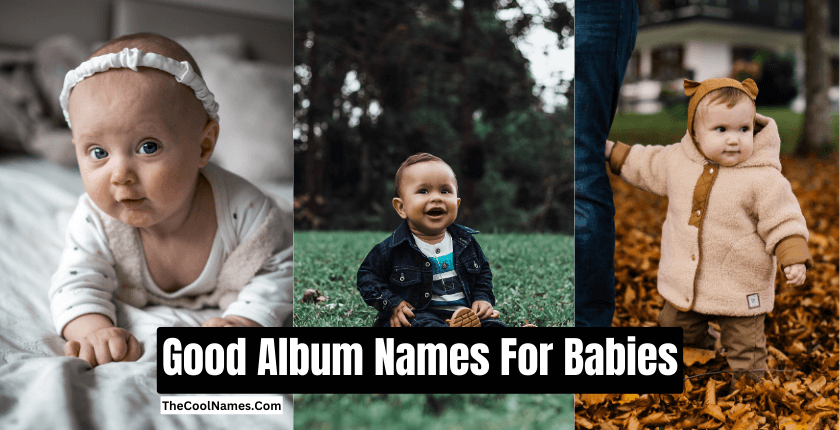 Track down the enticing identifications employing the index below:
Baby's First Year
Little Miracles
Tiny Toes
Precious Beginnings
Baby Love Stories
Baby's Journey
Smiles and Snuggles
A Year of Firsts
Baby Moments
Growing Up So Fast
Bundle of Joy
Cuteness Overload
Baby's Moments
Dreams and Diapers
Tiny Album
Little Adventures
Baby's First Steps
Bump to Baby
Star's Album
Baby Steps
First Year
Adorable Frames
Captured Cuteness
Baby's Growing
Giggles and Grins
Baby's Eye
Precious Moments
Baby's First Moments
Babies are Blessings
Life's Little Miracles
Baby Bliss in Frames
Baby Steps
Adventures of a Lifetime
Tiny Hands, Big Hear
Year of Sweetness
Baby's World in Pictures
Little Feet, Big Dreams
Innocence Captured
Tiny Treasures
Baby's Firsts
Glimpses of Babyhood
Baby Love in Focus
Baby's Wonderland
Brainstorming Tip:

Organize the photo viewer based on the ages of your kids.
Read | Photographer Nicknames
Good Album Names for Rap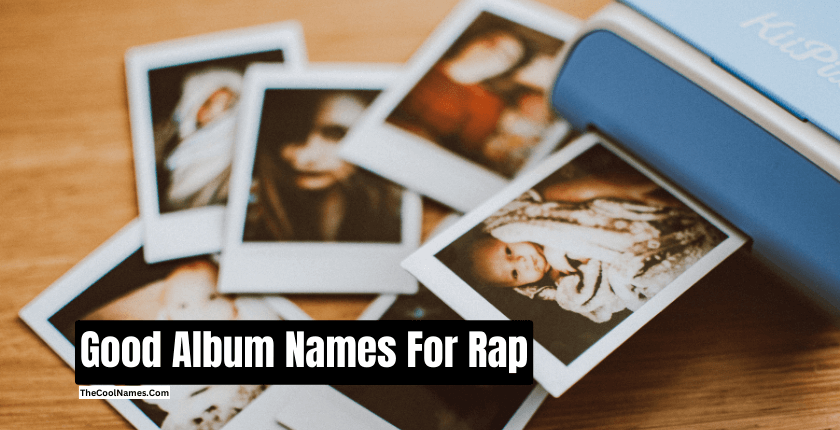 Find some of the best rap album names here to make them your own.
Rhymes Unleashed
Check Chronicle
Urban Poetry
Verses & Visions
Rap Revolution
Lyric Labyrint
Hip-Hop Alchemy
Urban Legends
Flow Chronicle
Sonic Streetscapes
Rhyme & Reason
Rap Odyssey
Lyric Legacy
Mic Masterpieces
Rap Resonance
Urban Versatility
Rhyme Realm
The Rhythm Express
Ink & Beats
Streetwise Poetry
Sonic Storytelling
Lyric Lore
Mic Magi
Urban Echoes
Rap Relics
Flow Chronicles
Sonic Serenity
Verses Unveiled
Lyric Lab
Urban Legends
Rhyme Rituals
Rhythm Resonance
Street Poetry
Sonic Sagas
Lyric Landscape
Mic Metropolis
Rap Reverie
Flow Frontier
Urban Utopia
Rhyme Records
Rap Realms
Sonic Scripts
Lyric Laboratory
Good Names for a Photo Book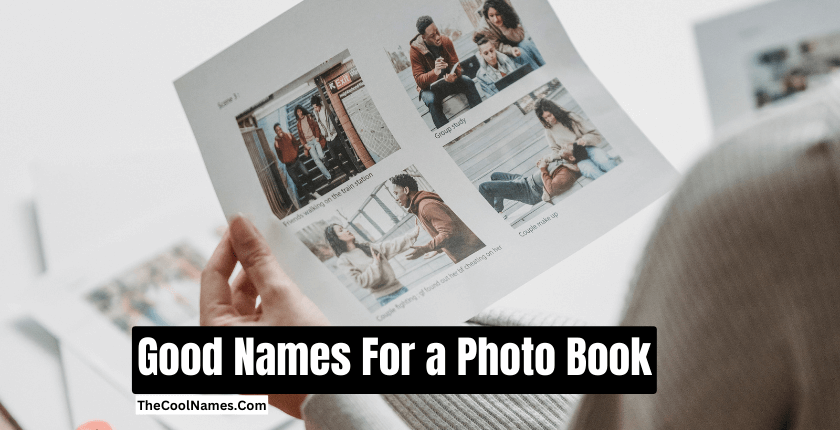 Pick the best album title for your photo book from the ideas given in the list.
Moments in Focus
Lens of Time
Captured Impression
Picture Memories
Visual Chronicles
Snapshots of Life
Frames of Remembrance
Imprints of the World
Shuttered Stories
Picturesque Journeys
Photo Almanac
Portraits of Past
Scenes in Reflection
Visions Unveiled
Glimpse in Time
Images & Impressions
Picture of Life
Exposure to Beauty
Visual Tapestry
Snapshot Symphony
Framing Life's Beauty
Journey in Picture
Shuttered Serenity
Candid Captures
Moments in Monochrome
Pictorial Poetry
World in Frame
Frozen in Time
Pixelated Impressions
Reflections in Focus
Album of the World
Timeless in Photos
A Photographic Journey
Scenes from the Heart
Pictures in Harmony
Visual Stories
Candid Chronicles
Through the Shutter
A Gaze in Picture
A World in Frames
The Frame of Time
Pixels and Pieces
Scenes in the Lens
Life in Snapshots
Story in Pictures
Read | Website Name Ideas
Names for Facebook Albums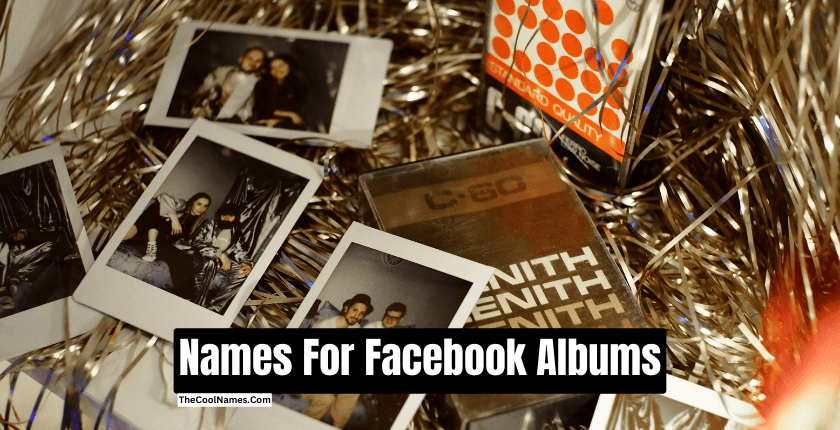 Get inspiration from these cool Facebook album name list to make yours stand out.
Life's Moments
Foodie Chronicles
Wanderlust Diaries
Times with Friends
Ties and Smiles
Travel Treasures
Year in Review
Behind the Scenes
Road Trips
Furry Friends
Throwback Thursday
Festive Celebrations
Weekend Escapades
Fashion Faves
Fitness Journey
Nature's Beauty
Work & Play
Selfies Galore
Artistic Expressions
Candid Moment
Great Outdoors
Creative Captures
Music & Melodies
Daily Gratitude
Celebrity Sightings
DIY Delights
Love and Laughter
Tech Adventures
Seasonal Sensations
Milestone Memories
Vintage Vibes
Favorite Quotes
Home Sweet Home
Pampered Pets
Traveler's Log
Around the World
Urban Explorations
Inspirational Quotes
Dance and Delight
Holiday Happenings
Life's Soundtrack
A Day in the Life
Love & Romance
Nostalgia Overload
Incredible Edibles
Brainstorming Tip:
Consider the purpose of the collection of images on Facebook.
Unique Photo Book Names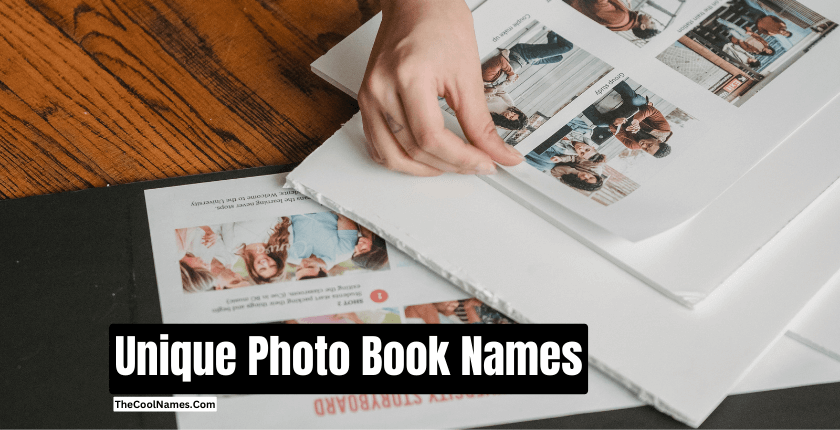 Choose creative and imaginative character names for your happy moments photo album from the list below.
Snapshots of Serenity
Chronicles of Light
Polaroid Dreamscape
Image Alchemy
Through the Viewfinder
Canvas of Emotions
Visual Odyssey
Whispers of the Lens
Chiaroscuro Chronicles
Echoes in Imagery
Infinite Frames
Kaleidoscope Visions
Silent Sentinels of Time
Portraits in Pastels
Reflections Unveiled
Tapestry of Textures
Surreal Snapshots
Pixels of Possibility
Abstract Reality
The Artistry of Life
Shadows and Shapes
Luminous Impressions
Essence of Elegance
Gallery of Dreams
Frames of Mystery
Immersed in Imagery
Whispered Secrets
Artful Lens
Cinematic Impression
Visions in Verses
Perceptions in Picture
Impressions of Innocence
Visual Whispers
Through the Eye
Layers of Perception
The Poetry of Pixel
Transcendent Vistas
Glimpses of the Senses
Fleeting Moments
Colors of Imagination
Silence of Shots
Brush with Reality
Reverie in Frame
Graffiti of Life
Visions of Virtuosity
Eyes of Echoe
Whispers of World
Do's and Don'ts While Choosing Photo Album Names
To simplify, I've listed positive actions and negative actions for you to consider when deciding on Photo album or book name ideas.
Dos
Pick a label that reminds you of important memories.
Give the label a personality to make it interesting.
Connect the memories with the labels in your album.
Think about how the label will be seen in the future in your picture book.
Don'ts
Choose clear and simple titles that tell easy-to-understand information.
Avoid using complicated words or terms that might confuse others.
Make sure the names you create make sense and fit well with what they represent.
Don't change names too often, and make sure they always fit what they're meant for.
4 Practical Ways to Protect Your Photo Album

Keeping your important photo book safe is very important for preserving precious memories. Here are four practical ways to protect your collection of photos:
#1: Online Backup
The best practical way is to scan and save your collection online. It is preferable to back up your files on multiple devices or online accounts to keep them safe.
#2: Treat with Caution
Keep your hands clean and touch pictures cautiously. Any food particle of oil stain can destroy your memories. Handle your recollection with intense care.
#3: Store in a Safe Place
Keep your photo book in a cool, dry place away from direct sunlight. Sunlight and extreme temperatures can damage photos over time.
#4: Store in Acid-Free Covering
If you have printouts of your memory bank, try to store them in acid-free albums. Moreover, use quality photo paper to avoid fading over time.
#5: Label and Organize
Clearly label albums and organize photos by date or theme. It makes it easier to locate specific memories without excessive handling.
#6: Use Protective Covers
Consider placing your photo book in protective covers or sleeves. This helps shield the photos from dust, fingerprints, and other potential damage.
#7: Regular Checkups
Periodically go through your photo book to ensure everything is in good condition. If you notice any issues, like loose pages or damage, address them promptly to prevent further harm.
FAQs
How can I come up with a creative name for a photo album?
Take inspiration from the topic, feelings, or narrative behind your images to think of words that best express them.
What is the importance of a unique name?
The album's distinctive title increases the relevancy and significance of the collection of images.
Can I change the photo album's name after creating it?
Yes, you can alter or redefine it anytime. It will resonate with your pictures and memories well.
Our Verdict:
Overall, keep special moments in photos will never trend out. Juggling to find the correct photo book from the bookshelf when you are missing your dearest is such a headache. Here, you can reach out to numerous suitable sentiments for your photo collection. Whether traveling, a clan event, a birthday, a wedding, or a newborn baby booklet, take naming suggestions for any category from above.
If you have found a picture book name from above, share it in the comments!
Moreover, do let us know. How helpful was this article?
You may also like: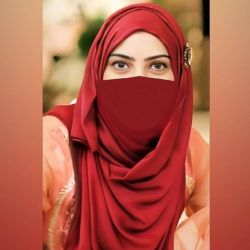 Maham Bashir is an expert SEO Content Writer who has been playing with words for the last 5 years. She is a regular contributor to The Cool Names. Holding an M.Phil degree in Business Management hooks her analytical thinking. She wrote on numerous topics like naming ideas, gaming, business, tech, crypto, travel, reviews, and affiliate articles. When not writing, she sketches and designs graphics.