Last Updated on: 24th October 2023, 09:03 pm
Playlists of simple music from different instruments or with songs need a name. Do you know why? It is so that you can share the playlist with other Spotify users too.
In doing so, you are required to think about the different ideas. With that, you may need to know answers to relevant questions as well. Some of the most related queries are answered in detail.
Part 1: How to Come Up with Spotify Playlist Names?
If you are a music enthusiast and have a good collection of songs. You might want to make use of it and show it to the world. However, before doing that, there will be a requirement of giving a name to the playlist.
How would you come up with different Spotify playlist name ideas? Well, this task can be handled easily without fretting or sweating. Following the steps mentioned below will help you out in almost every way.
Step 1: Create Playlist According to Genre
The first step in making a playlist for your Spotify account should be managing songs. What do we mean by managing songs though?
Well, it means if, for example, you have a collection of let's assume 1000 songs of different genres – hip-hop, pop, country, blue, desi, electric, nostalgic, 80's, etc.
You sort all 1000 songs in their respective genres. Then, the next step could be related to making a playlist and naming it according to the type.
But that is not it. You are required to go on to the second step to complete the procedure. To get to know about the good Spotify playlists, read section 2.
Step 2: Playlist According to Mood
The next step of creating a playlist with a perfect Spotify-centric name is to sort songs concerning mood.
Human goes through a series of emotions and moods. You can categorize a playlist with moods (happy, sad, nostalgic, blue, etc.).
Using names for playlists that go with your moods will allow you as well as the audience to know about the playlist. Some of the examples of cool Spotify playlists are mentioned in the second part of the article.
Step 3: Make a List of Ideas
Interestingly, fixating names for the Spotify playlist can be fun. Guess how?
It is simple. All you are required to do is to enlist all the ideas that pop up in your mind. Doing so will give you more ideas and you might feel lucky to stumble upon your very own creation of a cool Spotify playlist name.
However, we are here to help you find the best yet coolest Spotify playlist names in section 2 of this article.
Step 4: Playlists Must be Funny and not Complicated
Keeping things on a light note and not too complicated will allow the audience to follow your Spotify account.
What happens if you tend to go for pun incorporated playlist names? It will help in letting them relate to your feelings.
Now that you know how to come up with different types of Spotify playlist names. We have other questions to cater to.
Read | Creative Nicknames for Contacts
How to Change Spotify Playlist Names?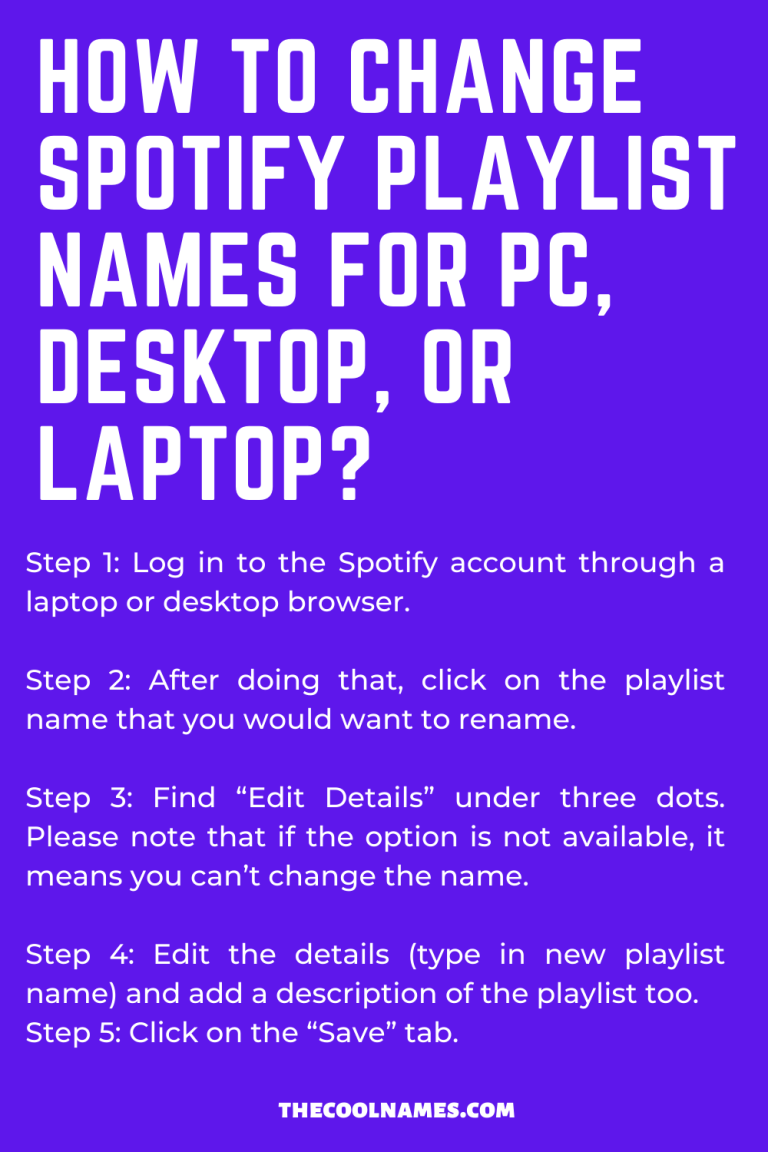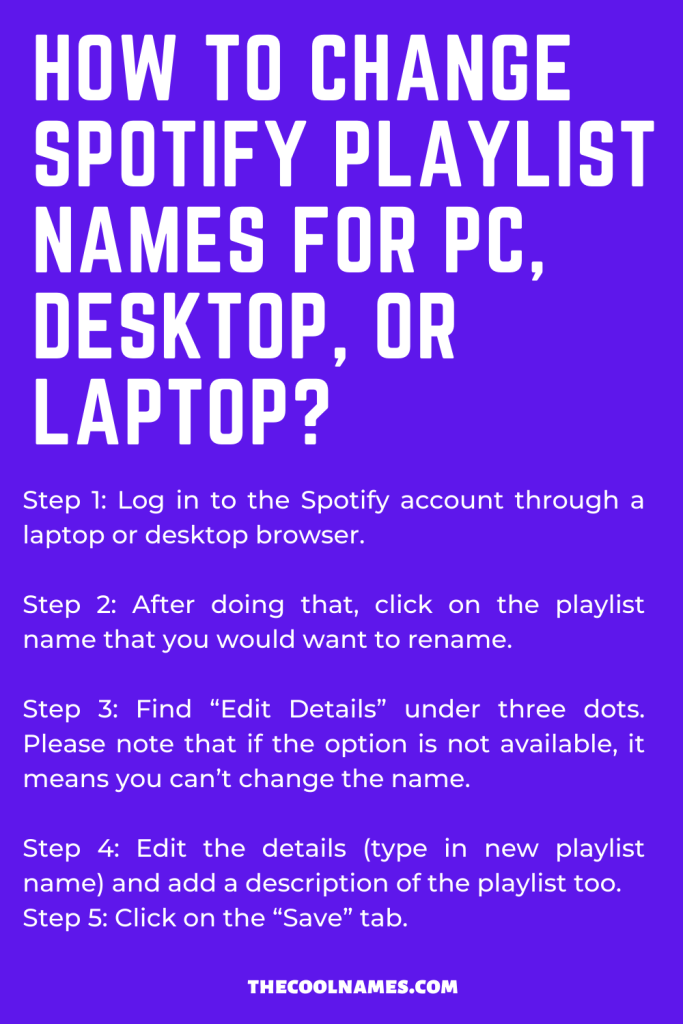 Most people use Spotify on their smartphones or laptops. In either case, they tend to make mistakenly put the wrong playlist name.
If not so, it may occur to them that they have put a playlist that needs a certain kind of change. How would they do that?
Well, it is easy. All they have to do is to follow the steps mentioned below.
For PC, Desktop, or Laptop
Step 1: Log in to the Spotify account through a laptop or desktop browser.
Step 2: After doing that, click on the playlist name that you would want to rename.
Step 3: Find "Edit Details" under three dots. Please note that if the option is not available, it means you can't change the name.
Step 4: Edit the details (type in new playlist name) and add a description of the playlist too.
Step 5: Click on the "Save" tab.
Related: Laptop name ideas
Change Spotify Playlist Name from Smartphone
Here are the easiest ways to handle the situation – changing Spotify playlist on the smartphone.
Step 1: Open the Spotify application using your Android or iPhone gadget.
Step 2: Go to the option "Your Library". It is located underneath the toolbar.
Step 3: Then find the playlist that you want to rename.
Step 4: Click on the three dots that are found on the right-side top corner. Then, click on "Edit". In some apps, the option is to "Edit Playlist".
Step 5: Tap on the title and then rename the playlist. Don't forget to click on the "Save" tab.
Part 2: Creative Ideas to Pick Spotify Playlist Names
Since we are quite sure about how to pick Spotify playlist names and their ideas. Let's dive into other domains – different categories and how people.
In general, like to name their playlists. Following are some areas under which we can easily find playlist names. Remember, these playlist names are just for inspiration. But you can certainly use them for your playlist.
Cool Spotify Playlist Names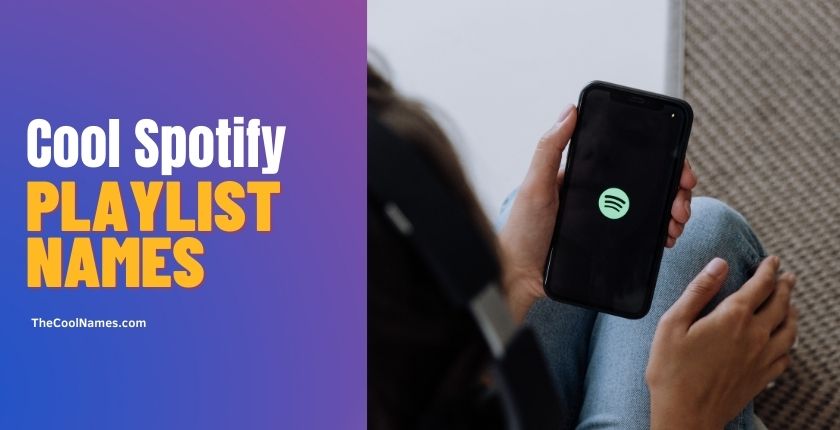 Playlists with cool songs require a cool playlist name, right? But will you do if and when there is nothing in mind?
What will you do when no idea works for your playlist? Well, you don't have to worry. The reason is, we have shortlisted some of the cool Spotify playlist names that will do wonders.
Find the best one from the list mentioned below. Let us know which one did you select.
Bunghole Jingle
Flibbertigibbet lay
Hoecake Vocal
Frippery Ballad
Namby-pamby
Gibbons Shots
Diphthong
Wamble Anthem
Geebung Cantata
Jackanapes Carol
Teazel Hymn
Kibitzer Neon
Phablet Croon
Mollycoddle
Ragamuffin
Snickersnee.
Piffle Songs
Puggle Mood
Rubaboo List
Scalawag Pop
Gibberish Medium
Teetotaler Rockstar
Skedaddle Paean
Wampum Mood
Spleenwort Remix
Hullabaloo Torch
Pronk Posey
Hogwash
Bupkis Songs
Fipple Rime
Aloof Prose
Williwaw Pop
Yooper Blues
Squeegee Croon
Doohickey Vocal
Cabotage Jingle
Deckled Noel
Frou Frou Ditty
Ballyhoo
Abear Lay
Whiffler Air
Hoodwink Lyrics
Stumblebum Discant
Unpersoon Flow
Doozy Mood
Read | Cool Wifi Name Ideas
Funny Spotify Playlist Names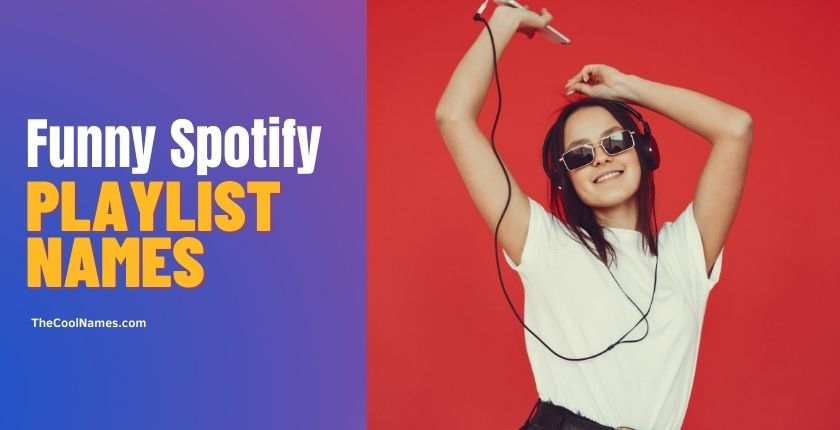 At times we want our audience of Spotify to know that the songs in a playlist are not boring. They will entice the good, happy hormones. And you will live up to the current situation of life happily.
In such scenarios, the funny and happy playlist will certainly work for most of us. Keeping that in mind, we have listed some best funny Spotify playlist names. Check them out and see if they bring a smile to your face or not.
Trash Bin
Erf and Surf
Electro Songs
Shut Up and Listen
No Just No
Bitter Melodies
Patch Up Songs
Kiss my Booty
Black Magic
Lazy Boat
Pitty Katty
Holidy Bash
Cleek and Clawn
Titter on Boofers
Obelus Sign
Hullaballoo Hub
Listen and Cry
Bombaster
Bumfuzzle Menu
Strip and Belts
Song for Energy
Babes on the Floor
Heavens Feeling
Make Me Fresh
Hip Hop on Top
Guilty Pleasure
Rhythm Ontological
Caution and Pleasure
Bumbershoot Beats
Darkness and Confetti
Love me or Leave Me
Personal Lines in shape of songs
Aesthetic Spotify Playlist Names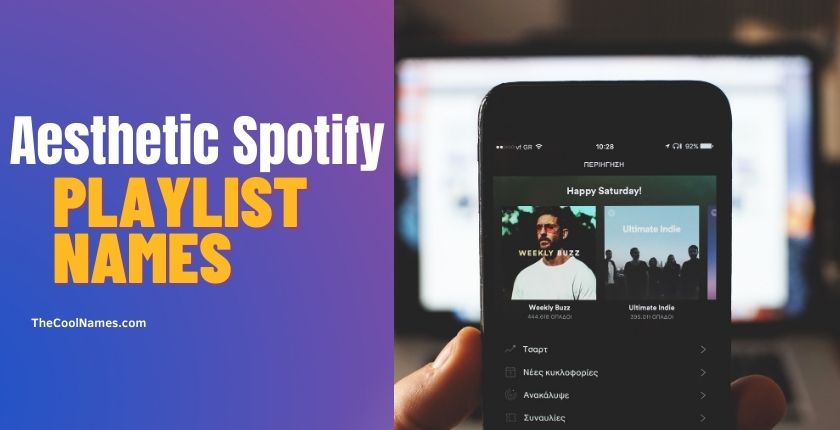 Beauty is in the eyes of the beholder. But did you know aesthetic playlist names for Spotify users do the same thing as the beholder?
If you agree, let us know. We would love to know your thoughts. Meanwhile, check out the list of most aesthetic Spotify playlist names below. These will surely help you in selecting or getting an idea for your playlist.
Lemmon Norms
Dream Your Moments
Kid Krow Brow
Currents and Damage
Pure Heros
Orange Style
Harry Point
American Pro Teen
Melodrama List
Do't Cry Girl
Fine Line
Flower and Lights
Light Lines
People Kingdoms
Knee and Foot
Crazy in lust
On your Frisk
Modern Encounters
Flying flip flops Lines
Just One and Only
Friends with Lust
Sad Spotify Playlist Names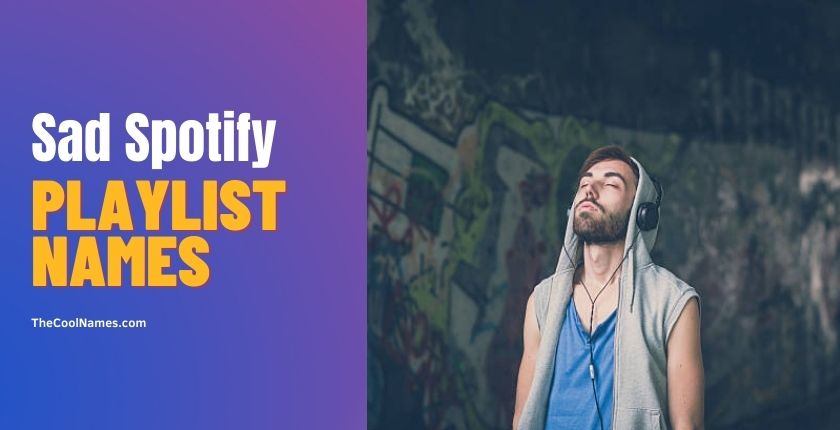 There is a sad genre in music. Most of us get stuck in situations where these sad songs mysteriously help us. If you also have a Spotify playlist with gloomy songs. Relying on the playlist names below might come as a rescuer.
These names are particularly for the sad playlist so don't try to use it in any other genre.
Million Tears
Innocent Wallflower
Change my Mind
Higher Law
Anti Happiness
Heart and Brain
Feeling Nothing
Saddesst Moments
Know to Knew
Black Rose
Badly Hurt
Life is under Obligations
You Don't Understand
Crippled Inside
Alone and Terrifying
Heavy Hearts
The Great Loss
Die Inside
Equally Fussy
Awaken Thoughts
Enjoy the Sadness
Inside the Dark Graden
Kind of Sadness
Saps Today
Worry in Hurry
Secret Sorrows
Don't Grieve
Die Afresh
Regrets
Sadness and Anger
Creative Sadness
Conception of Memory
Integral Interest
Another Form
Read | Jeffrey Dahmer's Name In Various Aspects
Workout Spotify Playlist Names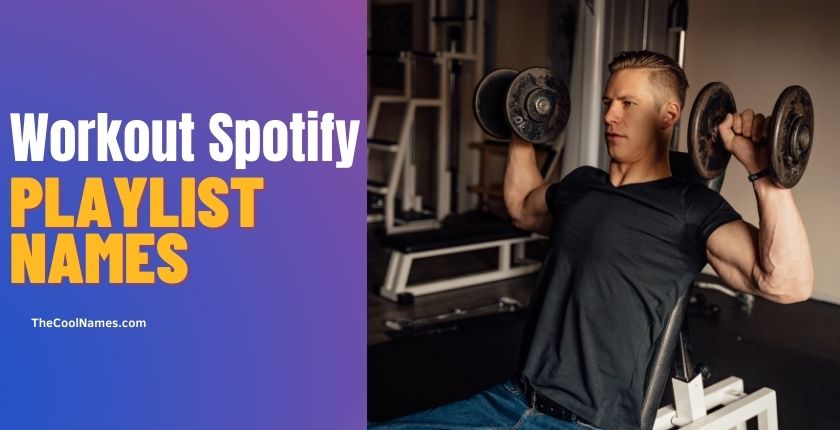 Workouts are a must for a healthy body and mind. If you are into a gym and rigorous exercise. You would need ideas for workout music or songs. The playlist can be anything you want but when it becomes for a particular genre or group of people.
So, in those situations and needs, you will need some ideas to hone creativity for a workout playlist. But wait! In case you are not in that zone or mental place to create something of your own. We can help you with the list of workout playlist names for Spotify. Check the ones we have maintained as suggestions.
7 Times
Workout Jiff
Outside of Comfort Zone
Being Weak is Dangerous
Success Comes After Workout
Clock is Ticking
Excusses to Lose
Wills are our gardeners
happiness is good health
Expectations of Great Things
Foundational Key to Success
Make Some Hustle
Courage to Pursue Plans
Hurt Today But Make Stronger Tommorow
Success is Keep Doing
Desire to Perform
stop making excuses
Labor without weariness
My jogger are smiling
gift of life
My competition is me
Tough people
You are capable
Physical fitness
Being weak is dangerous
Perfect Body is human soul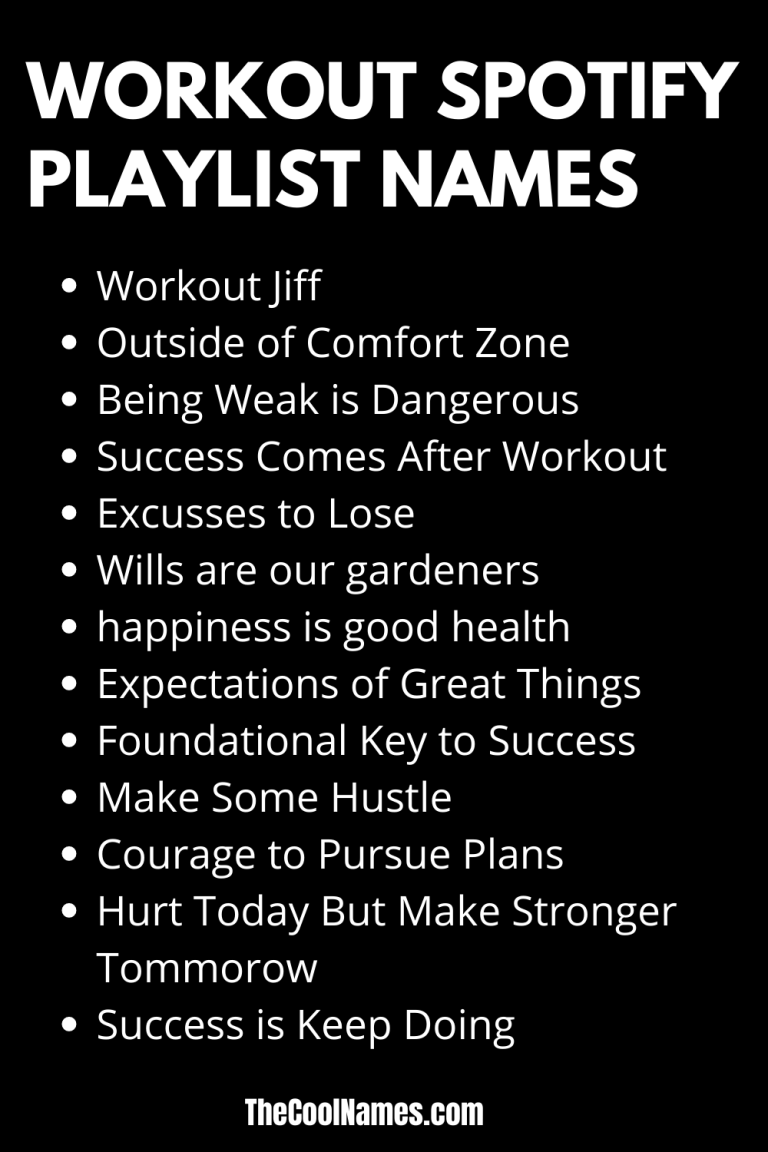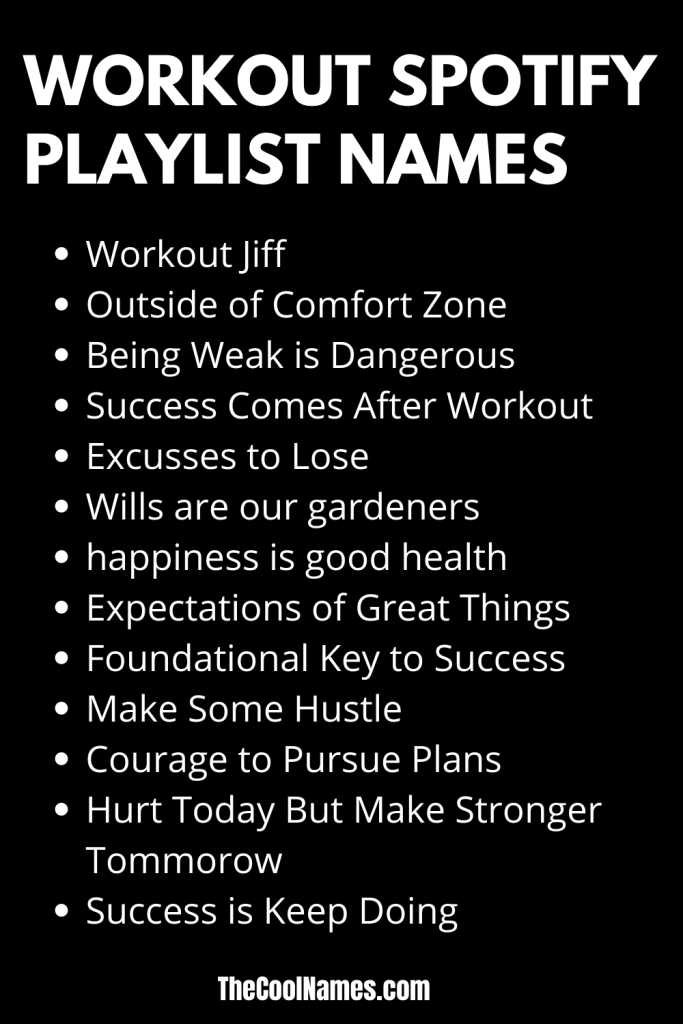 You may also like:
Nimra is a content writer and blogger who regularly contributes to The Cool Names. She has done BS in Nutrition and Dietetics. She covers pets, business, gaming, beauty, lifestyle, and fashion niches.