Last Updated on: 24th October 2023, 09:05 pm
VOLLEYBALL – is a game you can play outdoors and indoors. Individuals of any age can relish the joy and thrill of this game.
William G. Morgan, back in 1895, laid the foundation of this game. Today, it is among one of the top five worldwide sports.
Having an association with 220 national federations, the Federation Internationale de Volleyball (FIVB) is the largest international athletic federation in the world.
As a result, volleyball evolved into a popular sport with superb athletic and technical abilities.
However, naming your sports team will be nerve-wracking after knowing such facts about the game.
Luckily, you have landed on the right webpage of the internet. Here, I have listed 300+ Volleyball Team Names to explore unmatchable wonders.
That is super rad!
(PS: Are you ready to watch the FIVB Volleyball Women's World Cup 2023?)
Come on, let us turn the tables!
Read | Swim Team Names
Funny Volleyball Team Names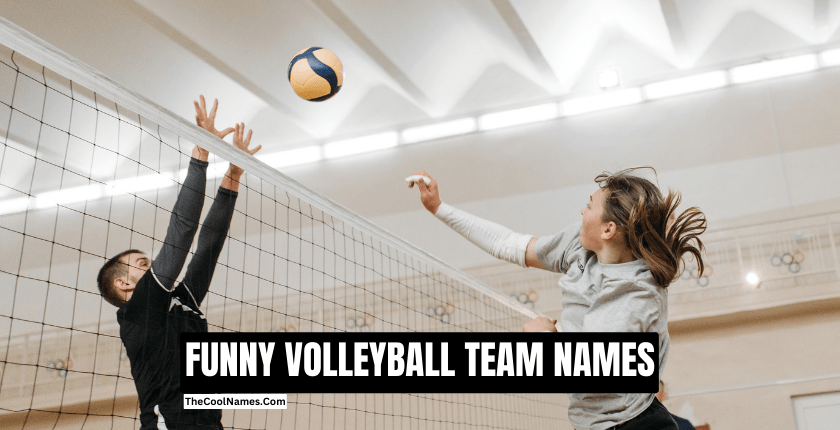 Infusing humor, excitement, and creativity in the title makes it catchy and playfully engaged with the game. You can pick one of the choices provided below to serve you best:
Blockheads
Spike Tycoons
Net Nuts
Santa at Beach
Sets on the Beach
Serving Divas
Block Party
Hit and Miss
Volley Llamas
The Volleywood Stars
Spike-tacular Avengers
Volley Muggles
Game of Throws
Ace of Thrones
Spikin' It Real
Net Results
Sandy Cheeks
The Net Gainz
Blockbusters
The Spikealots
Sloth Smashers
The Dinkin' Donkeys
Koalaity Hits
Octo-Spikers
Spike & Spice
Team Tacos
Volleyball Brews
Spike-a-Latte
The Pizza Spikers
Volley Ninjas
The Blocktopus
Ace-trologers
The Spike-Tanic
Bumpin' Royals
The Net Benders
Team Dunkadelic
Goal Diggers
The Ace-Kickers
Fast and the Volleyous
Spikebusters
The Walking Nets
Jurassic Spikes
Volley Potter
Spike-stone
Star Wars
Spike Awakens
Volley Voyagers
The Beach Bums
Spike Trekkers
Volleyjet Setters
Tour de Serves
Spike-son's Avengers
John and the Volleyntures
Ace's Aces
Lily's Diggers
Tom and the Netcrackers
Serve-ivors
Kick Ace
Block Ball
Block Lobsters
Serving Cervezas
Volley Brawlers
Aceholes
Spike Blondes
Bumpin' Buffoons
Net Assets
Court Jesters
Scared Hit
Setsual Healing
Spiked Punch
Serve Value
Doodle-Doo
Ball Busters
Beach Bums
Setting Ducks
The Hit Wits
Blocksmiths
No Devil
Ace in the Hole
Volley Lollies
Spiker Chicks
Notorious Ball
Happy Roof
Block Rockers
Volley-Geists
Dink Dynasty
Spike Taculars
Net Dealer
Serve Suits
Etsy Beasties
Hit Happens
Digs Days
Read | Funny Bowling Team Names
Volleyball Team Names For Adults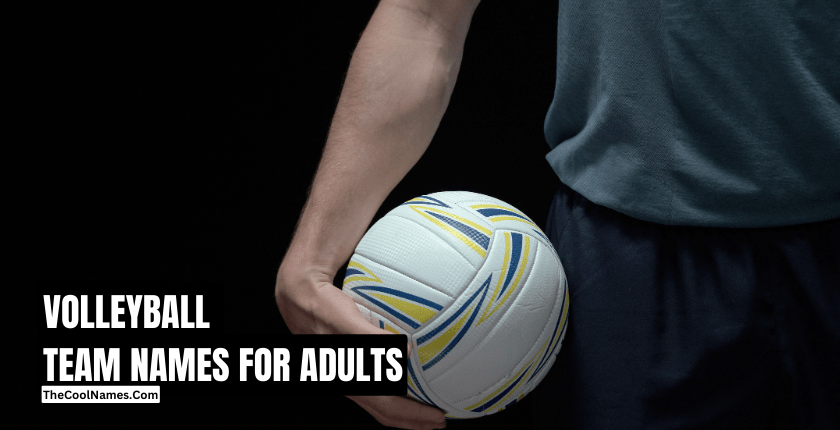 As said above, this game is for all ages. If players belong to adults, we have such group title suggestions. Peek into our offerings and see if you encounter one that conforms to squad requirements:
Volley Vixens
Net Ninjas
Block Party
Spike Aholics
Setting Ducks
Ace Kings
Dirty Half
Spiking Sense
Block Party
Ball Addicts
Bumpin Sets
Ace Servers
Voll Junkies
Diggin Deeper
Volley Enthusiasts
Volleyball Superstars
Champions Style
Ace Holes
Volleyball Legends
Net Gains
Side-Out Sirens
Hit It and Quit It
Dink Dynasty
House Players
Smack Attack
Volleyball Vikings
Court Commandos
Punch Bunch
Set to Kill
Serve It Up
Digging Divas
Grind Squad
Blockbusters
All-Stars
Volleyball Power
Spike Force
Set Off
Volleyball Stars
Volleyball Titans
Volley Llamas
Over the Net
Net Ninjas
Volleyball Heroes
Volleyball Victors
The Net Knights
Ball Busters
The Sky Scrapers
Volley Queens
Volleyball Gladiators
Hit Misses
Court Crushers
Serves Right
Spike-taculars
Read | Art Team Names
One-Word Volleyball Team Names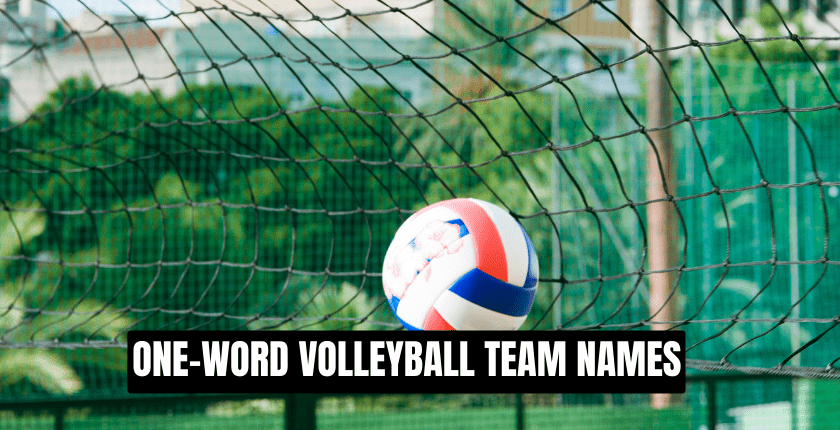 We can assist if you are seeking a one-word title for the game. Check our selection of the top labeling ideas for your game squad that contain one word:
Spikes
Aces
Fury
Blaze
Mavericks
Vipers
Crushers
Strikers
Tigers
Phoenix
Venom
Lightning
Cyclones
Renegades
Warriors
Wolves
Eclipse
Hurricanes
Dominators
Stingrays
Titans
Inferno
Thunder
Fireballs
Panthers
Vortex
Dynamo
Rampage
Tsunamis
Blizzards
Avalanche
Raiders
Revolution
Surge
Impact
Elite
Cobras
Storm
Smashers
Fusion
Radiance
Read | Esports Team Names
Volleyball Team Names for Youth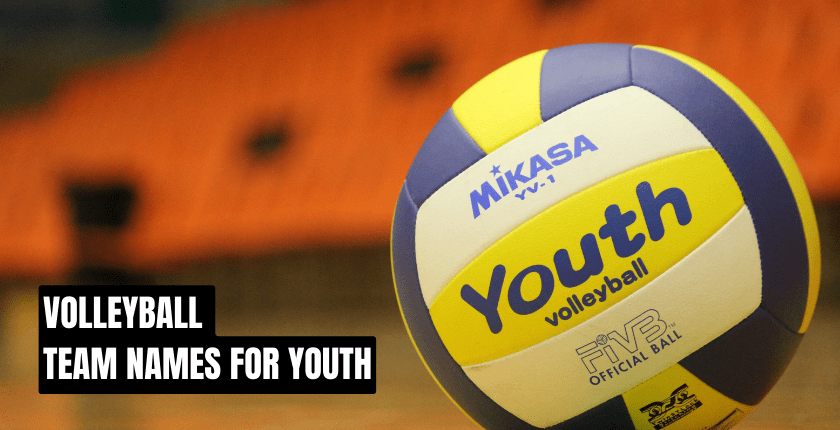 It takes plenty of strength as well as endurance to play this game. Browse out our picks of the youth club identities if you are hunting for a title for a sports squad that conveys resilience and stamina:
Junior Jets
Spike Seekers
Volley Venture
Rising Stars
Mini Titans
Young Dynamite
Bump Bashers
Volley Kids
Spike Squad
Chillax
Clams
Cleats Cleavage
Cobra Kai
Crunchers
Dig This
Diggers
Future Stars
Tiny Tornados
Junior Jaguars
Spike Smashers
Volley Vikings
Net Ninjas
Dirty Ballers
Dynasty
Elite
Fireballs
Flamingo
Junior Jolters
Bounce Blazers
Spike Rookies
Power Pups
The Spike Tikes
Junior Champs
Youth Thunder
Killers
Mustangs
Mutiny
Nemesis
Outlaws
Overachievers
Pandas Voll
Tiny Titans
Spike Sparks
Lob City
Losers
Lunatics
Mavericks
Meltdown
Miracles
Monsters
Junior Fission
Mini Dominators
Volley Voyagers
Youthful Dice
Rising Rockets
Read | Math Team Names
Badass Names for Volleyball Team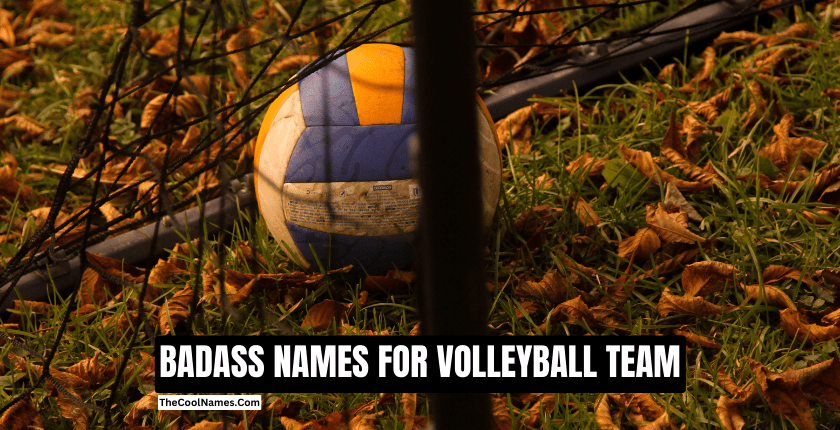 We have got you covered if you are stalking badass suggestions for naming out your sports gang. Stand out of the crowd with our collection of compelling labels for sports crews:
Volley Vipers
Thunder Spikes
Dominators
Spike Supers
Inferno Snarls
Volley Rebels
Power Surge
Beasts
Berserkers
Bull Winners
Strike Warriors
Thunderbolts
Blaze Spikers
Bombers
Bosses
Bruins
Spike Titans
All-Stars
Avengers
Bandits Badge
Barbarians
Bullies Built
Champions
Smash Mavericks
Cyclone Crushers
Volleyball Warriors
Renegade Rippers
The Slam Masters
Venom Volley
Shock Smashers
Elite Spikers
Net Commandos
Dynasty Diggers
Falcons Flight
Wolverines
Vipers Value
Comeback Kids
Flaming Bumpers
Hitmen Horse
No-Names
Outcasts Offers
Underdogs Thunder
Tornadoes
Atomic Smashers
Spike Fury
Apex Avengers
Devil Dynasty
Ballistic Blazers
Spike Storm
Power Predators
Avalanche Aces
Volleyball Vandals
Read | Cycling Team Names
Professional Names for Volleyball Team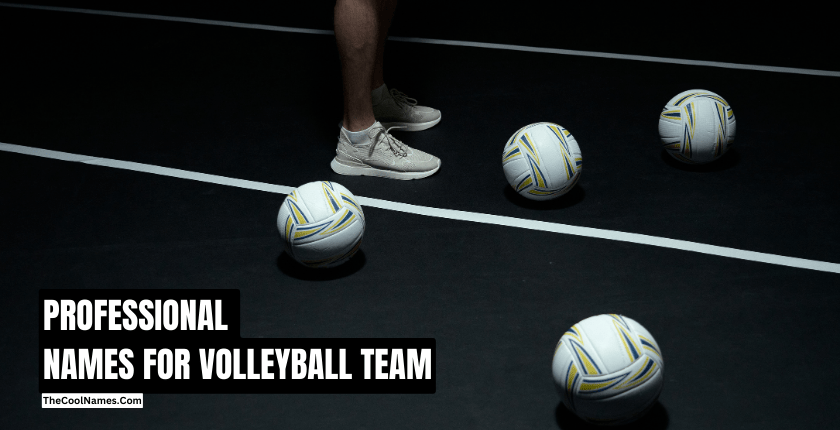 Our collection of titling ideas is guaranteed to set you apart, regardless of whether you are a professional player competing in a tournament or a group of buddies getting together for a beach tournament.
Elite Spikers
Premier Aces
Prodigy Setters
Apex Titans
Vanguard Volleyball
Dynasty Diggers
ProServe Pros
Precision Passers
Avengers
Bandits
Bruins
Champions
Chiefs
Cobras
Top-Notch
Supreme Boss
Vanguard Volley
Precision Volley
Barbarians
Berserkers
Professional Power
Masterful Sets
Precision Volley
Pro Spike
Vanguard Club
Precision Smash
Dynamic Diggers
Net Masters
Flash Force
Giants Gladiators
Legends Lions
Lynch mob
Precision Pointers
ProServe Volley
Vanguard Vipers
Premier Setters
Top Spike Elite
Precision Pioneers
Professional Blockers
Prodigy Spikers
Vanguard Alliance
Gunners
Hurricanes
Juggernauts
Kings Knights
Leaders Level
Premier Passers
Read | Cricket Team Names
How to Select a Volleyball Team Name – 5 Tips
However, the challenging aspect of initiating a volleyball club is figuring out an identity. The club identity captures the passion, solidarity, and competition. A club's identity may foster unity and a feeling of belonging within the athletes, leaving an imprint on rivals and bystanders. Before any more delay, some recommendations are herein for choosing a catchy volleyball team name:
1. Integrate Your Location
Consider utilizing your residing details in the title. Employing details like your hometown's identity or distinctive features will instantly establish a connection between the squad and the community's base of supporters.
2. Bounce Back Squad Traits
Concentrate together as a united front and consider the qualities, talents, or principles each of you possess. The shared contemplation is a good starting point for your search for a catchy league moniker.
3. Unearth Inspiration from Culture
Grab ideas via media such as films, broadcasts, songs, books, or simply renowned phrases; they may frequently result in intriguing, current, and meaningful league surnames.
4. Lean Upon Abbreviations
Leveraging abbreviations is a terrific technique while thinking of a unique name. They are simple to recall and may stand for a lengthier but equally significant remark or clump of syllables.
5. Evaluate It Out
Lastly, hear your selected moniker when spoken loudly to know its impact. Can it elicit enthusiasm? Is it simple enough to understand? It will boost the likelihood that it will turn out successful once utilized in tournaments.
Frequently Asked Questions
What are some sound volleyball team names?
Spike Master, Top Spinners, and Digging Dynamos are a few sound monikers for squad identity.
What is the most famous volleyball club?
The Brazilian Men's National Team is the most well-known volleyball club.
When is volleyball season?
The FIVB Volleyball Women's World Cup 2023 is seasoning from September 16, 2023, to October 24, 2023. Get your popcorn ready and tune into the live broadcast!
Take Away
By and large, picking the ideal volleyball team name that captures the quirks and integrity of your group may be a crucial first step in building a cohesive group. The possibilities are infinite when selecting the ideal moniker for your sports league. However, it might be tricky to determine one pick from the variety of options available. In this regard, with our above list of engaging and flawlessly monitored ideas, your freaking-out search is over.
In the long run, spring into the action and discover a brand new title for your players. Be confident to spread the word about this article if you find it worthwhile!
Let us spin the ball!
Read More:
Nimra is a content writer and blogger who regularly contributes to The Cool Names. She has done BS in Nutrition and Dietetics. She covers pets, business, gaming, beauty, lifestyle, and fashion niches.