Are your stories on social media in private mode? Can the audience see your bitter yet partially true stories? Do you want to keep things super cool yet not-so-cliched? All these questions have a detailed answer, right? but the focused one is – yes or no!
In regard to putting offensive private story names for your social media existence. We have researched the best of the best names that have high chances of removing jinxes from the profiles.
However, all the lists in the article for offensive story names are prepped with ultimate care. You know what suits the requirements in the best form.
Making sure you are not hurting anyone in the process should remain your focal point. It is not possible for you to check on everyone but yes, it is a must to know what you are doing is right.
We have listed the following story name ideas:
• How to make a private story on Snapchat?
• Dark humor private story names
• Offensive but funny private story names
• Offensive private story names for TikTok
• Offensive private story names for guys
• Private story names for summer
• Offensive group chat names
How to Make a private story on Snapchat?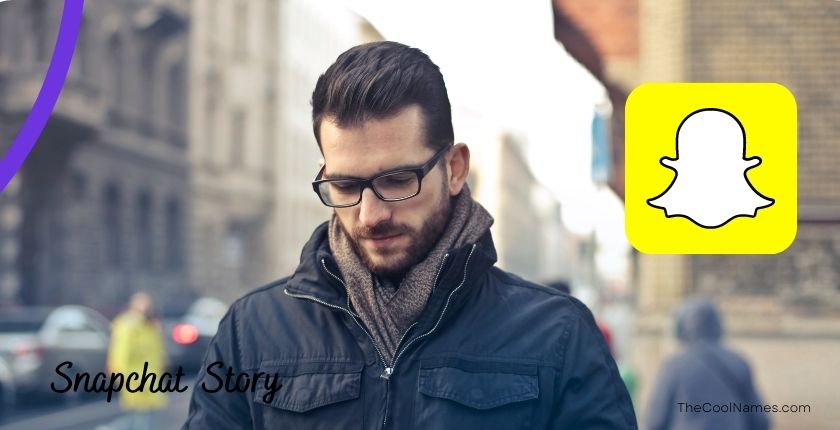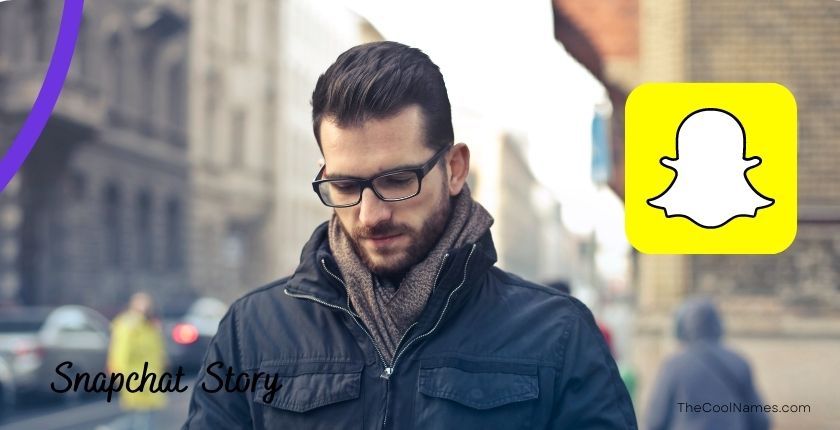 Snapchat, one of the quickly growing social media app is used for several reasons. If you are on Snapchat and want to make a story private. You must know how to go about it, right? Following are the steps to make sure you are in the right direction.
Step 1: Log in to the App
Obviously, you will need to sign in Snapchat application on a smartphone. Without this step, you can never go on to the next step (ha-ha! We know you know this bit).
Step 2: Story Thumbnail or Bitmoji
In the second step, you are required to click the profile icon (it is either a thumbnail or Bitmoji). If you are a pro user of Snapchat, you would know where the profile thumbnail could be found. If new, let us tell you it is on the top of your left side.
Step 3: Select from the Options (private story or custom story)
After completing the second step, you have to choose one of the following options;
(+) Private Story
(+) Custom Story
Both these options are located in the section called "stories".
In case you want to make a private story. Instagram will confirm the action. To which you have to press on the "private story" once again.
Step 4: Share a Private Story
Unlike the custom story, you have to choose recipients separately to watch your private story. In order to choose the recipient, you only have to tap on their profile emojis or thumbnails.
Step 5: Complete the Private Story
This is the coolest and most interesting part to complete a private story on Snapchat. In this step, you have to make a vid or pic. Then, you are given a chance to edit the pic or vid, add stickers, tags, and all you want to be seen in the story.
Step 6: Share the Private Story
Once all previous steps are completed, you have to share them with the selected recipients. For that, you have to click on the paper airplane image.
The entire procedure is carried out so that you can hide Snapchat private videos or pictures in a safer zone. Those who are not added to the list of recipients will not even come to know you have shared anything with the public.
Related: Dark usernames
Dark Humor Offensive Private Story Names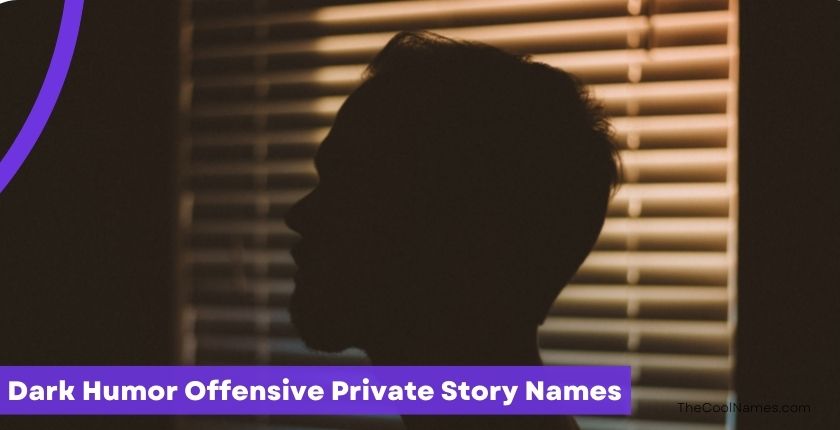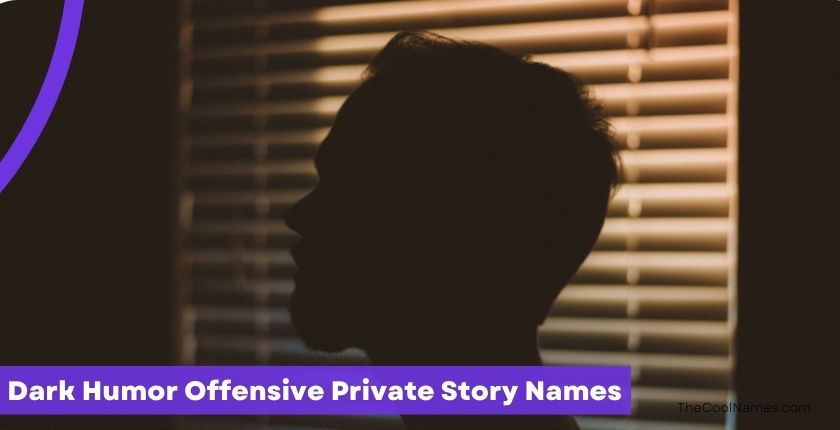 You can choose as many names as needed for your private stories. However, the list below is a representation of some dark humorous ones. You can take an idea from the list and curate anything that deems fit. These names are for inspirational purposes.
Liverpool Tea-Bagged
Shit Banker Free
Bet Barcelo-Na
Pretty Fly for a Black Wi-Fi
Tell My Wife Loved Her
Mom Use this Con Mo
House Startked
Life of a Herro-Teen
Coolness Out of Order
Shelter to the Bored Ones
Offensive but Funny Private Story Names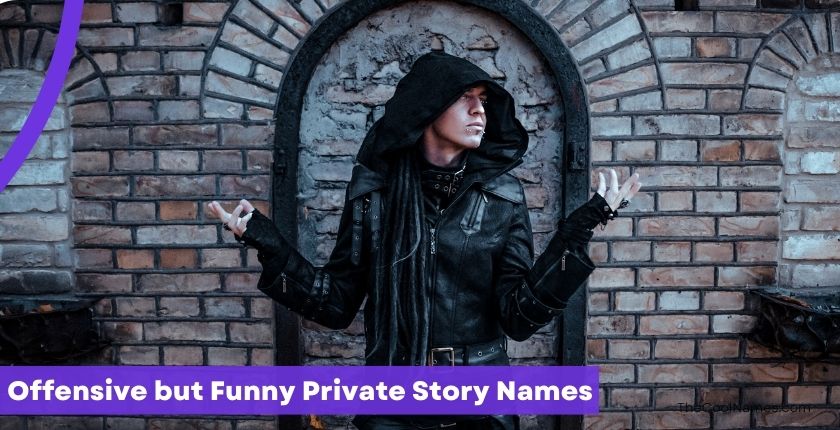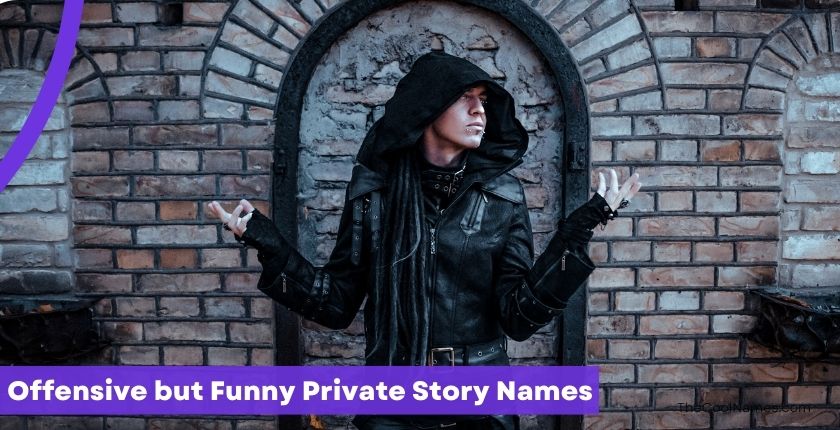 Many times we tend to play all neat but we mean something else, right? We are sure you must have gone through that feeling. If yes, we know you would want some suggestions for your most offensive stories. Something offensive yet funny so that no one gets offended. Anyway, to cut the drag, let us give you some ideas related to offensive but funny private story names.
Lost & Found
Christmas Isn't Coming Slow
Altered Ego
Shake hand Limbo
Dirt Bragger
E D Out Here
Earie Got Hairy
Roo Me
Bee Hacked Me
On Proud 9
Offensive Private Story Names for TikTok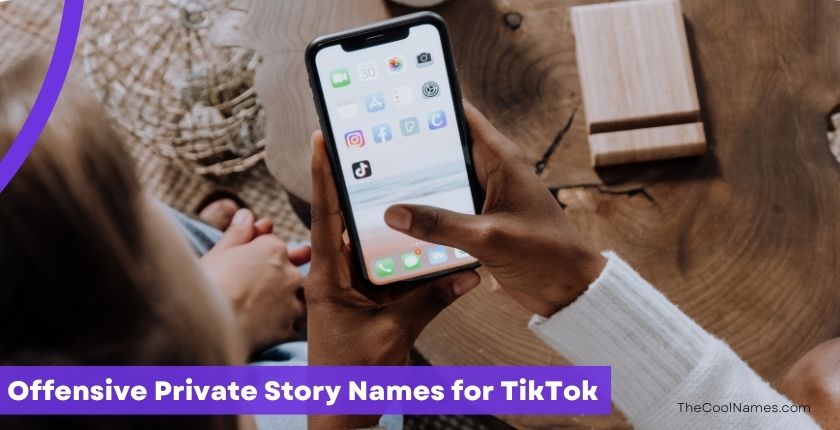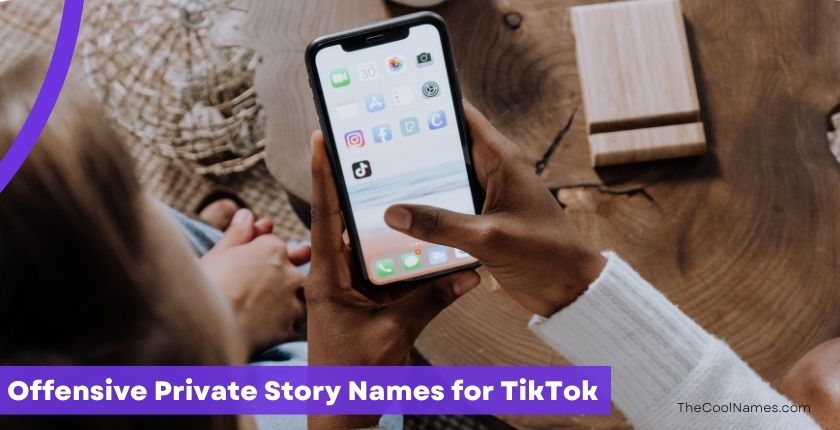 Private stories with offensive names for TikTok are easily shared. Yes, it is because there is no fear of being judged at all. Also, it is due to the fact that offensive names for stories kind of make you feel validated as in acknowledged.
You may think this doesn't give any positive boost. Well, know this part too – according to psychologists, people who are okay with bad story names tend to possess more confidence and satisfaction than anyone else.
Anyway, the following are some names for your private stories on TikTok. Hope you will take inspiration from them and create one for yourself. You are however allowed to use any of the following without any effort of creating one.
Cracktivities
Gangster Wears Parada
What the Fetch!
Spread the Deeds
Emma Lucky Bast**d
What a Flincher!
Scoop-ing in Action
Love My Macha
Coffee Spiller
Welcome to My Death
Offensive Private Story Names for Guys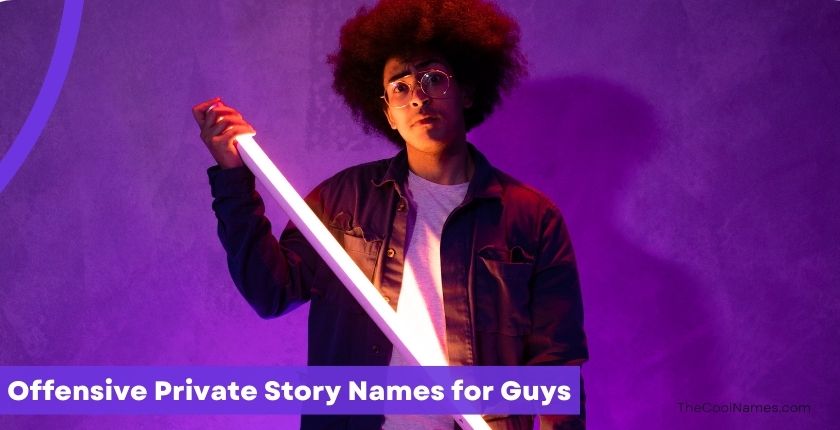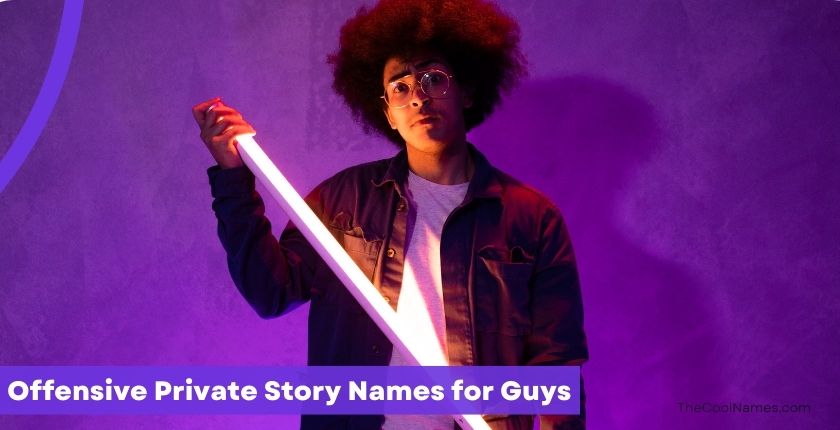 Guys love being dirty at times, don't they? It is not that we are being gender-biased and all that. But somehow, we have noticed men tend to play hooky most of the time. Guys love to keep offensive names so that other peeps don't mess up with them. This is what we think and there could be any other reason too. Whatever the reason, you are here to find the best offensive private story names for guys. And we have 10 names to share.
Same Day Different Guy
Snake Loves to Smile
FruStroy of my life
Legends Play Deeper
Mickey Gone Crack
My Special Zone
You, Me, & Buttheads
Overnight Overdosed
Hit Mill not Booms
Legend of the Tallest
Catchy Offensive Private Story Names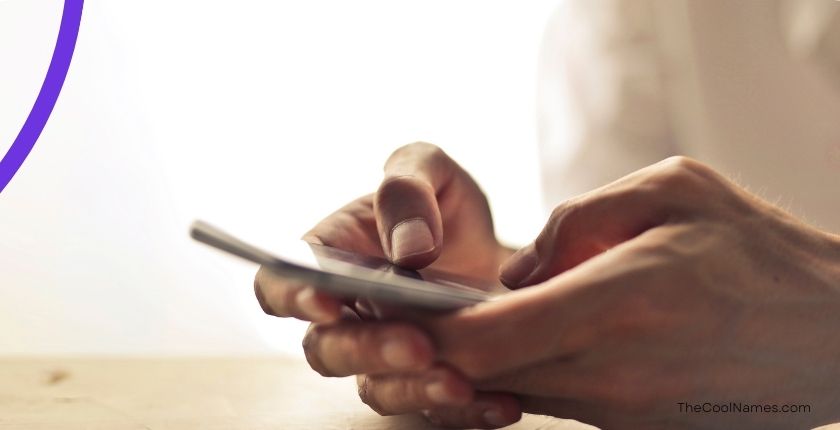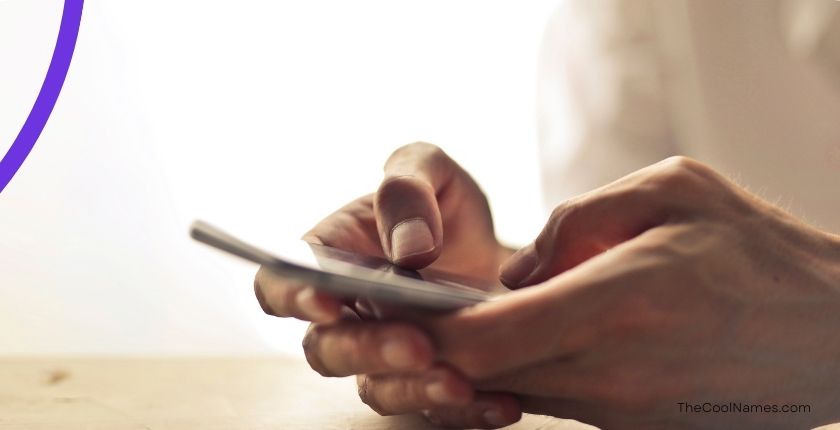 Entire Lotto Fun
Erased Ones
Power Rangers
Relentless Talk
Ur Local Bitch
V.I.P Members
Limitlee3
Lost And Found
Cool Nom
Cracktivities
No Brakes
No Disco
The murder of Jeffrey Dahmer
The One And Only
Titanic Swim Team
Try not to Tell My Mom/Dad
4 The Fan Club
4 Ur Eyez Only
In Barbie's World
In the background
Exhausting Life
Extra Episodes
Can't Sleep At Night
Confidential Party
Open 24 Hours
Philo Phipps
I Talk I Ica
I'm Your Therapist
My Own Drama Club
No Boundaries
Spam Same Shit
St Nick's Naughty List
Air Force of the Black
All Panic
Hour Sadness
Brotherrk Ad
Blissful Hangover
Botches Were Made
Tattle Girl
The Chamber Of Secrets
Dear Diary
Different Day
Ride Or Dies
Rubbish U
Vital Snaps
We Trust
You're My Therapist
Sharir G Is Cat
Sisterhor
Discuss It
Disengagement
Crown Dairy
Cuz I Can
Welcome To My Life
Xoxo
It makes me cry
It's Pluto inside me
Home slice Depot
Horse crap 5
Garbage
Great Vibes Only
Journal Of A Simpy Kid
Kickoff Highlights
Story Of My Life
Taking to the streets
24 Hour Gosssip
24 Hour Sadness
Guest at my funeral
Hello Siri
Mouse Mouse
My Funeral Guest List
Break House
24/7 Happiness
A Lot Of Spam
A park for amusements
V.I.P.
Very much Like Me
F.R.I.E.N.D.S
Forthcoming
Offensive Private Story Names for SC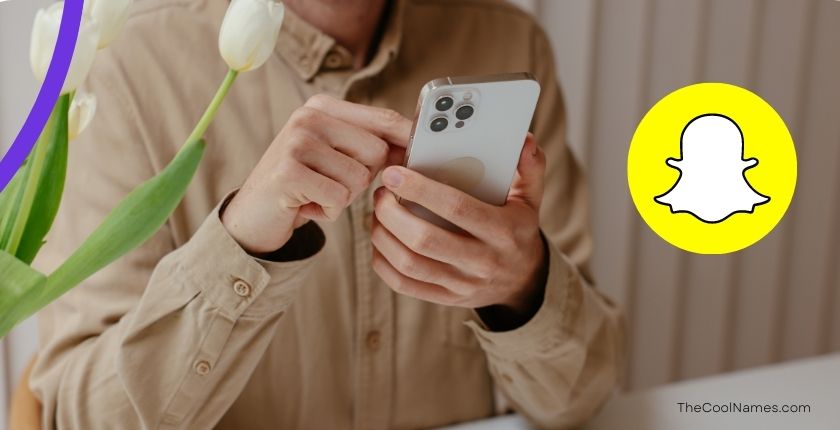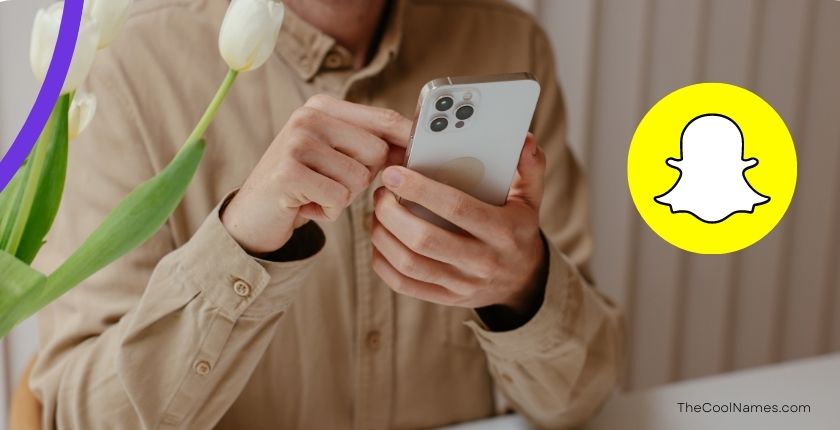 Here are some amazing offensive private story names that can be used on Snapchat.
The Hellen Killer Coloring Book Club
The child basement club of Michael Jackson
Explorations of breathtaking proportions by George Floyd
Helen Keller flashbang
A girl called hers "bitches"
The only person who saw a girls was me.
Children's Day Care at Epstein's
There is a Jew in Horton's World
This one doesn't make sense to me
Search and destroy at Columbine
The act of eating ass as if it were food
Flight crew on 9/11
Kurt Cobain's one pump? I know I'm late, but..
Uncommon Offensive Private Story Names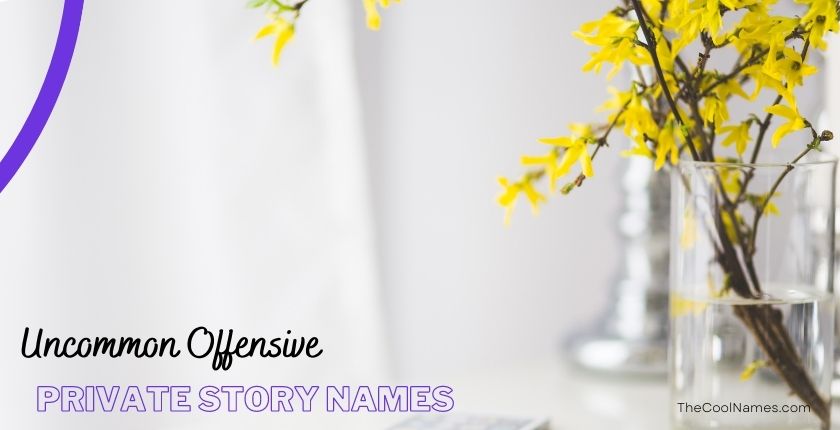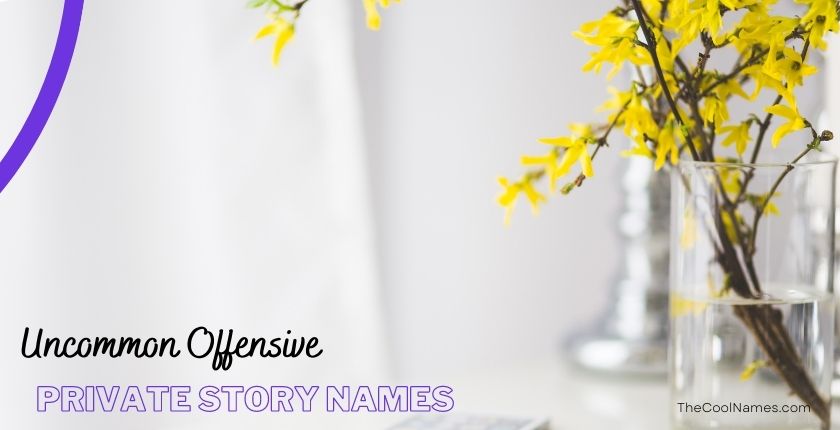 There are some uncommon offensive private story names that a guy or girl can use on thier social media accounts like TikTok, Snapchat, Instagram, Facebook, or even on Whatsappp.
It's pretty energetic
Whoaml, who?
Dangerous Diseases
Self-destruction
Corona on Mouth
The crew of Olive
Let me Him Go to Sleep
Turtle's Secret
Food to Frustrated
The Dark Princess
Demon of the Dark
Deadly darkness.
It's light out
Shipping overnight
The Cool Kidz Club
The Naughty List of Santa Claus
That's so far-fetched!
Cancer Club
A Chance To Succeed
Backouts or blackouts
Love To Die
It's too difficult to drip
Deadly Villian
Children's Home
The limp handshake
You may also like: