Last Updated on: 24th October 2023, 09:00 pm
We love the things that belong to us, and we find it attractive to give the name because it has become trendy to give names to our belonging. It makes our things more unique and reflects our possession. A car is not just a source of transportation for its owner, but it is like a home.
There are many different ways according to the people give names to their car. They may name their car considering the shape, color model, fictional character, or inspired by some sports car.
You probably already know what to give a name to your vehicle. Still, for the sake of convenience, we are enlisting some coolest and badass car nicknames for you, so that may you can choose some interesting names.
What are the famous car brand names?
Here is the list of world's most famous car manufacturer companies list.
Mercedes-Benz
Ford
Toyota
Kia
Hyundai
Lamborghini
Bugatti
Aston Martin
Jaguar
Porsche
Ferrari
Nissan
Audi
Rolls-Royce
Chevrolet
Honda
Maserati
These are the car brand names, let's move to the topic how to choose a catchy car nickname?
How to Choose a Perfect Car Nicknames?
Some folks are interested in giving their tiny vehicle a good name that should be easy to remember and sound like an adorable name. Because for some people, the car and gadgets are like kids or pets. So, follow these steps to get a mind-blowing idea to give a unique name to your car.
#1 – Brand Name
Keep in mind the brand name of your car while giving the name to your car. The brand combination variation could be unique and adorable at the same time. Like Audi's brand name, you can choose a name like a car, aucardi, and even mix up some name Roxudi.
#2 – Color of the Car
The color makes your car more attractive because we regularly like things based on the color, either the season color, room color, or the color of the dresses we wear. In the same sense, the color can be graceful while giving a nickname to your beautiful car. For instance, your car's color is blue. You can give it the name "Tiny Blue." Get an Idea from
#3 – Car Shape
There are different shapes of car that usually we consider while buying a perfect car for us. Like SEDAN, COUPE, SPORTS CAR, MINIVAN, and so on. By getting the idea of the shape of a car, we can name either a white car or a black car.
Some nickname ideas list inspired by the car's shape is SedCar, CopCar, SportiCar, and MyLittleCar.
#4 – Inspired by Your Pet Name
Pet lovers usually like the nicknames that relate to their pets. So, in the same way, one can be choosy while picking a name for the car. Examples are, MaxCarti, Carluna, CooperDooper, and DaisySpace
#5 – Random Words Combination
The random words combination finally be good nicknames for your car. Like Pick, the two words make the one. Bone Cruse, Tiny Buster, Brum Bras, Rockstar, Lucky Bee, and so on.
Let's explore some unique nicknames ideas for your lovely car.
Best Brand-New Car nicknames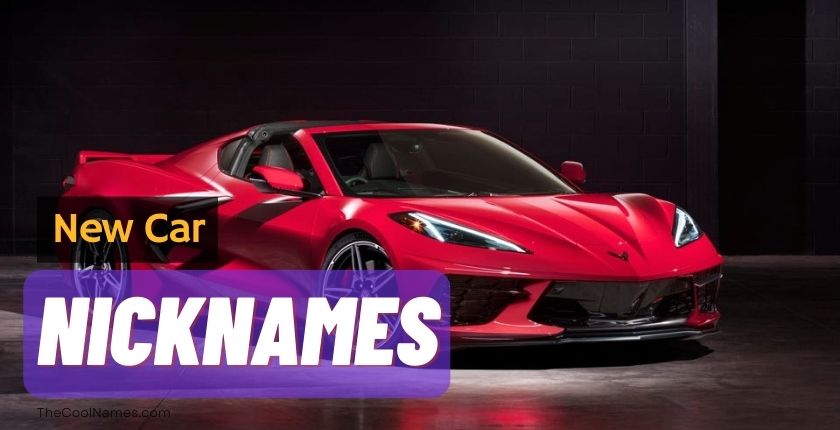 You can give a perfect name to your newly purchased car as it becomes a part of your personality. It is hard to choose a name that sounds best, but with some energy to inspire you here, we made a list of badass car nicknames that will indeed sound best for your car.
Apollo
Boom
Bam Bam
Burner
Black Widow
Bandit
Blackhawk
Knockout
Taz
Brimstone
Burn
Furiosa
Fast Five
Billy bob
Bono
Rocky
Enzo
Popeye
Tarzan
Romeo
Tonk
Savana
Molly
Peggy
Kate
Clio
Sophia
Josie
Valentine
Jet
Spooky
Venom
Vader
Annie
Phoenix
Flame on
Clifford
Alaska
Chalky
Sugar
Elsa
Bullet
Dorian
Tony
Zeus
Drift
Fist
Silk
New Noise
Shaguar
Crawler
Junkyard
Nitro
Speedy
Addict
Max
Clift
Elton
Rusty
Core
Spring
Yellow mood
My way
Gray fox
Mystic
Rimi
Hammer
Cool Sounding Car NickNames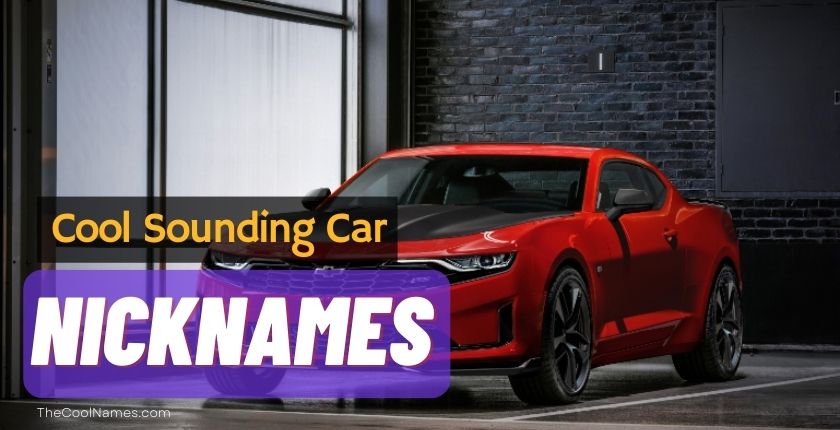 It is a lovely experience to buy a car, and you become more excited to enjoy its ride. A car is like a loved one, and a person develops a relationship with his car as it takes you wherever you want with comfort. That's why your car deserves a cool nickname. Check this list for naming ideas.
Ace of Spades
Brum
Bessie
Arrow car
Dust Devil
Dam Hoover
Snap
Screech
Swoosh
Score
Majesty
Beast
Dazzle
Leo
Kenndy
Hustle
Fury
Jazzy
Leopard
Dear devil
Bishop
Robocop
Gina
Battle Shell
Waggy
Lucky
Viper
Laser Sword
Rook
Knight
Firebomb
Airwheel
Heaven
Zest
Zinger
Zorro
Pepa pig
Jake
Arodix
Mi Alma
Honey
King Midas
Star
Gatsby
Blink
Royal Crown
Duchess
Mercury
Pewter
Robo car
Scythe
Purple cruiser
Violet
Willy Wonka
Disco Inferno
Barm
Stella
Cosmo
Minion
Mad Ford
Peony
Peaches
Pixie
Hot Mama
Bubble Gum
Lemonade
Crush
Nemo
Peel out
Tang
Tiger
The fox
Cheeto
Chunky
Julius
Marmalade
GTA 5 Coolest Car Nicknames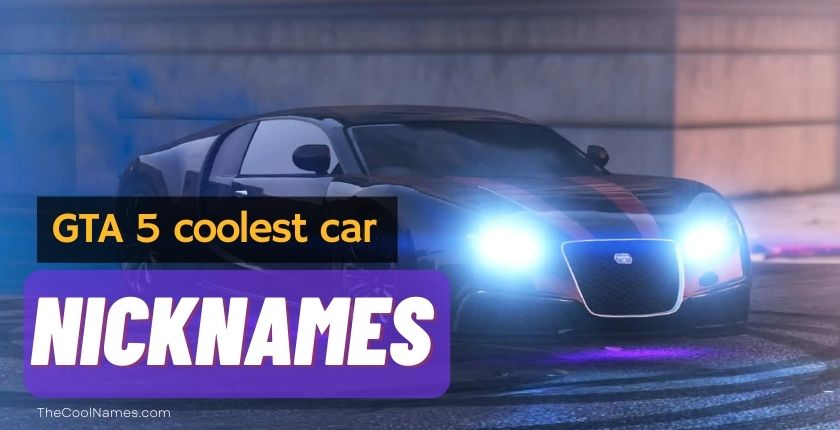 Young people are usually inspired by the sports and games car. Therefore, most young people love to have sports cars, their love for them is eternal. Another best thing they decided to show their love is by giving a name. Do you need some idea for providing a name to your car, you can check in the following list!
XXI
Titanic
V9
My destination
Jury
Gorilla
MPG
Ford Tough
Tonk
Dorothy
Liz Lemon
Tozer
10-Gallon
Payday
Ciao
Patter
Fat X
View
Clio Eve
Kate Eve
Buster
Xerxes
Maddy
Gear
Buggy
Dred Fox
Alan
The Dream
Magic place
Place
Turbo
Rocket
Curve
Paddle Shifter
Flathead
Throttle
Victory
Jeepster
Turbo
Jet-Powered
Stroked
Maximus Prime
Bug-Wiser
QuickSilver
Fireball
Hot Wheels
Machine
Bentley
Rockin
Severus
Runner
Inferno
Blade
Boomer
High Voltage
Shot Gun
Blitz
Rusty
Speed Racer
Carmilla
Siren
Slick
Jurassic Ford
Ameri car
Roger
Skull Crusher
Car RamRod
Klutch
FireRun
Speedin' Demon
Chick Magnet
Street Demon
Striker
Dark Ghost
Sreet Eagle
Lightspeed
Lone Ranger
Texas Ranger
Lightning McQueen
The Coolest and Badass Car Nicknames in The World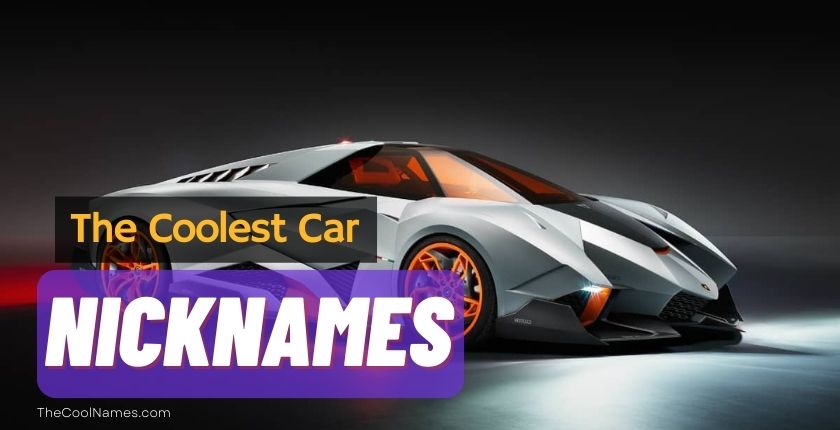 A car is one of your most expensive purchases. People ask about your car and your experience of driving with your car. You feel proud when you share your experience.
Consider what makes your car your favorite and what makes it your favorite. These all factors compel you to give a COOLEST name to your vehicle. When you name a car, it means you give a part of your personality. We have some badass car nickname ideas that you can pick for your favorite car.
Mystique
Underdog
Fat Man
Turtle
Big Fella
Grande
Waggy speed
ZigZoy
My Guardian
Sniper
Fires
Scar Face
QB
Jitter
High Bee
Wired
Rocky
Road Jack
Balboa
Lil Bae
My Bae
Rambo
Bull
Solo
My Friend
Wan boy
Bruno
Bessie
The beast
Shell Brum
Gina V
Boom Siren
Lil Lady
Royce
Elvira
Lancia
lexie
Kia
Nasty
Enzo
John
Mercury
Bobycop
Dove
My Luck
Dude Bob
Billy
Boxer
Jet
Raven
Spit Bug
Sword
Life
Lexie
Elinor
Terminator
Savana
Brum
Bumblebee
Smoky
Oatmeal
Dusk
Party Wagon
Sirius
Vader
Night Bob
Elsa
Polar bear
Filler
yang
Sugarcane
Diamond
Shinner
Moby
Hellcat
Red Wine
Cherry
Santa
Bueller
Crimson
Bomb
Phoenix
Red Rock
Clifford
Chalky
Alaska
Firefox
Frosty
Crossbones
Saddles
Classic Car Nickname Ideas in 2023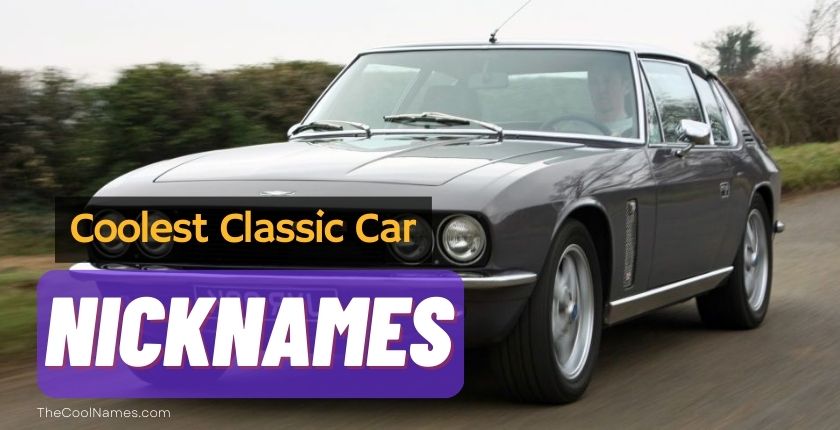 Some people have an extreme attachment to their cars. It becomes like their family, and a name identifies every member of the family. Similarly, we love to name our cars if you are a person who loves to have a classic car and is interested in preserving memories of your car. The best part is selecting a cool classic name for your car, and if you want to choose a classic name for your car, look into the list.
Black Beauty
Citroen
Gullwing
Porsche
Black Mamba
Mini
Volkswagen
Mercedes
Ford
Jaguar
Black Magic
Land Rover
Dada's oldy
Indominus
Bender
Inferno
Sideswipe
Jolly
Boomerang
Grimm
Jacked Up
Jet
Captain Mal
Doom
Captian
Lilith
Solar Eclipse
Drusilla
King of the Road
Blade
Kraken
Dahlia
Cowgirl Up
Dementor
Leviathan
Mamba
T-Bone
Desert Eagle
T-Wrecks
Delirium
Wolf
Dominator
Rose
Thorn
Shaggy
Van Halen
Molly
Matchbox
Starsky
Thunder
Nemo
Eliminator
Clifford
Max Power
Cheeto
Thunderbolt
Ruby
Executioner
Ladybug
Maximus
Starfox
Mad Max
Coolest Car Model Names
You just bought a car due to its model as it gives a good impression and quality. There are many ways to choose a cool name for a car, but considering the model is one of the best ways to give a name to your car. Since naming a car is a big decision, if you are looking for something more creative, you can find more vehicles based on the model in the list.
Delirium
Mad Max
Mirage
Necromancer
Nightshade
Dr. Zoom
Fat Cat
Low Rider
Exile
Optimistic
Fast and Furious
Draco
Transporter
Mach 1
Fearless
The Smolder
Fight Club
Rivendell
Catalyzer
Prime
Fury
Falcon
Old Sky
Unstoppable
Wrap Fighter
Gargoyle
Gateway
Sunroof
Ash
Crush
Dorian
Velvet
Flintstones
Streak
Scythe
Thunder
Specter
Bluebird
Tron
Heaven
Shiny Gaze
Toad
Gawain
Gable
Booger
Jasmine
Score
Pace
TD
Poseidon
Blink
Whiskey Wagon
Kapow
Garth
SpeeDX
PT Bruiser
Torch
Wraith
Screech
Getaway
Apollo
Rendezvous
Clockwork
Reaper
Grimmy
Bandit
Mamba
Blackhawk
Spades
Ace
Jack
Bigfoot
Tank
MPL
Cute Car Names for Tesla, Kia, and Peugeot
Car is like our personality; we know what qualities a car has. We can sense a car's age, color, and gender by knowing the model and attractiveness and relating it to a girl or boy.
These all make and encourage an owner to decide on a good name for a car. Naming a car is a creative technique. You can get an idea, the decision will be yours, but we can help provide a trendy name for your car.
Dark Knight
Dementor
Vlad
Lux
Mystic
Bullet
Ash
Fast Lane
Soul Ride
Tron
Nam
Shiny Gaze
The Sub
Scythe
Drake
Dorian
Rusty
Hellboy
Betsy
Slow Ride
Princess
Poison Ivy
Duchess
Freddy
Balboa
Motor
Bruno
Andrea
SCAR face
Hard Shell
Smooth and Silky
Chopper
Dolphin
Bella
Dory
Cleopatra
Gonzo
Athena
Grover
Macarena
Heaven
Buster
Axle
Ice Cube
Billy Bob
Jasmine
Nasty
Freeze
Magnet
Johnson
Midas
Knox
Lemon
Ponyboy
Sol
Rumpelstiltskin
Gold Bug
Scorpion
Sol
Sunshine
Knox
Tweety
Wiz
Devine
Luigi
Wolverine
Dawn
Midas
Yellowjacket
Robin
Ariel
Cleo
Mic
Brio
Badass Car Names Ever for Honda, Jaguar, Mazda and Volvo Cars
It is easy to think about giving a name to your car but a difficult task to choose a cool name for a car. Before issuing a name to your car, you should consider all factors and qualities of your car. It helps you choose a unique name. Here in the list, we are providing you with the most excellent name a car can ever have
Shadow
Scorch
Grim
Jet Black
Clockwork Orange
Kapow
BlackJack
Nitro
Frank
Panther
Black Diamond
Godfather
Divebomb
Dr. Strangeglove
Deathrow
Reaper
Sirius Black
Pace
Speed Racer
BabgBang
Mach Five
Battle Shell
Fireball
Eleanor
QuickSilver
Brum
Buggy
Judge Dredd
Robin
Holloway
Pure Victory
Ursula
Thunderbolt
Wild Berry
Turbo
Wonka
Rocket'88
Finch
Wiz
Frizz
Fleur
Holly
Dino
George
Celeste
Blue Devil
Gonzo
Froggy
Yoshi
Puff
Harold
Gunner
Storm
Remus
Jada
Wild Berry
Axio
Silver Surfer
Bender
Soul Ride
Bullet
Oracle
Thor
Jagger
Onyx
Loki
Jax
Dredd
Max
Jett
Cho
Ludo
Lolita
Stacy
Intellectual Car Nicknames [2023]
Gilgamesh
Mendelssohn
Ivory Fender
Einstein
Harvard
John Milton
Jane Eyre
Foie Gras
Jane Austen
Charlotte Bronte
Beethoven
Charlotte Bronte
Shakespeare
Oxford
Clair de Lune
PhD
String Theory
Chardonnay
Cambridge
You may also like:
Saba is a Public Administration graduate and a social media and gaming geek, belongs to a business background, and helps people to choose their business names. She loves to write on topics related to business tips, and suggestions about selecting a unique name and related niches.