Calling your partner with a unique nickname seems appealing, isn't it? It not only strengthens your bond with your better half but also depicts the level of understanding between you.
Love demands expression, and picking cute nicknames for your husband is the best way to show your love for your hubby. The most exciting thing about giving nicknames as a wife to husbands is that these short names are used by YOU only.
Nobody knows them, and no one could call your man with these names. Hence, you are independent to pick a unique name for your partner.
Additionally, giving only one nickname to your partner is not essential. You can give as many names as you want, isn't it sweet? YES! It is the best thing about an ideal relationship.
However, the level of care and understanding varies from person to person. So, here we have multiple lists that have nicknames for husband. You can choose according to your requirement. Also, we have a complete list of nicknames for tall guys for you.
Best Nicknames for Husband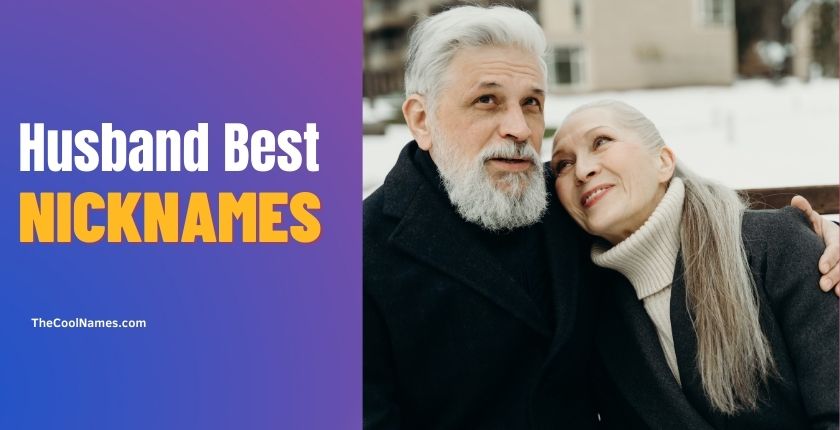 Ace of hearts
King of hearts
Muscle man
Robin Hood
Bean
Berry crumble
Monster munch
Energizer bunny
Pumpkin sprout
Baby daddy
Cookie monster
Fridge raider
Sugarplum
Snuggle bunny
Oh beloved
Curry bean
Chocolate cupcake
Death by chocolate
Heart and soul
Big Mac
Sunday driver
Armageddon
Sparky
Sparkles
Diddle
Candy man
Hot buttered toast
Chang Noi
Jammy
Fruitcake
Puppy
Puppy dog eyes
Candy bar
Dreamy man
Fish finger
Boo thang
Love of my life
Batty
Apple pie
Cherry pie
Elf
Ulf
Bub
True love
Peachy
Dewdrop
Honey butter biscuit
My Knight
Cuddle cakes
Sausage
Cinnamon roll
Sweet tooth
Doodle bot
Bot
Baker's dozen
Notorious
Jock
Extra hot
Bombolone
Sexy
Fusilli
Muscles
Iced muffin
Gentleman
Sweet pea
Runner bean
Nugget
Tough guy
Sugams
Simba
Bookworm
King
Angel munchkin
Munchkin bunchkin
Hotsauce
Rogue
Butternut
But nut
Dingo
Crunchkin
Limpet
Peanut
A goner
Serial napper
Toejam
Amore
Jefe
Mi Vida
Cuti
Kid
Excitable
Nerdy boy
Wonderboy
Freckles
Treasure
Pot of gold
Hangry man
Heartthrob
Brownie
Moonpie
Cool Nicknames for Husband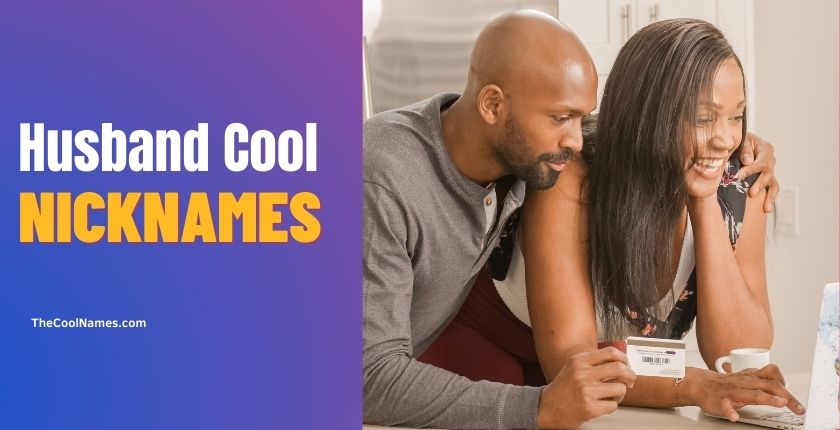 Mr. Cutie
Mister cutie patootie
Bumble butt
Bumble pants
Lambkins
Charmist
Popeye
Dopey
Yumbum
Grumpy
Graceful
Honey bee
Cuddle partner
Periwinkle
Ya amar
Mon chéri
Smoochie
Smoochie pants
Lovey
Monsieur
Cowboy
My guy
Moon
Sunshine
Daredevil
S'more
Lyubov Moya
Erdbeerchen
My Sunshine
True Love
Piglet
Tigger
Swooner
Sailor
Smoochie poo
Cute stuff
Bagoo Goosha
Captain of Love
Man of My Life
Beansprout
Twinkle
Tinko Minko
Sweet as chocolate
Pinwheel
Biscottino
Biscotti
Love lumps
Angel eyes
Fuzzikins
Jaffa cake
Gorgeous
Babe
Zeus
Godly
Sock monster
Cabbage
Star
Snowflake
Couch potato
Quackers
Amigo
Ranch sauce
Honey bun
PIC
Sarcastic twit
Orange segment
Man of the North
Aquaman
Stud-muffin
Bo
Honeypot
Pooh bear
Merlin
Big papa
Hottie
Dream boy
Bibi
Mr. Muscle
Captain of love
My prince
Bumblebee
Beetle
Lovistro
Mung bean
Sprout
Old boy
Papa bear
Mon amour
Dusha moya
Adventurer
Adventurous
Toe bean
Gremlin
My only one
Cuddly
Eros
Tiddler
Peony
My bean
Bunny
Charmer
Tiger
Fuzzball
Badass Nicknames for Husband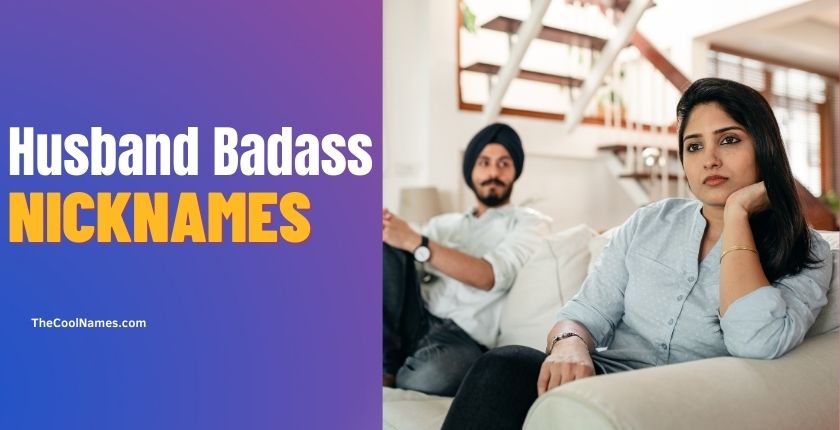 Here you can pick a unique nickname from the most amazing and badass nicknames for your hubby.
Big brain
Jacket potato
Mi amor
Light of my life
Gangster
Warrior
Brown eyes
Gym bunny
Sliced bread
Bees knees
Syrupy pancake
God's gift
Heartbreaker
Novio
Booby trap
Sugar bear
Sugarlump
Sweety bun
King Kong
Dragon
Booky
Mr. Big
Smile maker
Toots
Parmesan
Sunday roast
Shono
Stringy noodle
Mono
Slurp
Hunkalunk
Beau
Cookie kiss
Sugar snap pea
Goof
Goofball
Silly nelly
Rascal
Twiddle
Mr. Perfect
Cuddlebunch
Munchkin munch
Yokozuna
Num num
Sweet man
Honey boo
Sweet cheeks
Boop
Skywalker
Sinta
Perky peach
Peachykins
King of the dragons
Father of dragons
Sheep
Pygmy puff
Sugar lips
Amore mio
Momo
Chicken butt
Habibi
Habibdi
My dear
Ice cube
Blondie
Blue eyes
Frooz
Fruzzo
Oat cookie
Crumble
Sweet as sugar
Winnie the pooh
Mr. oop
Candy corn
Dark knight
Black panther
Valentine
Noodle
Booba
Boob
Hon
Stardust
No 1
Numero Uno
Sexy man
My precious
Superman
My hero
Mr. Perfectia
Mr. World
Tater tot
Oodle of noodles
Lapcat
Fungus
Emperor
Sir laughalot
Pavlova
Fuzzy bear
Honey bunch
Goo goo eyes
Grungy bum
Indy
Tomb raider
Adorable Nicknames for Husband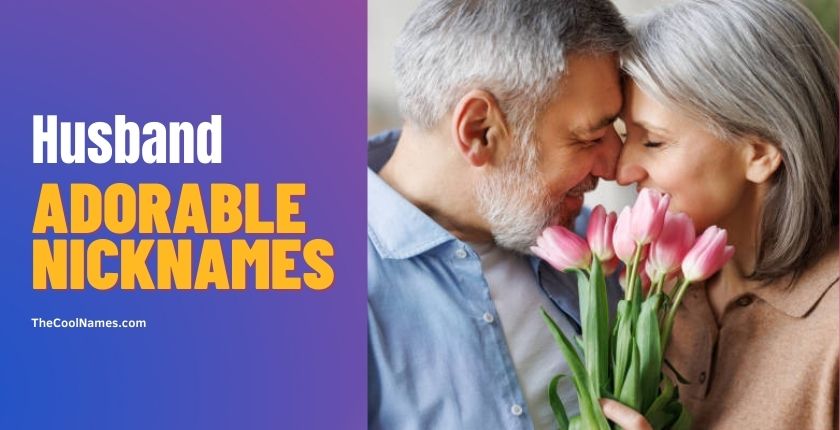 Twinkling star
Parma ham
Sausage roll
Dumpkin
Cookie dough
Fishstick
Fudgesicle
Sugikins
Panna cotta
Crostini
Rough diamond
Ken
My lovely
Bristly pear
Cute butt
Cutikins
Salty olive
My chickpea
Vitamin
Butter babe
Honey Crumpet
Buttercake
Honey bear
Doughnut hole
Baba ganoush
Papi chulo
Boogie
Boogie woogie
Dreamboat
White knight
Slice
Hot serving
Fizzball
Fartbag
Sugar
Dumpling
Partysaurus
Bromancer
Marvellous man
Mancave
Funny man
Comedian
Barbecue
Roast potato
Bello
Pasticcino
Drumstick
Chicken legs
Baby
Frog
Sweetheart
Biscuit
Smartie
Chocolate drops
Truffle
Pumpkin pie
Rooster
Beanpole
Hot stuff
Pookie
Good looking
Beast
Cornchip
Salsa
Mister
Roo
Sour grape
Appetizer
Curly locks
Drogo
Beau-gosse
Bonito
Gobstopper
Goo goo
Bebetom
Baby boo
Baby boy
Fave
Sugi pop
Adonis
Crankster
Loo hogger
Peanut butter cup
Buttercup
Sanam
Schatz
Majesty
Studly
Dream Guy
Soul mate
Sonic
Garam masala
My all
Tweet
Yumster
Delicioso
Nosey pants
Smartie pants
Melted cheese
Buzz
Sweet Nicknames for Husband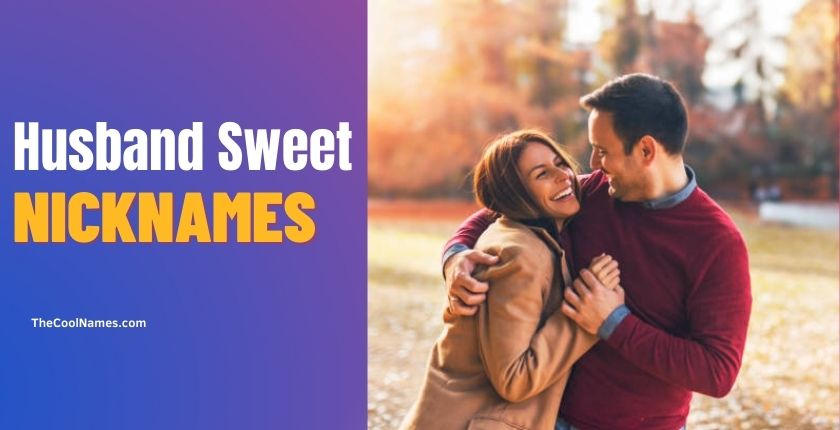 Pookie pants
Fuzzlekins
Master of the universe
Cinnamon apple
Albear
Mon ange
Romeo
Heart of gold
Oppa
Goober
Peanut butter jelly jam
Ham sandwich
Cuddles
Honey bunny
Gracious
My knight
Foxy
Mustachio
Bubba
Sweet potato
Tortilla
Gravy
Scramble
Breakfast in bed
Snail
Mr. Dreamy
Amazer
Shocker
Sir-Loves-A-Lot
Shortcake
Boomtown
Snore monster
Tasmanian devil
Snuggle bear
Hun
Patootie
Schnuckiputzi
Liebling
Twinkie
Bear grylls
Maudlin
Jammy dodger
Patoots
Sugar bunch
Cry baby
Cutie patootie
Fry
Fry baby
Winkie
Movie star
Sugar dumpling
Mochi ball
Grill Marks
Love
Pumpkin
Cookie
My rock
Belly button floof
Caramel sauce
Fudge
Button
My only
Heartstrings
Loaf
Cool bean
Chilly vanilly
Dilruba
Boodle doodle
Pro
Pirogi
Num Nums
Basil pesto
Bugbear
Joon
Funny bunny
Crunchy bean
Bunnykins
Caboodles
Ninkan Poop
Spiffing
Egg
Potato chip
Chan-chan man
Heartstopper
Chocolato
Sona
Sticky crumble
Subway sandwich
Sport
Kiddo
Dearest
Dream Boat
Fudgesticks
Sundae
Floof
Bean roast
My beloved
Snorasaurus
TNT
Romantic Nicknames for Husband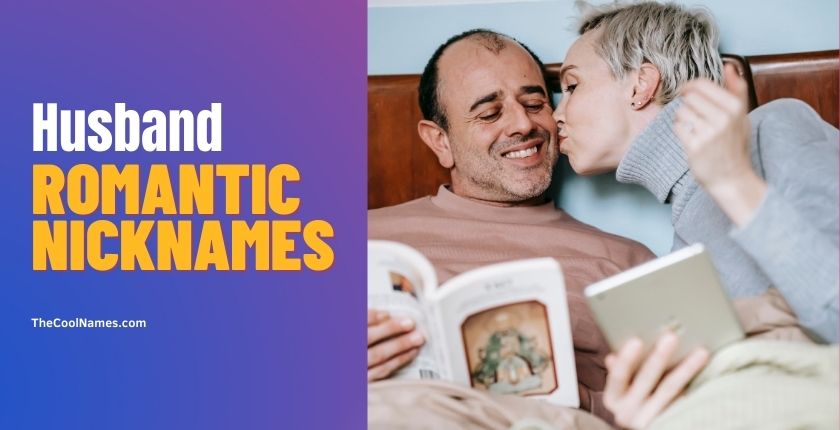 Fire in my heart
Randy
My king
Soda pop
Jellybear
Dairymaid
Bae
Papi
Pinstripe
Jelly bean
Baba
Vanilla ice
Ludicrous sausage
Charming
Viking
Silver lining
Potsticker
Deary
Mr. Out of this world
Lamb chop
You chop
Uriel
Vita mia
Orange creamsicle
Delicious
Mysterious
Dark and handsome
Wookie
Patito
Cuddly bear
Mr. Handsome
McSteamy
XOXO
Juicy
Juicy grape
Soulmate
Twinflame
Raja
Macho man
Darling
Rockstar
Salty sausage
Doodlebum
Brown sugar
Treacle
Hotshot
Your majesty
Sunbeam
Fated one
Terrorizer
Mr. Right
Golden
Glorious
Tattle tale
Toodle
Duckyboy
Binky
Churro
Dulce de leche
Baby bear
Tarzan
Boothang
Corazón
Knave
Munchkin
My lover
Lover
Fishball
Riceball
Popstick
Cherry on top
Key to My Heart
All Mine
Cutie
Apple of my eye
Sweetness
Chipmunk
Trumpet
Adorable
Banger
Rambler
Blaze
Trailblazer
Handsome
Dapper
Pudding pie
Twin
Beebs
Pitbull
Champion
Floppy pants
Baddy
Canoodle
Cream Bun
Creampuff
Ride or die
Prince
Precious
My one true love
Nearest and dearest
My love
Sexy Nicknames for Husband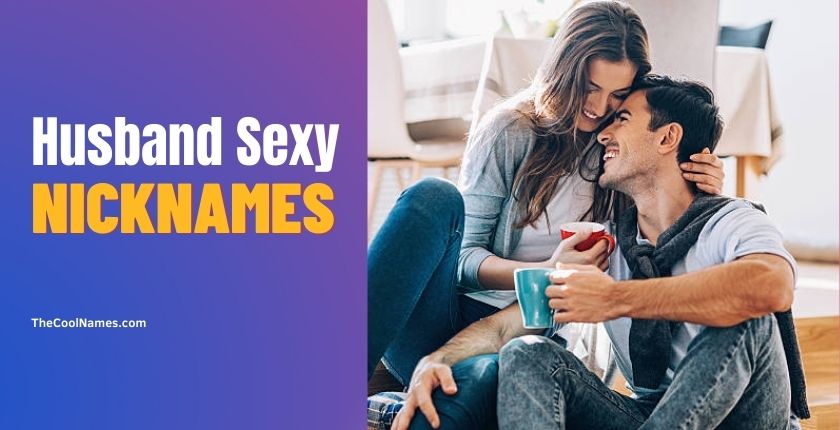 Tomato
Cherry tomato
Big guy
Tesoro
Master chef
Crumpetcake
Fungal infection
Balloon
Oyster sauce
Beep boop
Pikachu
Tamagotchi
Boo boos
Tootsie roll
Custard pie
Butthead
Trouble
Robot
Chief
Sarcastic mouth
Bandito
Rambunctious
Wedgie
Jelly jam doughnut
Crumpet
Pancake
Baby love
Sticky noodle
Pebbles
Snickers
Sticky rib
Bandit
Caramel apple
Beloved one
Bertie Bott's beans
Dynamite
Smoosh
Mi rey
Speedy
Dilly
Old man
Sugar pie
Jaan
Sushi
Other half
Boo boo
Iron Man
Hot lips
Heartbreaker
Hangry
Wasim
Yummy boo
Bumpkin
Honey bumpkin
Apple butt
Kindred soul
Streetfighter
Prince charming
Hidalgo
Pickle pie
Good-looking
Stud
Scallion
Squid
Luv
Baby doodle
Ke aloha
McDreamy
Maverick
Habib albi
Fitty
Fruit loop
Lovey dovey
Captain
Loverboy
Sexy beast
Honey
Honeybun
Doughnut
Superstar
Candy
Wolf
Parboiled egg
Ribbit
Sidekick
Love bug
Clown
Beebo
Knight In Shining Armor
Lover boy
Luscious
Luscious lips
Sweet boy
Mr. Munchkin
Mr. [name your favorite fruit]
Mr. Hulk
Baloo
Sweetie
My universe
Lamb
Unique Nicknames for Husband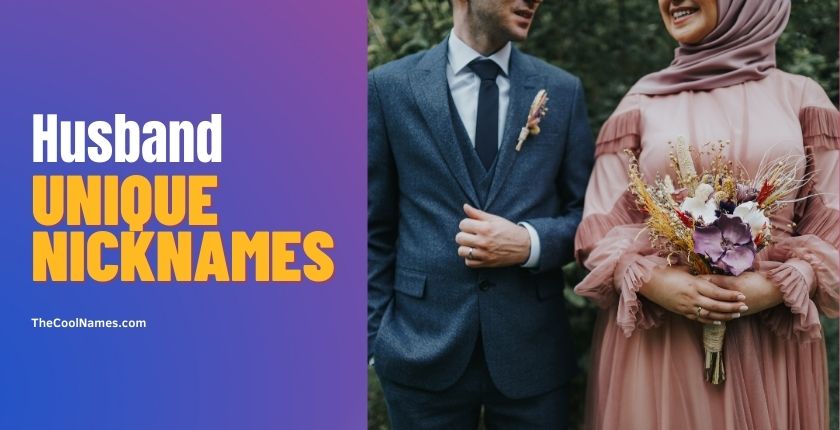 Hunk
Panther
Hugster
Tramp
Still waters
Stupendous
Minty man
Minted
Cuddly Bear
My Drug
Cookie crumble
Oreo
Hercules
Cassanova
Shawty
Dimplekins
Beep
Plumpkin
Caveman
Meatball
Silly billy
Squarepants
Hunny baby
Yummy
Muffin
Best friend
Dimples
Goofy
Hero
Sugar Lips
Swiss roll
Suave sausage
Lazy bum
Lazy lump
Tiddlywink
BFG
Mi corazón
Ma fraise
Potato
Better half
Puss in boots
Tugboat
Rainbow
Koala bear
Hot shot
Tartufo
Superhero
Strongman
Nightwatch
Batman
Cantankerous
Cupid
Stallion
Major
Noodlekins
Syrupy sausage
Shona
My man
Marmite
Smurf
Busy bee
Squirrel
Eggroll
Angel
Dimple
Sweetum
Romancer
Penguin
Human burrito
Squish
Smartass
Donkey Kong
Sheriff
Partner in crime
Key to my heart
Funky monkey
Candikins
Cereal killer
Mr. Killer Looks
My Only One
Nantucket
Sunny
Snuggles
Chub chubs
Sweets
Buddy
Spice boy
Squishy
Batty boo
Rapscallion
Two left feet
Eye candy
Hubba Bubba
Captain cool
Teddy bear
Teddy
Mickey mouse
Chicken
Ma cherie
All mine
Perfect Nicknames for Husband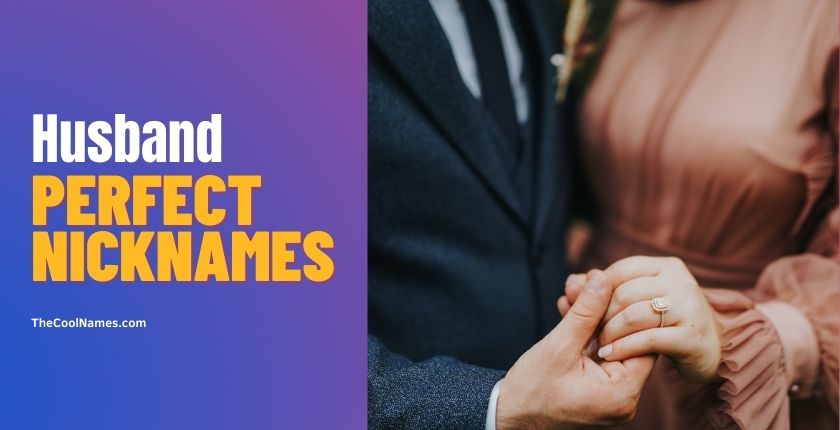 Bambino
Polpetto
Dingle
Goku
Honeykins
Señor
Zorro
Alpha
Arrogant sausage
Haughty boy
Pickle
Snuggleable
Diddy
Poodle
Lanky
Cherub
Sugartits
Mr. Incredible
Genie in a bottle
Spicy one
Fireworks
Heaven sent
Zander
Zucchero
My lion
Esé
Pizza pasta pie
Ladies man
Trout
Favorite
Dreamer
Doodle bear
Willy nilly
Cassata
Pizza pie
Kebabi
Lonewolf
Lone rider
My strawberry
My little prince
Chicken little
Moose
G-Man
Cotton candy
Bright eyes
Bushy tail
Muncher
Booty
Shining light
Gumdrop
Prince Charming
Casanova
Honeysuckle
Chi chi poo
Hotstick
Hotstuff
Enigma
Cheesy bean
Ace
Champ
Extra Hot
Everything
Chickadee
Love nugget
Boogie bear
Hunny bunny
Chipper
Polar bear
Sweetie pie
Gummy bear
Good lookin'
Caesar
Walking encyclopedia
Wolverine
Knock out
My everything
Caboodle
Boodle
Hot chocolate
Snuggler
Snookums
Tiramisu
Papito
Fluff button
Whiskers
Toothless
Trifle
Devil
Honey badger
My galaxy
Cinnabon
Bad boy
Kit kat
Firecracker
Omega
Man of my life
Dancer
Babylicious
Canoodler
Captain underpants
Popular Nicknames for Husband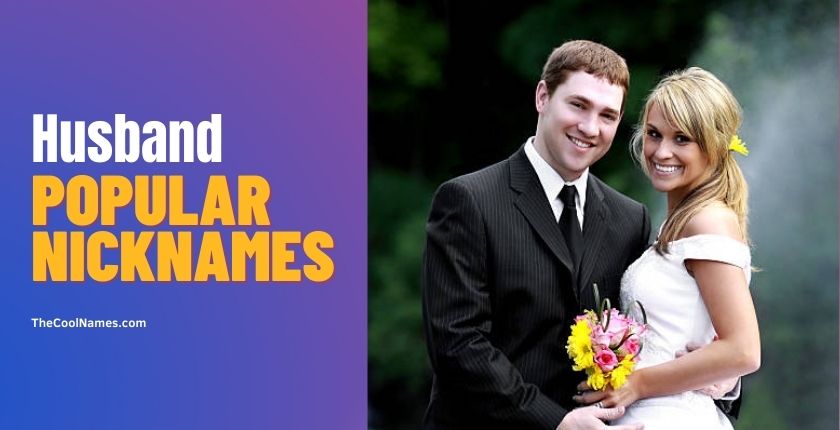 Mr. Universe
Pert potato
Stringbean
Squeak
Love muffin
Blueberry muffin
Silly bean
Popsicle
Tittle tattle
Toothsome
Boodlekins
Doodlekins
Dangerous
Evil kenevil
Sausage scramble
Snickerdoodle
Sweatpants
Braveheart
My one and only
Mr. Adorable
Boo bear
Amante
Potato cake
Hotcake
Krispy Kreme
Lazy
Cool cucumber
Mucho man
Other Half
Love Muffin
Sugarpuff
Allocated dishwasher
Pretentious poodle
Love candy
Hotrod
Ladykiller
Cupcake
Vanilla cupcake
Conejito
Stud muffin
Duck
Ducky
Tweedle dee
Nitpicker
Partner
Dingbat
Buncakes
Happy
Goat
Stubborn goat
Mr. Amazing
He man
Boo
Diamond
Dreamy
Giggles
Eeyore
Mr. Spock
My sun
Panda
My world
Nightlight
Tootie
Creamsicle
Golden boy
Hubby
Wonder man
Guapo
Caramel
Bear
Smirkypants
Marshmallow
Dropje
Mister man
Boy toy
Care bear
Tickle monster
Pants
Einstein
Ecstasy
Guinea pig
Donkey kong
Ultimate
Rabid beast
Manbun
Boogtown
Chubby cheeks
Chicken nugget
Flea
Itchy pants
Boss man
Jellybean
Cariño
Jelly tot
Monkey man
Breath if fresh air
Fella
Hoshi
Weasel
Sugi bear
Baby cakes
Hotcakes
Crunchy munchkin
Cannoli
Bugs
Snoogy puss
Mr. Fresh
Bunches
Treacle tart
Pecan pie
GUIDELINES TO CHOOSE PERFECT NICKNAMES FOR HUSBAND:
You should keep in mind the following few points before using a sweet name to call your husband.
Pick a short name: You should pick a short name, like Honey, love, So, etc., because precise is beautiful. Moreover, it will be easy and quick to call.
Concentrate on your thoughts: Think for a while! What is the first thought that comes to your mind when you see your hubby. You can use that thought to give a nickname to your husband.
Consider favorite personality: You can also give the name of your favorite personality, such as any actor, cricketer, politician, etc., to your husband.
Consider his personality: You can also give a sweet nickname to your better half that matches his personality and positive qualities. For example, if your partner is romantic, you can give a romantic nickname to your husband.
BONUS POINT: Always remember the nickname for husband should not depict any negative trait of your partner. You can jump to the list of cool nicknames for wife.
The Cool Names is regularly providing the name and nickname ideas for games, social media, pets and people. A group of highly qualified and experienced writers finds the perfect names and give tips and ideas about name ideas and related topics here at this blog. Follow us for unique name and nickname ideas on a daily basis.