Last Updated on: 24th October 2023, 09:00 pm
Do you love flowers and looking for flower names for girls? You are at the right place.
Parents have various motivations behind the names of their newborns. They wish to name their baby girl something lovely and elegant. For them, there is nothing lovelier than a flower.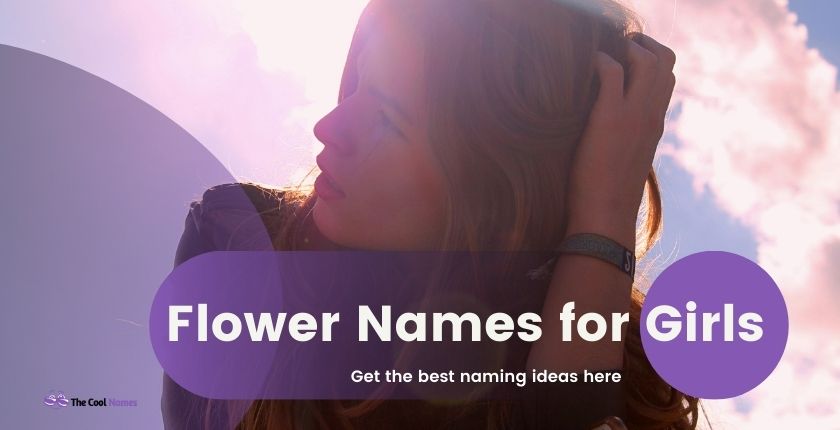 Cool Names associated with flowers are always special and lovely. In old times, it was a fashion to use a flower name for baby girls. Now that time has come back, the girls with flower names are in trend! So, if you also wish to give your little girl a floral name, you can pick from these ideal flower names for girls.
If you have been struggling in picking the perfect flower name for your baby girl, you can consider these names as we have compiled the lovely ideal flower names for your little newborn.
These flower names for girls are simply captivating. From these unique girls' names, you can pick an impressive one for your little one.
Girls Unique Flower Names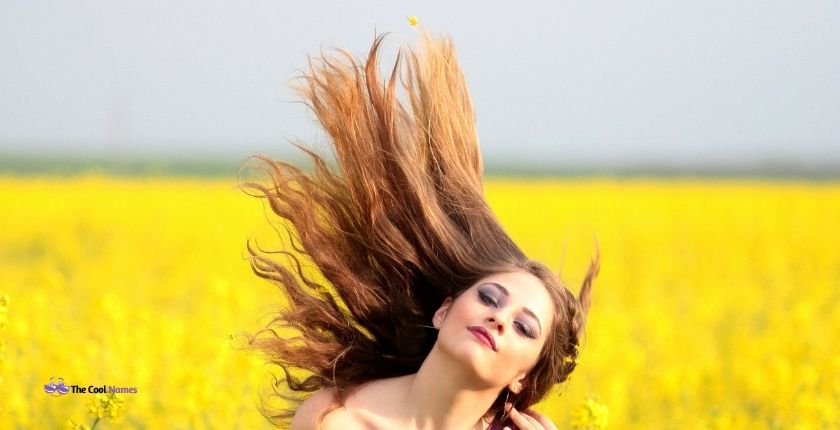 Let's start the list of lovely flower names, you can pick the best one for your baby girl;
It's a flower like a blue-bell derived from Delphinium. It is basically a french name and has some association with dolphins.
This is known for a victory and it's a Latin word.
It is a fresh-cut flower and represents fate.
This symbolizes beauty and it's now getting popular in the United States. Many celebrities have named their girl with this blossoming flower.
Related: Classy Instagram Names for Girls
Elegant Flower Names with Meanings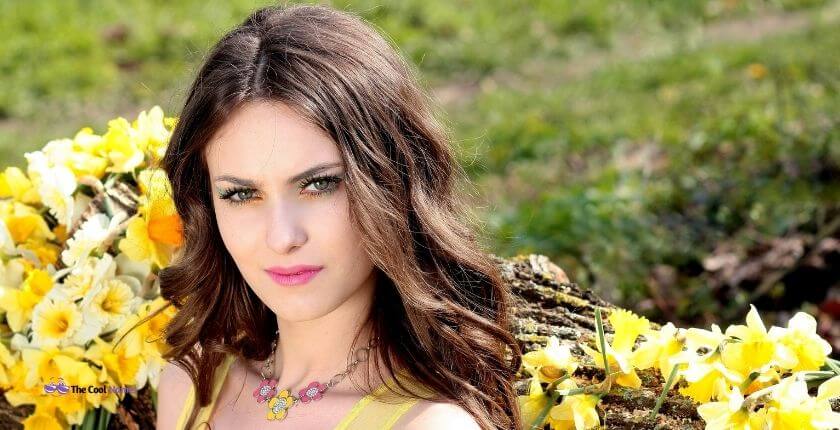 Here we have shared some girls unique flower names with meaning which will help you in picking the best one for your baby girl:
This flower represents classiness, love, and politeness.
It symbolizes a name that boasts of intelligence and personality.
This flower represents modesty and simplicity.
This flower is known for purity and grace.
This Flower signifies modesty and dignity.
Above mentioned flower names for girls are so appealing. If you get confused between these options, you can simply go for your favorite flower.
Birth Month Flowers Names for Girls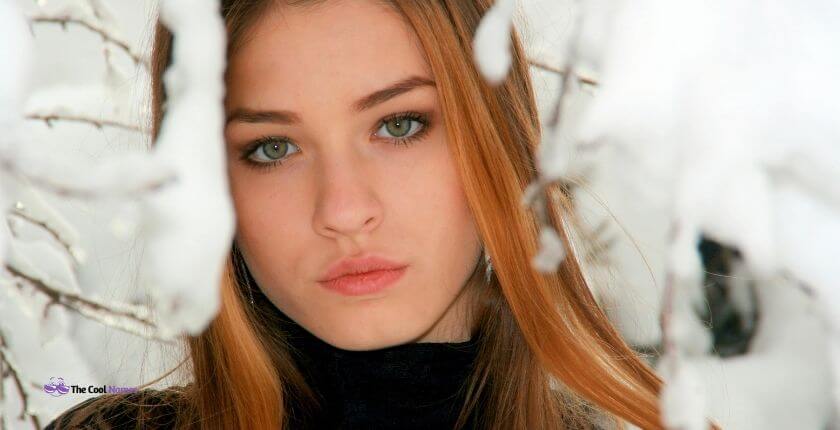 Do you want to know the floral name of your birthday month? Flowers can tell a lot about our personality. Every flower has a meaning. They can change our moods and emotions. Here we have made a list of flower names according to the birth month:
January: carnation, snowdrop
February: primrose, Violet
March: jonquil, daffodil
April: daisy, sweet pea
May: Valley lily, hawthorn
June: honeysuckle, rose
July: larkspur, water lily
August: Gladiolus, poppy
September: aster, morning glory
October: marigold, cosmos
November: chrysanthemum
December: holly, narcissus
Naming yourself according to your birth month flower is not a bad idea. Girls can use their birth month flower as their name. Let us know if you have named yourself according to your birth month.
You can also tell us about whether your birth flower suits your personality or not.
African Flower Names For Girls
Aya
Zahara
Zuri
Amara
Ayanna
Kioni
Nuru
Zola
Ife
Safiya
Almasi
Asha
Nyala
Amani
Ayodele
Zuwena
Najwa
Kesi
Farida
Makena
Amira
Adama
Zahira
Dakari
Zina
Jamila
Kioni
Nyima
Yara
Tendai
Antique Flower Names For Girls
Primrose
Marigold
Delphine
Hyacinth
Rosalind
Violetta
Myrtle
Lavinia
Hortensia
Dorothea
Euphemia
Eglantine
Azalea
Lysandra
Edelweiss
Magnolia
Seraphina
Zinnia
Acacia
Leontine
Camellia
Eugenia
Felicity
Ambrosia
Calantha
Elara
Odessa
Sylviana
Theodora
Wilhelmina
Aqua Flower Names For Girls
Coral
Aqua
Marine
Azure
Cerulean
Indigo
Turquoise
Teal
Nixie
AquaLily
Aquamarine
Marina
Oceanne
Skylar
Cyan
Aquata
Thalassa
Aquella
Bluette
Marinel
Araluen
Aquarelle
Aqualine
Delphina
Marinelle
Cerulia
Aquelle
Thetis
Aquariana
Marimba
Beautiful Flower Names For Girls
Dahlia
Camellia
Azalea
Jasmine
Liliana
Magnolia
Iris
Lily
Rosalind
Zara
Calla
Amaryllis
Seraphina
Viola
Flora
Juliette
Adelina
Dahlina
Zinnia
Lavender
Anemone
Petal
Aurora
Celestia
Blossom
Amaranta
Aria
Juniper
Eden
Cassia
Best Flower Names For Girls
Lily
Rose
Violet
Daisy
Jasmine
Iris
Poppy
Lilyana
Camellia
Orchid
Zara
Marigold
Dahlia
Azalea
Primrose
Amaryllis
Calla
Magnolia
Dahlina
Seraphina
Flora
Celestia
Blossom
Amaranta
Aria
Anemone
Aurora
Eden
Cassia
Juliette
Blue Flower Names For Girls
Bluebell
Indigo
Azure
Cyan
Hyacinth
Cornflower
Forget-Me-Not
Periwinkle
Iris
Lavender
Viola
Aster
Blue Angel
Delphinium
Cerulean
Skylar
Blueblossom
Petunia
Sapphire
Blue Aster
Aquata
Amethyst
Wisteria
Zinnia
Cornelia
Sky Blue
Elettra
Aquelle
Cyanea
Laney
Chinese Flower Names For Girls
Meihua
Lian
Hua
Zhu
Xiu
Hong
Qing
Ying
Jia
Yue
Mei
Rong
Lan
Dai
Yin
Xiulan
Yuan
Huilan
Fang
Mingxia
Wen
Xing
Cai
Yuzhen
Wei
Ting
Yulan
Fanghua
Shulan
Xiujuan
Color Flower Names For Girls
Ruby
Hazel
Sienna
Lavender
Coral
Lilac
Fuchsia
Cyan
Goldie
Amber
Iris
Ebony
Jade
Maroon
Olive
Scarlett
Teal
Periwinkle
Tawny
Magenta
Topaz
Mauve
Tangerine
Cerulean
Auburn
Saffron
Orchid
Vermilion
Amethyst
Cobalt
Common Flower Names For Girls
Lily
Rose
Daisy
Violet
Jasmine
Iris
Poppy
Dahlia
Zinnia
Marigold
Camellia
Calla
Lilyana
Azalea
Amaryllis
Primrose
Celestia
Magnolia
Amaranta
Blossom
Seraphina
Flora
Eden
Cassia
Aurora
Anemone
Amaranta
Violetta
Skylar
Viola
Cute Flower Names For Girls
Petal
Rosie
Daisy Mae
Lily-Belle
Buttercup
Blossom
Posie
Tulip
Daisy Doodle
Bluebell
Sweet Pea
Poppy Seed
Honeyrose
Petun
Daffodil Darling
Pansy Puff
Daisy Darling
Lily Lovebug
Blossom Breeze
Cherry Petal
Poppykins
Buttercup Bunny
Marigold Munchkin
Petunia Popper
Violet Sparkle
Zinnia Zest
Sunny Sunflower
Rosie Posie
Dandelion Dreamer
Lavender Lullaby
Exotic Flower Names For Girls
Saffrona
Orchidia
Amarys
Azura
Vireya
Cymbeline
Callista
Zephyra
Lotusia
Amarina
Cattleya
Yareli
Zafira
Eirlys
Ambrosina
Zariya
Hespera
Fiorella
Melantha
Elysia
Jacinta
Azahara
Amarisa
Zerlina
Isidora
Selkina
Zaida
Oleandra
Azura
Zenobia
Filipino Pretty Flower Names For Girls
Dahlia Althea
Sampaguita Isabella
Rosalinda Calixta
Magnolia Esperanza
Azucena Estrella
Adelfa Guinevere
Lily Chrysanthemum
Camia Felicidad
Ilang-Ilang Seraphina
Santan Valencia
Gumamela Bellatrix
Kalachuchi Mariposa
Angelica Calla
Gardenia Celestina
Aster Luningning
Orchid Salud
Ylang-Ylang Paloma
Sampaguita Dahlene
Rosalinda Jasmine
Azucena Eufrosina
Lily Narcissa
Camia Roxanne
Ilang-Ilang Odessa
Santan Zafira
Gumamela Marigold
Kalachuchi Clementine
Angelica Dahlina
Gardenia Solana
Aster Petunia
Orchid Zinnia
First And Last Flower Names For Girls
Acacia Rose
Marigold Lily
Dahlia Violet
Primrose Iris
Petunia Daisy
Zinnia Poppy
Lotus Jasmine
Camellia Ivy
Magnolia Hazel
Azalea Lily
Clover Jasmine
Bluebell Lily
Lilac Violet
Orchid Lily
Heather Jasmine
Iris Willow
Poppy Rose
Amaryllis Lily
Dahlia Daisy
Lily Marigold
Violet Jasmine
Lily Magnolia
Daisy Lily
Hollyhock Rose
Peony Violet
Rose Lily
Tulip Jasmine
Jasmine Poppy
Daisy Primrose
Ivy Violet
Flower Names For Girls Behind the Name
Flora Seraphine
Blossom Anastasia
Fleur Isadora
Lavender Calliope
Iris Penelope
Violet Genevieve
Daisy Guinevere
Petal Seraphina
Lily Ophelia
Poppy Ariadne
Marigold Celestine
Zinnia Eleanora
Dahlia Gwendolyn
Azalea Rosalind
Jasmine Beatrice
Rose Octavia
Peony Cassiopeia
Lotus Evangeline
Willow Theodora
Aster Clementine
Camellia Lysandra
Ivy Seraphima
Primrose Calantha
Heather Serenella
Magnolia Fiorella
Amaryllis Jessamine
Bluebell Eleonora
Clover Serenade
Lilac Amabel
Orchid Elowen
Flower Names For Girls Born In The 60's
Linda Rose
Pamela Daisy
Donna Lily
Brenda Violet
Karen Iris
Sharon Poppy
Carol Jasmine
Cheryl Marigold
Cynthia Lily
Deborah Violet
Janet Jasmine
Diane Daisy
Robin Lily
Denise Iris
Teresa Rose
Lori Dahlia
Sandra Lily
Julie Marigold
Christine Violet
Beverly Jasmine
Ann Daisy
Jane Lily
Lisa Iris
Marilyn Poppy
Kathy Rose
Ellen Daisy
Bonnie Violet
Paula Jasmine
Gail Lily
Dawn Dahlia
Flower Names For Girls In French
Fleur Delphine
Rose Estelle
Iris Vivienne
Marguerite Amélie
Camélia Adèle
Liliane Juliette
Dahlia Céline
Violette Mathilde
Coquelicot Lucienne
Azalée Odette
Jonquille Élodie
Pétale Fabienne
Amande Éloïse
Jacinthe Chloé
Lisette Rosalie
Lotus Léonie
Tulipe Romaine
Lavande Capucine
Thérese Solène
Colombe Léa
Anémone Sidonie
Clémentine Maëlys
Hortense Perrine
Margot Axelle
Prune Coralie
Renée Lucie
Vanille Noémie
Yvette Apolline
Zinnia Manon
Véronique Sylvie
Flower Names For Girls In Hawaiian
Leilani Nalani
Melia Iolana
Pikake Alaula
Pua Miliani
Hinano Nohealani
Lokelani Mahina
Hibiscus Anuhea
Palila Kiele
Kanani Mahealani
Mokihana Loke
Nalina Leimomi
Aolani Ipo
Kaiona Kailani
Liana Makana
Malie Moana
Pualani Ululani
Lokahi Mahelona
Lehua Kaia
Moani Onaona
Noelani Halia
Alani Anela
Ehu Kiele
Halia Manu
Iwalani Kaila
Kahili U'ilani
Lanakila Puanani
Mahina Pili
Pili Moani
Ulaula Anuenue
Wahine Ku'ulei
Flower Names For Girls In Hebrew
Azara
Hadassah
Kavita
Shoshana
Zahara
Nitzan
Tamar
Karnit
Rinat
Zemira
Sigal
Gita
Vered
Maayan
Lilah
Atara
Talia
Galya
Nurit
Moran
Rimon
Elonit
Ilanit
Avishag
Neta
Kelilah
Pnina
Zariza
Hadasa
Yael
Flower Names For Girls In Native American
Ayita
Catori
Anaba
Halona
Fala
Kimama
Winona
Takala
Natane
Chimalis
Elanaba
Hialeah
Yoki
Salali
Leotie
Taini
Ogin
Nayeli
Yoki
Odina
Halyn
Kanti
Sihu
Takala
Winona
Haloke
Aiyana
Sakari
Enola
Osyka
Flower Names For Girls In Spanish
Rosalía
Camila
Margarita
Azucena
Violeta
Isabella
Floriana
Lirio
Mariposa
Jacinta
Alejandra
Amaranta
Carmen
Gardenia
Jazmín
Narcisa
Orquídea
Petunia
Solana
Xochitl
Paloma
Reina
Valeria
Yolanda
Estrella
Zinnia
Graciela
Fresia
Adriana
Luzmila
Flower Names For Girls In Texas
Bluebonnet
Magnolia
Lady Bird
Primrose
Clementine
Amarillo
Calla
Dallasia
Laredo
Lubbock
Pecos
Seguin
Katy
Waco
Llano
Abilene
Odessa
Amaranta
El Paso
Shiner
Austinia
Fannin
Houstonia
Brazoria
Temple
Nacogdoches
Arlington
Conroe
McKinney
Tyler
Flower Names For Girls In Japanese
Sakura
Hana
Ayame
Yurika
Ran
Sumire
Himawari
Miyuki
Suzu
Aoi
Natsumi
Yuki
Kiku
Haruka
Natsuki
Rena
Madoka
Momo
Satsuki
Tsubaki
Ume
Yua
Hina
Sayuri
Minori
Rika
Yua
Chinami
Yuzuki
Yuri
Flower Names For Girls In Korean
Hana
Ae-Cha
Ji-Yoo
Min-Ji
Kkot-Nim
Hwa-Young
Mi-Hyang
Seo-Yeon
Hyo-Sonn
Eun-Bi
Dae-Hyun
Nam-Sun
Ah-Reum
Chul-Moo
Young-Suk
Hyun-Ae
Ji-Woo
Woo-Jin
Mi-Sook
Sun-Hi
Shin-Hye
Ji-Hae
Bo-Mi
Sung-Min
Eui-Jin
Ji-Ah
Gun-Woo
Su-Bin
Ji-Young
Min-Ju
Flower Names For Girls Meaning Hope
Esperanza
Nadine
Asha
Hopea
Tikvah
Faithlyn
Amilani
Hopeira
Nadezhda
Ashwika
Toivoa
Taraja
Asimina
Umutlu
Hopelyn
Omidah
Tumelo
Elpida
Liora
Nadyenka
Hopewell
Amala
Tikvaia
Ashmita
Esperana
Ummeed
Vakaris
Hopalani
Ashmita
Hoffnung
Flower Names For Girls Rose Daisy
Rosette
Daisianne
Roselyn
Daisia
Rosella
Daisyanna
Rosalie
Daisetta
Rosario
Daiselle
Rosemarie
Daisetta
Rosalyn
Daisley
Rosabel
Daisiya
Rosamund
Daisetta
Roseanne
Daisylyn
Rosalina
Daisia
Rosabelia
Daisetta
Rosella
Daisiana
Rosabelle
Daisylynne
Rosalba
Daisilla
Flower Names For Girls That Aren't Flowers
Briar
Fleurdelis
Heather
Sage
Coral
Maple
Meadow
Breeze
Willow
River
Skye
Laurel
Snow
Aurora
Ember
Ocean
Crystal
Dahlia
Pearl
Raven
Sapphire
Fern
Starling
Garnet
Winter
Lark
Storm
Harmony
Clover
Serenity
Flower Names For Girls/Kids
Poppy
Lily
Daisy
Rosie
Petal
Blossom
Marigold
Violet
Iris
Orchid
Daffodil
Azalea
Primrose
Buttercup
Zinnia
Camellia
Bluebell
Dahlia
Pansy
Lavender
Jasmine
Peony
Lotus
Sunflower
Tulip
Dandelion
Hyacinth
Clover
Magnolia
Amaryllis
German Flower Names For Girls
Blume
Lilie
Sonnenblume
Rosen
Nelke
Veilchen
Mohnblume
Primel
Orchidee
Narzisse
Dahlie
Maiglöckchen
Kamille
Enzian
Hyazinthe
Krokus
Margerite
Hortensie
Distel
Astern
Tulpe
Pfingstrose
Gladiole
Stiefmütterchen
Wicken
Akelei
Rittersporn
Schneeglöckchen
Erika
Flieder
Good Flower Names For Girls
Adelina
Felicity
Amara
Seraphina
Valencia
Arabella
Celestia
Isadora
Aurora
Seren
Zuri
Elara
Allegra
Marisol
Valentina
Elysia
Amity
Harmony
Zephyrine
Calantha
Novella
Felicia
Amabel
Paloma
Evangeline
Serenity
Celia
Joyanna
Gwyneth
Blythe
Irish Flower Names For Girls
Fianna
Rowan
Aislinn
Sorrel
Nola
Dara
Fleurin
Ailbhe
Lileas
Aifric
Fern
Caoimhe
Bláthnaid
Primrose
Aine
Brogan
Narcissa
Eabha
Yarrow
Aoife
Lavender
Eithne
Zinnia
Meadbh
Heather
Saoirse
Marigold
Maolíosa
Tulip
Deirbhile
Japanese Flower Names For Girls
Sakura
Hana
Ayame
Himawari
Tsubaki
Ran
Sumire
Asuka
Yuri
Botan
Hotaru
Yuriko
Kaede
Kiku
Suzu
Fuyu
Madoka
Ume
Natsumi
Ayumi
Ayano
Ren
Natsuki
Momo
Aoi
Sayuri
Haruko
Koharu
Rina
Misaki
Jewel And Flower Names For Girls
Ruby
Magnolia
Opal
Azalea
Pearl
Dahlia
Amber
Lotus
Sapphire
Zinnia
Jade
Poppy
Garnet
Lilac
Crystal
Camellia
Topaz
Marigold
Amethyst
Orchid
Emerald
Iris
Diamond
Petunia
Coral
Amaryllis
Onyx
Blossom
Amberly
Hyacinth
Latin Based Flower Names For Girls
Flora
Rosalie
Lilia
Viola
Camilla
Marcella
Narcissa
Liliana
Amaryllis
Aurelia
Diantha
Valentina
Caelia
Zinnia
Fabiana
Belladonna
Julietta
Primula
Arabella
Serena
Calendula
Tullia
Fiammetta
Lysandra
Junia
Flavia
Gelsomina
Filomena
Amara
Cressida
Latino Flower Names For Girls
Azucena
Rosa
Margarita
Jazmín
Dalia
Alejandra
Floriana
Camelia
Jacinta
Isabela
Hortensia
Angelica
Amaranta
Lirio
Esmeralda
Violeta
Estrella
Jacaranda
Anahí
Liliana
Paloma
Tania
Rosalina
Azalea
Xochitl
Alondra
Mariposa
Luzia
Senna
Ixchel
Old Flower Names For Girls
Myrtle
Gertrude
Lavinia
Beatrix
Edith
Mabel
Agnes
Prudence
Hortense
Wilhelmina
Eunice
Doris
Enid
Sybil
Winifred
Mildred
Hilda
Thelma
Minerva
Maude
Myrna
Effie
Thora
Coretta
Hester
Ethel
Blanche
Constance
Gwendolyn
Ida
Pink Flower Names For Girls
Peony
Azalea
Camellia
Zinnia
Dianthus
Hyacinth
Hollyhock
Crape Myrtle
Cherry Blossom
Primrose
Begonia
Dahlia
Hellebore
Lotus
Sweet William
Foxglove
Orchid
Nerine
Rhododendron
Snapdragon
Water Lily
Nemesia
Calypso
Quince
Calla Lily
Nadeshiko
Bougainvillea
Erica
Erica
Phlox
Plant And Flower Names For Girls
Aloe
Lavender
Ivy
Rosemary
Willow
Fern
Daisy
Jasmine
Hazel
Bluebell
Olive
Poppy
Violet
Camellia
Holly
Dahlia
Lily
Maple
Willow
Petunia
Marigold
Magnolia
Hazel
Iris
Heather
Laurel
Thistle
Sage
Lotus
Dandelion
Popular Flower Names For Girls
Lily
Daisy
Rose
Violet
Jasmine
Poppy
Iris
Dahlia
Zinnia
Marigold
Lilyana
Camellia
Azalea
Orchid
Peony
Hollyhock
Calla
Petunia
Lilac
Hyacinth
Sunflower
Chrysanthemum
Primrose
Magnolia
Lavender
Amaryllis
Anemone
Daffodil
Lotus
Snapdragon
Prettiest Flower Names For Girls
Arabella
Celestia
Seraphina
Aveline
Evangeline
Isabella
Giselle
Evelina
Ophelia
Esmeralda
Valentina
Rosalind
Marcella
Calliope
Persephone
Liliana
Aurora
Isadora
Evadne
Juliette
Arabesque
Elysia
Cressida
Zephyrine
Serenella
Melisande
Amarante
Caliana
Sophronia
Jessamine
Pretty Flower Names For Girls
Aria
Bella
Flora
Blossom
Eden
Fleur
Ivy
Meadow
Nola
Primrose
Willow
Dahlia
Briar
Tansy
Lilac
Zara
Poppy
Petal
Lotus
Wisteria
Lila
Daphne
Elara
Calla
Sierra
Clover
Aster
Valencia
Camellia
Ivylyn
Rare Flower Names For Girls
Acantha
Cassia
Forsythia
Jacinta
Lotus
Nerine
Orchid
Zinnia
Tulip
Camellia
Isla
Amaryllis
Bluebell
Fleuriana
Leilani
Xanthe
Yara
Amarantha
Lirio
Petaline
Kalina
Yasmine
Thalassa
Verbena
Iolanthe
Callista
Cymbeline
Fiorella
Lunaria
Amaranthea
Rose Flower Names For Girls
Rosalie
Rosalind
Rosemary
Rosetta
Rosamund
Rosabella
Rosalyn
Rosalina
Roseanne
Rosina
Primrose
Rosita
Roselle
Rosina
Ambrosia
Roswitha
Rosalba
Rosamaria
Rosalba
Rosalva
Rosario
Rosilda
Rosabelle
Rosenwyn
Rosene
Rosmund
Roslyn
Rosine
Rosethorn
Rosmarie
Samoan Flower Names For Girls
Leilani
Malia
Alani
Anela
Moana
Melia
Lili
Lani
Palila
Kalea
Loa
Nila
Miki
Noe
Tasi
Sina
Talia
Ulani
Vai
Pualani
Fiafia
Hala
Iolana
Uilani
Faia
Hau
Kiele
Ofu
Sefa
Finau
Sassy Flower Names For Girls
Zara
Vixen
Roxie
Fiorella
Zuri
Calliope
Tempest
Zella
Jinx
Zadie
Trixie
Jezebel
Zena
Minx
Valkyrie
Zephyra
Pixie
Vesper
Hera
Zea
Zola
Nixie
Nyx
Xena
Zaza
Ziggy
Zephyrine
Juno
Zinnia
Rebel
Slavic Flower Names For Girls
Lilia
Zlata
Kalina
Vasilisa
Rozalia
Daryna
Yelena
Kamelia
Alina
Yarina
Iryna
Rozalina
Viorika
Oleandra
Zoryana
Khrystyna
Makovka
Oksana
Yasena
Maksymka
Zefirka
Oleksandra
Yeva
Rozmarina
Zosya
Yuliana
Kalyna
Valeriya
Zarya
Olena
Soft Flower Names For Girls
Petal
Blossom
Primrose
Lilac
Posy
Zinnia
Amaryllis
Dahlia
Camellia
Lavender
Fleur
Peony
Iris
Lotus
Calla
Azalea
Marigold
Daffodil
Jasmine
Tulip
Poppy
Chrysanthemum
Anemone
Honeysuckle
Hyacinth
Wisteria
Orchid
Heather
Yarrow
Aster
Top Flower Names For Girls
Lily
Rose
Daisy
Violet
Jasmine
Iris
Lilyana
Poppy
Dahlia
Camellia
Zinnia
Marigold
Azalea
Orchid
Lilyana
Peony
Hollyhock
Calla
Petunia
Lilac
Hyacinth
Sunflower
Chrysanthemum
Primrose
Magnolia
Lavender
Amaryllis
Anemone
Daffodil
Snapdragon
Tree And Flower Names For Girls
Willow
Rosewood
Magnolia
Maple
Dahlia
Hazel
Camellia
Juniper
Primrose
Aspen
Violet
Acacia
Laurel
Lotus
Cedar
Azalea
Rowan
Poppy
Almond
Jasmine
Oakley
Myrtle
Yarrow
Blossom
Cypress
Heather
Fern
Jacaranda
Lila
Sequoia
Unique Flower Names For Girls
Zephyranthes
Calanthe
Hellebore
Anthurium
Yaretzi
Freesia
Nerine
Calluna
Verbena
Acantha
Gentiana
Orchidea
Heliconia
Xylia
Lunaria
Edelweiss
Azucena
Yolotli
Gerbera
Lotusana
Nolana
Caltha
Parijat
Freyja
Passiflora
Speranza
Zinnara
Tulipa
Cymbidium
Leontine
Welsh Flower Names For Girls
Eirlys
Madlen
Olwen
Rhoswen
Ceridwen
Tegwen
Gwyndolin
Bronwen
Gwyneth
Enfys
Anwen
Heulwen
Arianwen
Gwennan
Glesni
Sioned
Celyn
Eirwen
Gwawr
Hafren
Carys
Llinos
Mairwen
Meinir
Seren
Gwenith
Eira
Dyfodol
Olwyn
Branwen
Yellow Flower Names For Girls
Buttercup
Daffodil
Marigold
Sunflower
Primrose
Saffron
Goldie
Mimosa
Zinnia
Narcissus
Flaxen
Canary
Chamomile
Jonquil
Xanthia
Helianthus
Forsythia
Dandelion
Acacia
Broom
Citrine
Maize
Calendula
Lantana
Sunbeam
Amber
Genista
Butterblume
Tournesol
Leontonella
5 Unique Ideas to Pick a Flower Name for Girls
You can find many ways to pick a perfect follower name for your kid, pet, a story or even a nickname for your girl.
So, choosing the perfect flower name for a girl can be a delightful journey, and I've got five unique ideas to make the process easy and enjoyable for you.
Idea# 1: Petal Pickings – Let the Flowers Speak
Head to a nearby park, botanical garden, or even your own backyard. Take a leisurely stroll amidst the vibrant blooms and let the flowers themselves inspire you.
Pay attention to the names of the flowers you find most captivating. Maybe a radiant rose, a charming camellia, or a sweet daisy catches your eye. Let their beauty and character guide your naming journey, and you'll end up with a name that truly blossoms.
Idea# 2: Flower Fusion – Combine Nature's Best
Why settle for one flower when you can have a fusion of floral brilliance? Get creative and combine the names of two or more flowers that you adore.
For example: Mix "Lily" with "Dahlia" to create "Liliah" or combine "Violet" with "Rose" to form "Viola-Rose." The possibilities are endless, and you'll end up with a one-of-a-kind name that's as unique as your little bud!
Idea# 3: Language of Flowers – Uncover Symbolism
Flowers have a secret language, and each bloom carries its own unique symbolism. Dive into the fascinating world of floriography to uncover the hidden meanings behind various flowers. For instance, the rose symbolizes love and beauty, while the lily signifies purity and virtue.
Find a flower with a meaning that resonates with you and embodies the qualities you wish for your little one, and voilà, you've got a name with a beautiful story to tell.
Idea# 4: The Family Bouquet – Honor Your Roots
Delve into your own family history and see if there are any flower names that hold special significance. It could be a name that runs in the family or a name that symbolizes a beloved family member or tradition.
For example: "Daisy" might have been your grandmother's favorite flower, or "Lilac" could be a nod to your great aunt's cherished garden. Naming your child after a flower that's close to your heart will create a beautiful connection with your family's heritage.
Idea# 5: Traveling with Flowers – Explore Different Cultures
Take a globetrotting adventure and explore the world's diverse cultures to find flower names that are rare and distinctive. Look into the rich floral traditions of countries like Japan, India, or Brazil.
Discover names like "Sakura" (cherry blossom), "Kamala" (lotus), or "Jasmim" (jasmine). Embrace the beauty of multiculturalism with a name that carries the essence of far-off lands.
I guess you have the perfect five delightful ideas to pick a flower name for your need. Whether you let nature guide you, uncover the language of flowers, mix and match, explore different cultures, or honor your family's roots, you're sure to find a name that will bloom with love and meaning. Happy naming 🌸
Frequently Asked Questions
What name for Girls means flower?
Flora! is one of the names which has the meaning Flower. It is derived from a Latin word.
What flower name means love?
Rose is a flower name for girls that represents love!
Which flower means hope?
Iris is a flower that represents hope!
How do flowers help humans?
Keeping flowers in our surroundings can extremely improve our mood swings and it also decreases the possibility of stress and depression.
What does the flower "Chrysanthemum" represent?
Chrysanthemum represents Good Bye. People used this flower to say Good Bye!
What is the best flower name for girls?
The tops flower names for girls are violet, rose, lily, and Daisy!
Do not forget to share the flower name you have picked for your girlfriend or baby girl in the comment section. The cool names are providing the trendy names for girls and boys.
Saba is a Public Administration graduate and a social media and gaming geek, belongs to a business background, and helps people to choose their business names. She loves to write on topics related to business tips, and suggestions about selecting a unique name and related niches.